Polka dot is a pattern that is evergreen and is never out of fashion regardless of the different fashion trends coming up. This design was first introduced only for the clothes in the old days and gained a massive amount of popularity both among the young and old. These days DIY polka dot ideas are being introduced to the creative world as well and are gaining an equal amount of demand. It is being used on different materials to give them an incredibly fresh and unusual look.
Here, we are introducing to you, many different ways of using this pattern on different objects. The first idea that we have here is making colorful polka dots on cloth fabric which can be stitched in a way that it can be used as a lunch box as you can see in the picture. These fabric pouches can also be used for other purposes. The next idea that we share with you is making ice cream cone wrappers with a polka dot pattern as shown in the picture. You can make these wrappers by only making the polka dots with the marker on plain colored chart sheets or papers. These wrappers look totally adorable for your parties and his teas.
These 10 Amazing DIY Polka Dots Ideas, when drawn on a chart paper, can also be pasted onto different mason jars to create a tutti-fruity look for the cocktail parties or dinners, you can keep in them, various edible items or drinks.
As we have discussed earlier that the origin of the polka dot pattern was with the clothes, so here we have shown how you can make this pattern easily on your clothes such as shorts, pants, and other outfits. For this purpose, you will need fabric paint in combination with your outfit and do the pattern either with the help of a stencil or without it and let it dry for calm. You can also draw the DIY polka dot pattern on washy tapes to turn them into exciting and unusual party masking tapes. You can do this technique in different colors.
One of my very own polka dot ideas is that of doing it on umbrellas. With the bottom of a round-shaped bottle, you can make polka dots; you will need to dip the bottom of a bottle into your desired color paint and then make the pattern on the umbrella to make it look exciting and trendy.
You can also enjoy making a polka dot pattern on cushion covers to create a lovely cool environment in your living area or bedrooms. You can choose the colors according to the themes of the room. This pattern can also be easily made from sweaters to transform them into Dottie polka dot sweaters. The polka dots are also favorite designs for nail polish lovers, as they look equally good on nails as on other objects.
Polka Dot Lunchbox: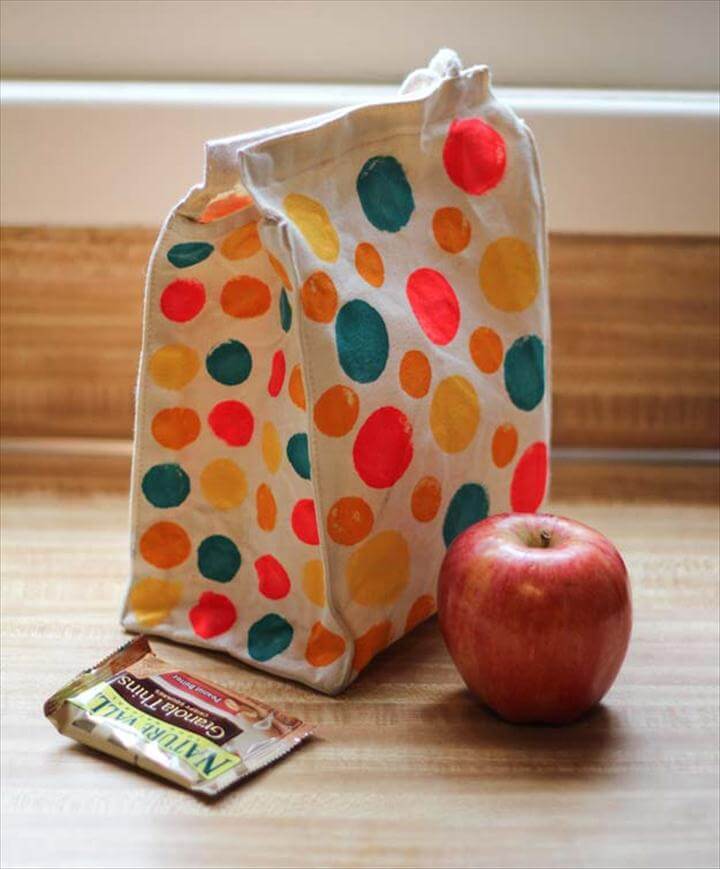 Make your boring and plain looking lunchbox super cute and fun with this crafty idea of polka dot lunch box. Just get your hands on a white canvas lunch box and the polka dot stamps in big and small sizes. Then grab some bright paint hues to dip the stamps and create multiple and colorful dots on the lunchbox. This can make a pretty gift idea too.
Image: thecraftedlife
Polka Dot Ice Cream Cone Wrappers: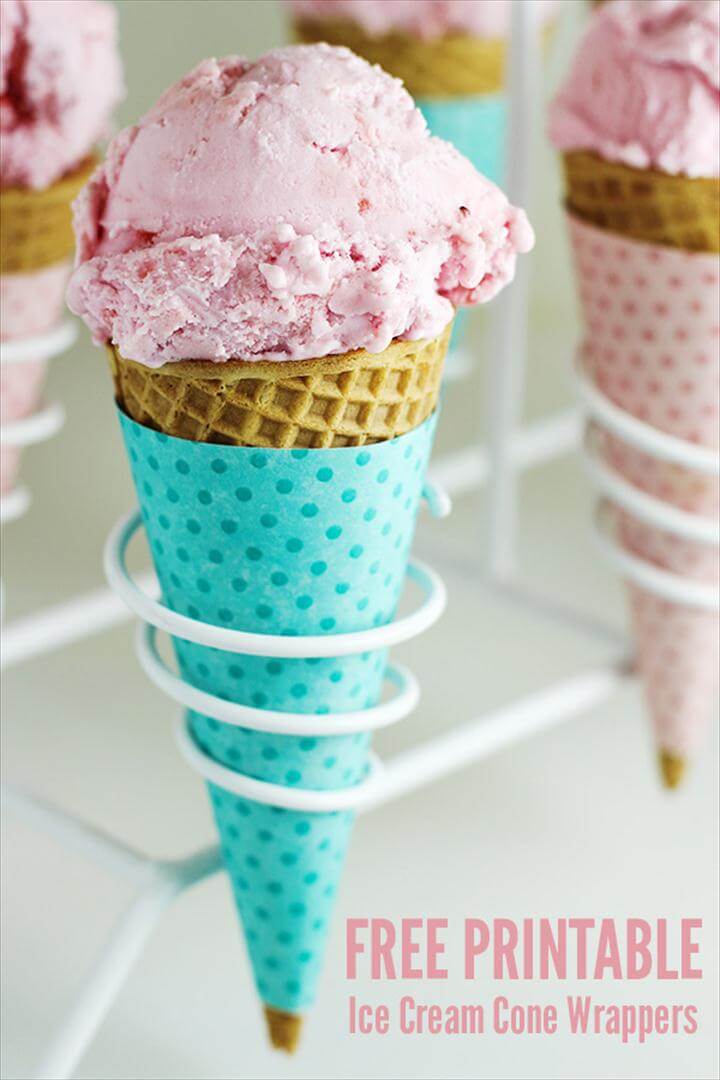 Now you can make the dessert time super special with these adorable and colorful polka dot ice cream cone wrappers. You can easily print out this paper in blue and pink with the polka dots and then make ice creams cone from them. Kids and adults are really going to enjoy ice creams in these polka dot cones.
Image: thepinningmama
Colorful Tutti Fruitty Party: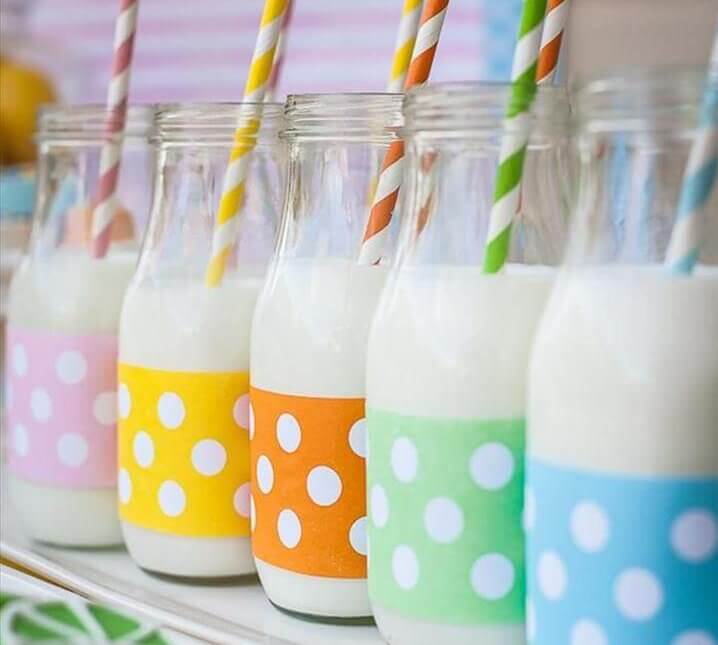 Summers are super fun with the fun drink parties of our favorite juices and beverages. You can add more fun and excitement to the summer party of yours by making these colorful and polka-dotted tutti frutti mason jars. You can either cover the jars with colorful polka-dotted papers or paint it up. Details here!
Image: yesterdayontuesday
Easy Polka Dot Pants: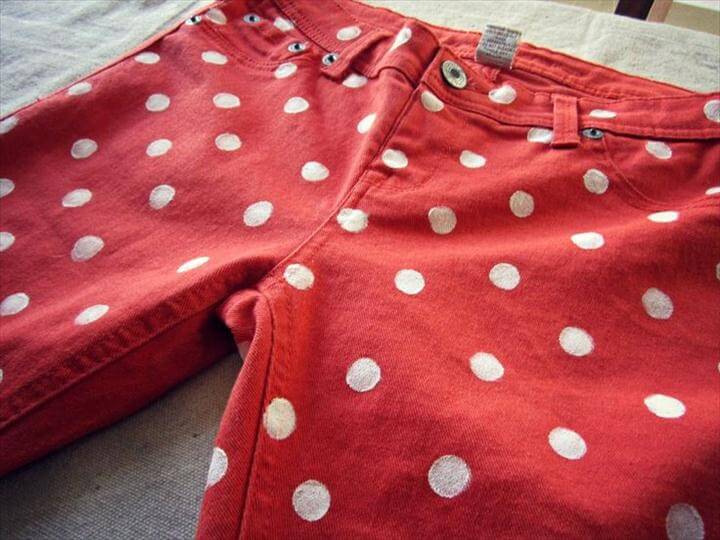 If you have an old pair of pants that you are thinking to toss away then take a look at this easy polka-dotted pants project. Just grab the fabric paint in white and use chalks as the stamps to create the pretty polka dots all over the pants. Check out the video tutorial here!
Image: youtube
Washi Paper Masking Tape Party

: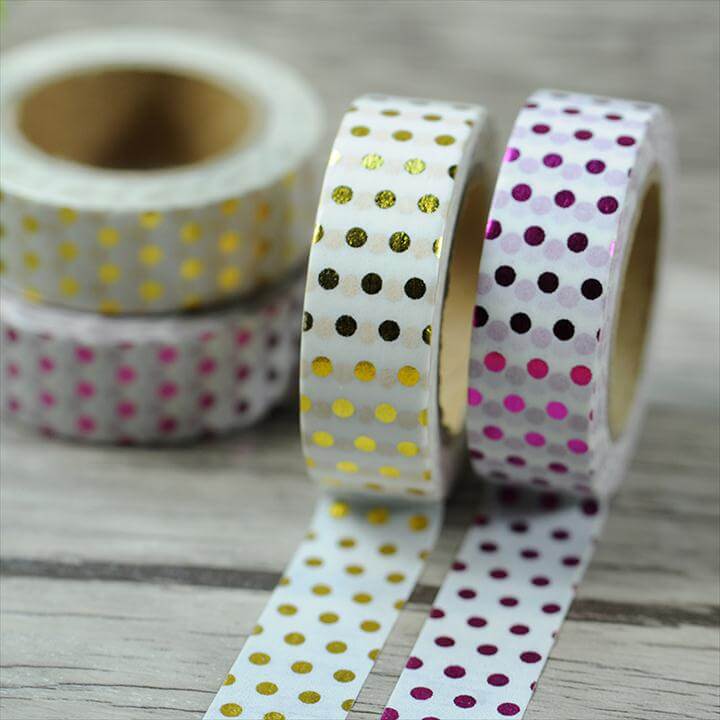 Polka dots can bring instant beauty and fun to anything around you. Here is the idea of washi paper masking tape with polka dot design to create lovely décor for your party. Even you can use this polka dot washi paper masking tape for your fun art and craft projects too. Details here!
Image: optimisticmommy
Polka Dot Umbrella: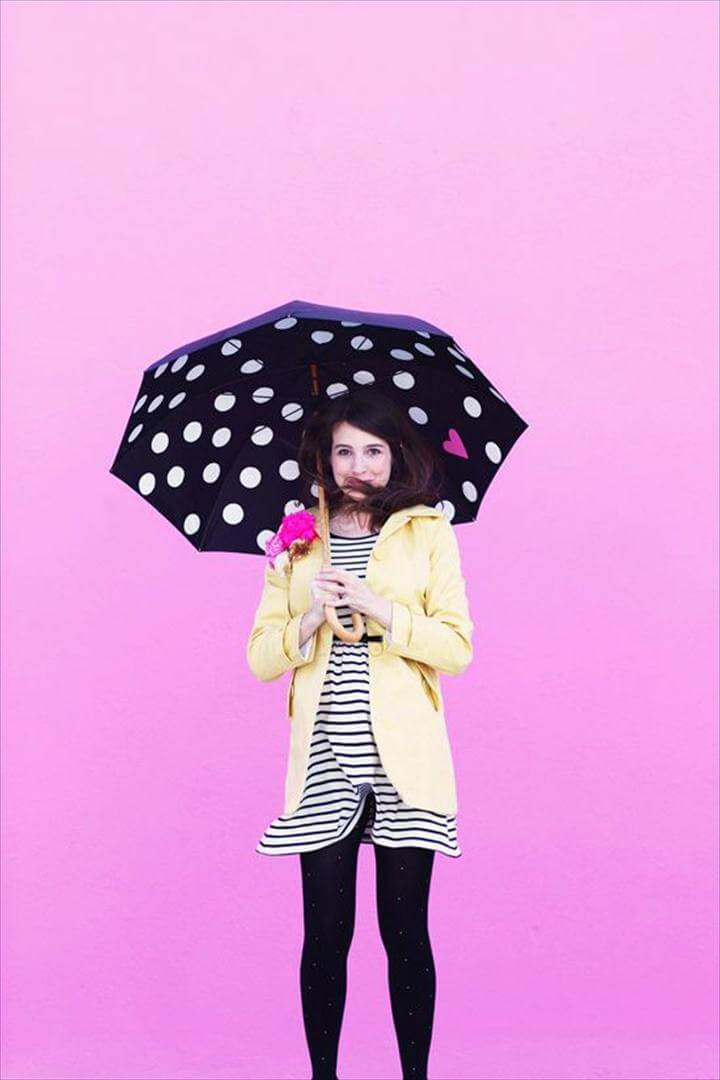 Give your plain and simple black umbrella a totally new and cool look for the summer with some fun polka dots. You need a polka dot stamp and the white paint to create these yummy dots all over the umbrella. You can create white dots on a black umbrella and the colorful bright dots on a white one.
Image: designlovefest
Dottie Polka Dot Sweater

: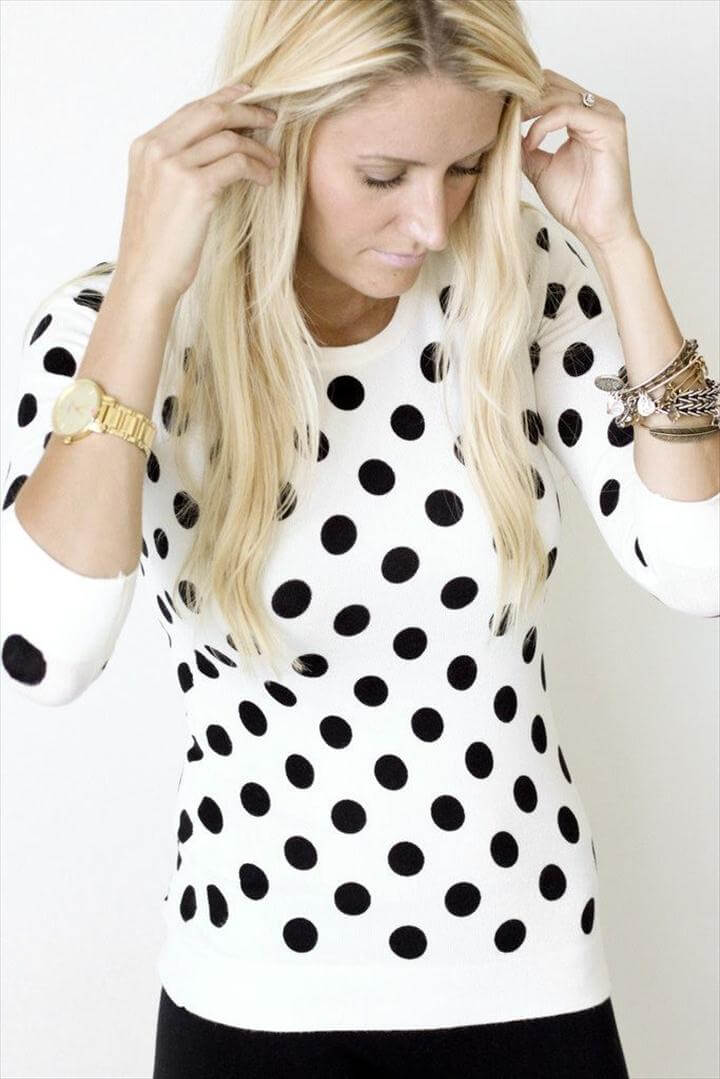 Make your plain and simple sweaters look all interesting and cool by adding some polka dots to them. All you need is to grab some fabric paint in white and a circle sponge stamp. First, create the lines for the polka dots on the sweater using tape so that your dots come out perfectly aligned and patterned. Details here!
Image: allonsykimberly
Red Polka Dots Pillow: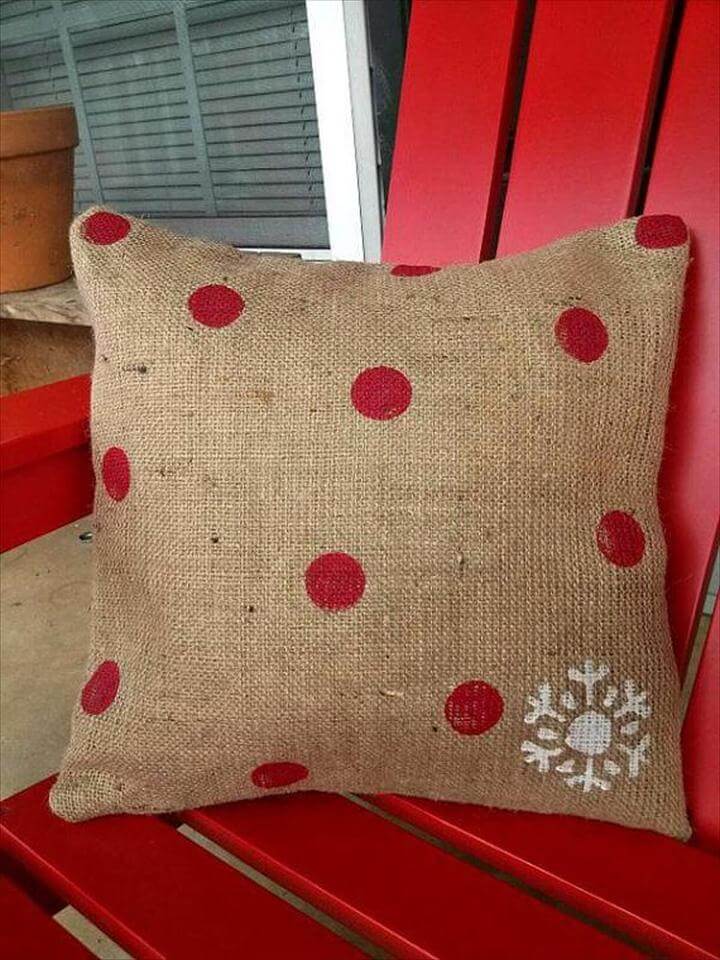 Polka dots can breathe life into anything plain and boring and so to your simple pillowcases. Here is the burlap made pillowcase made to look super chic cool with added red polka dots to it. So grab some red paint and the circle sponge stamp. The dots can be thick or scattered as you like them. Details here!
Image: thecraftedlife
Polka Dot Nail Polish: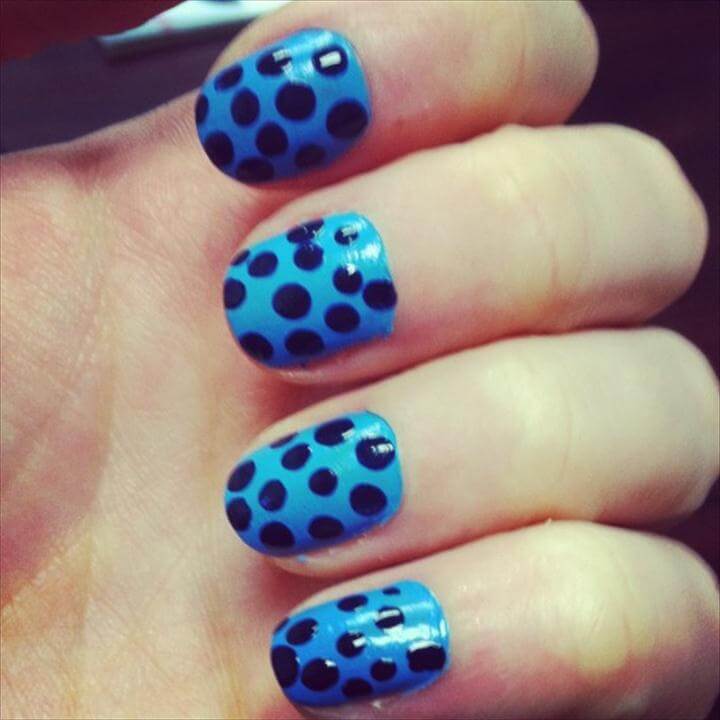 Have fun with your nail polish by creating this super fun and cool polka dot art on your nails. If you are going to a fun summer party this polka dot nail polish is really going to rock your look. Just get your nails painted in your favorite nail polish and then create polka dots on it with black or any other color you like.
Image: instructables
Polka Dot Mason Jars: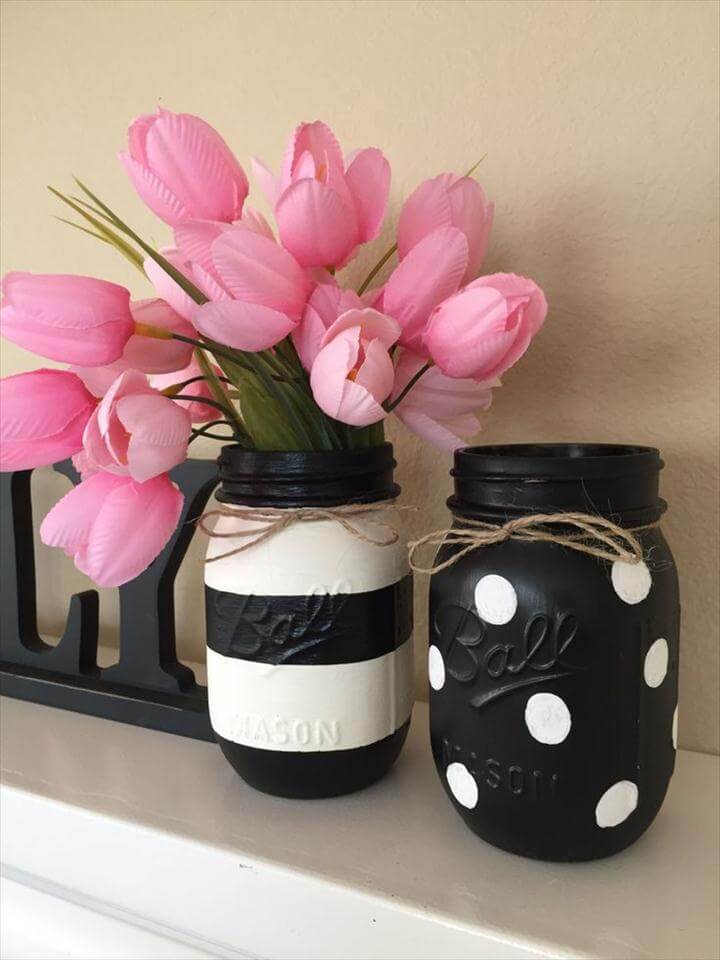 We love turning mason jars into some pretty home décor items and here is the idea of creating this polka dot mason jars. So grab mason jars and paint them with black all over and then add polka dots in white to the jar and your pretty vase or candleholder is ready to flaunt its beauty and funk in your home décor.
Image: thecardswedrew