It's time to discuss some sharpie craft ideas that you can conveniently do at home without spending a lot of expenditure and your precious time. All the ideas that are presented to you over here are given along with the detailed descriptions and tutorials that you can easily find in the links below each picture.
The first project that we have here is a mason jar decorated with sharpie colorful markers and see how its overall look has been changed suddenly with just a little creative hack which you can see over here.next we have are something related to your dining and these are sharpie colorful coasters which are so impressive that you will want to try them anytime soon to replace your typical old and boring coasters. Get to some jewelry with this sharpie crafting thing and here we have shared an idea for a DIY sharpie necklace that you will love wearing with any of your casual outfits.
Let's have a look at these sharpie graphic pillows with exciting and funny colorful prints done with excellent color choices. The next project is one of my personal favorites and it's a candle project with a combination of sharpie theme. Have a look at these custom wine tray glasses that not only are beneficial for your use but also look artistic and creative done beautifully with sharpie colors. Looking into this article you will realize how sharpie colors can do wonders for you. Try something for your kitchen and make a sharpie baked plate as you can see over here. Coming back to accessories we have an idea to make a sharpie wooden necklace where the wooden pieces are colored beautifully with sharpie colors and the patterns are also amazing.
Coming over your wardrobe, we have an idea to make DIY sharpie painted shoe idea which apparently looks so exciting and trendy. Grab some sharpie colors to transform your old lamps in the house like you can see in a project over here. Besides this, we have other lamp ideas also. The next project we have is for our tea and coffee lovers as this is a sharpie mug project presented to you along with the tutorial for your extreme convenience .you can also make an Olaf mug with help of the sharpie colors. Last we have another superb idea of sharpie flamingo print shoes made with extraordinary concentration and devotion as it requires a lot of love for creativity to create an extraordinary masterpiece like this.
Try at least some if not all of these gorgeous 15 DIY Easy Sharpie Craft Ideas that we have shared over here with you this holiday season to add spark to your personal and household stuff.
Sharpie Marker Mason Jar Holder: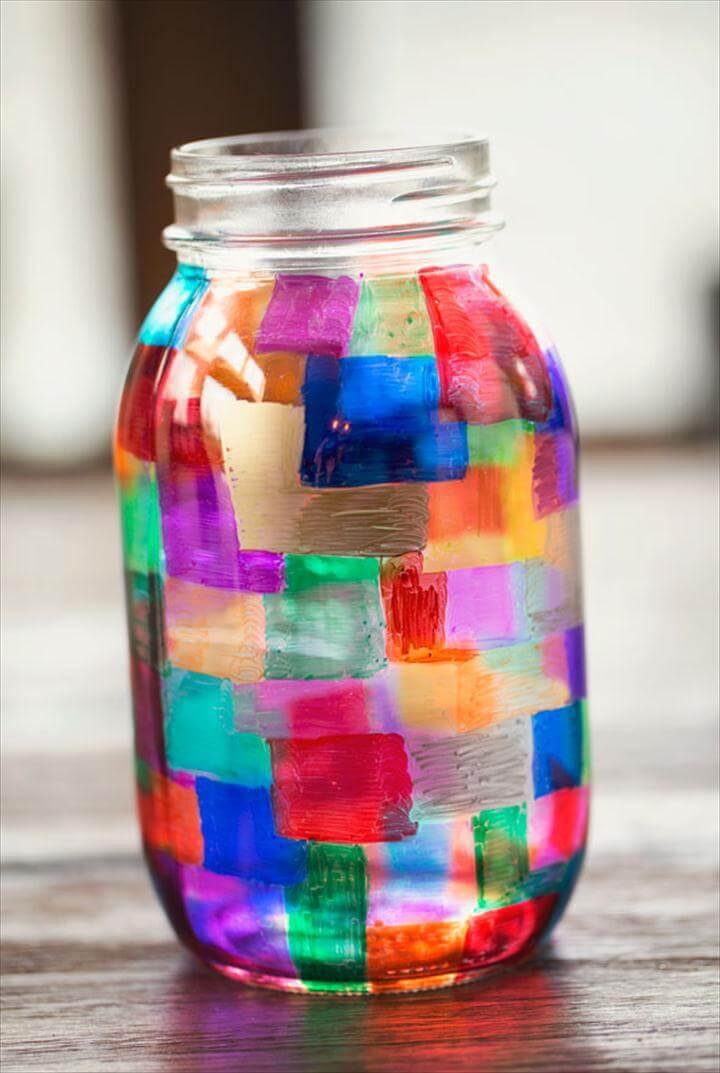 Mason jar crafts are the best for moms and now your kids can do some Mason jar fun with the sharpie markers. Give them a mason jar and the colorful sharpie markers to color the Mason jar with cute little squares, lines, and more. You can use these sharpie marker mason jars as candle holders and the vases too.
Image: prettymyparty
Sharpie Coasters: Colorful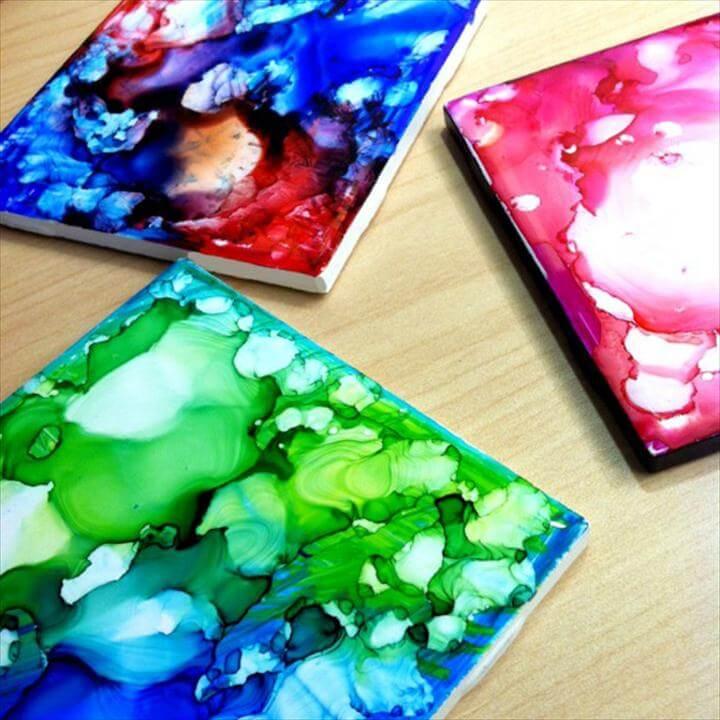 Bring some fun to your kitchen and dining with these super cute and colorful sharpie coasters. Get your hands on the white tiles of square shape. Get your hands on the colorful sharpie markers to color the tiles.  Using the rubbing alcohol trick, merge these colors together to get the pretty textured coasters for the summer. Also, these coasters would make great gifts.
Image: curbly
Sharpie Beaded Necklace:

Make this super cute and boho looking necklace for yourself and for the girls around. Grab the wooden beads and chains to work up these lovely sharpie beaded necklaces. Before making the necklace the beads have been colored using the colorful sharpie markers to look so fun and chic. This cute sharpie beaded necklace can make a lovely gift. Details here!
Image: ourdesignedlife.blogspot
Sharpie Graphic Pillows: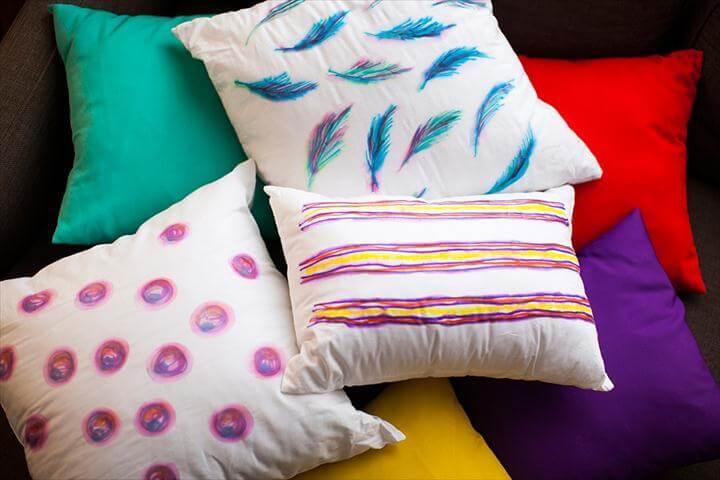 Give your plain and simple white pillows look super gorgeous and quirky with this sharpie graphic pillows idea. Using the sharpie markers you can create some pretty designs and patterns on the pillows like feathers, strips, and the dots. Then grab the rubbing alcohol to give these patterns a more dramatic and funky look. Check out the details of the idea here!
Image: brit.co
Sharpie Candle: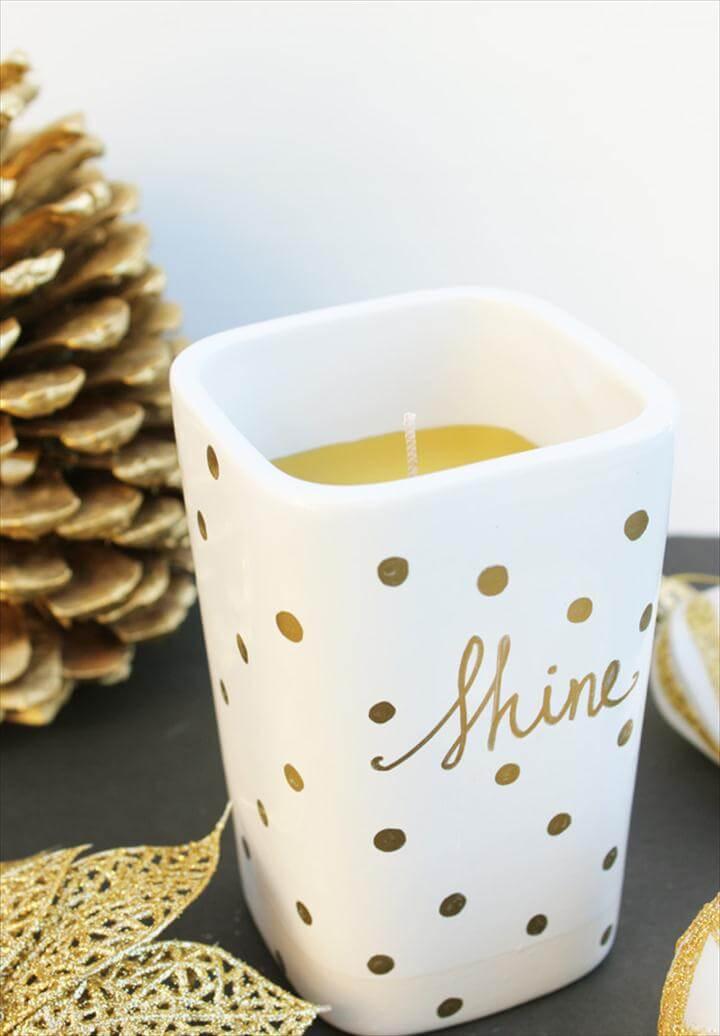 Give your boring and dull-looking candles a whole new fun and eye-catching look. Using the metallic gold sharpie marker you can create lovely polka dots all over the white stained candle. Also write some lovely words to elevate the beauty and charm of the candles like Shine, glow, and spark. Follow the tutorial right here!
Image: happinessishomemade.net
Custom Wine Tray Glasses: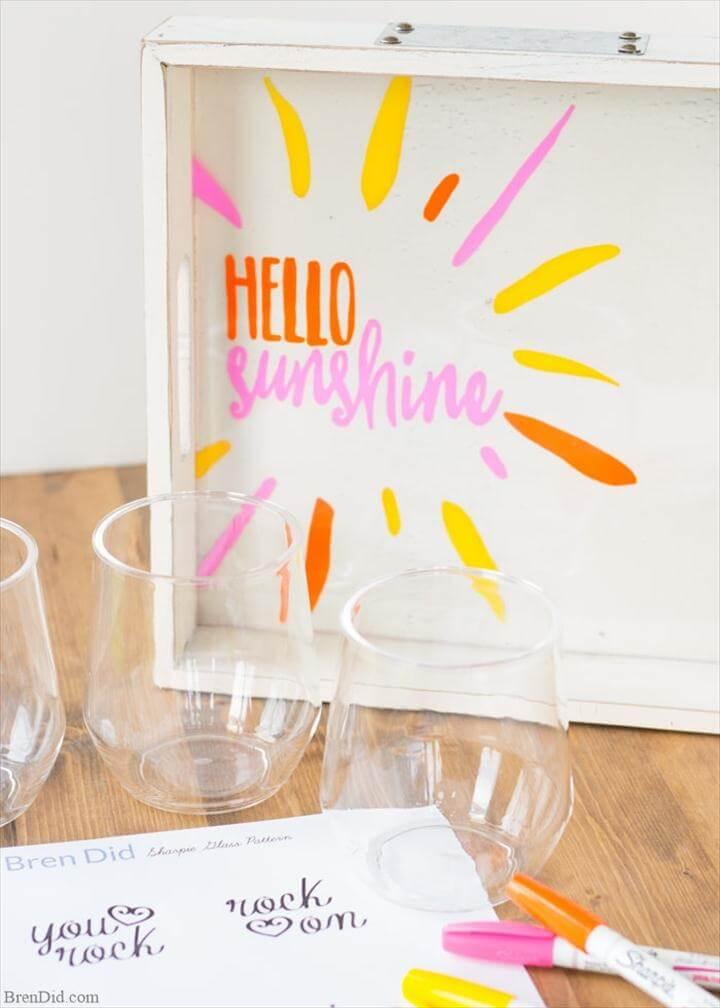 Here is how you can make these gorgeous and impressive custom time tray and the glasses. You need a white painted wooden tray and the oil-based sharpie markers to work up a lovely design with fun quotes on plexiglass. Then fix this glass in the wooden trays and your pretty and colorful wine tray is ready to serve. Get the details here which include the customization of wine glasses too.
Image: brendid
Baked Sharpie Plates: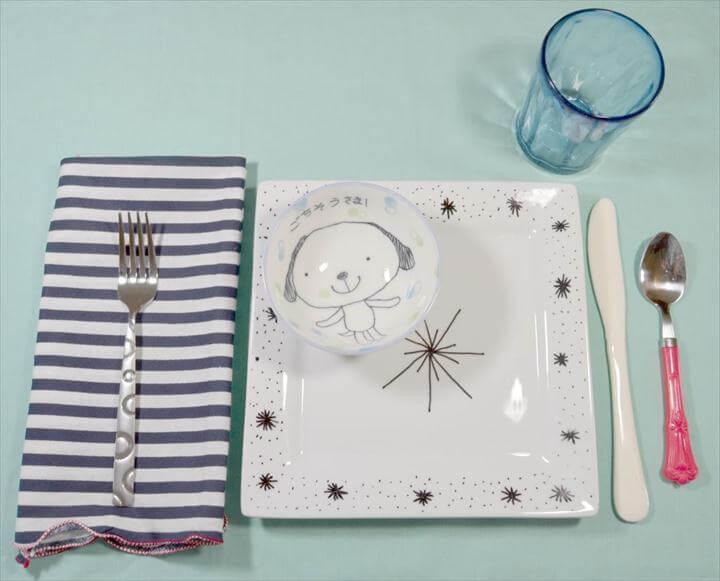 You can make your plain and chic white plates the perfectly interesting and cute and that too with your own hands. So grab a black sharpie marker and create a lovely design on the plate at the places of edges and the center. Then bake your plate so that the design and pattern get a long-lasting effect. More details here!
Image: homedit
Sharpie Wooden Necklace: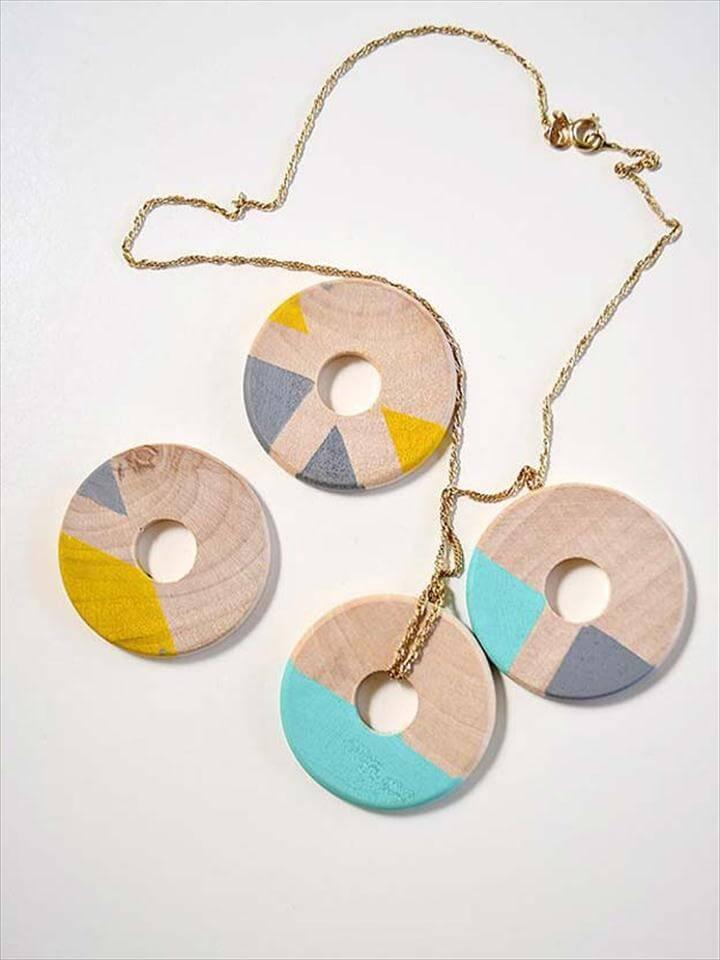 You can make the pretty necklace for yourself and that too using the easy peasy things and the method. So grab some wooden circles and paint them up with some cute and colorful sharpie markers for a jazzed up look. Then grab the chains and these circles and put them together for a lovely necklace outcome. Check out the details here!
Image: seethatthere
Custom Wine Tray With Matching Glasses Requires: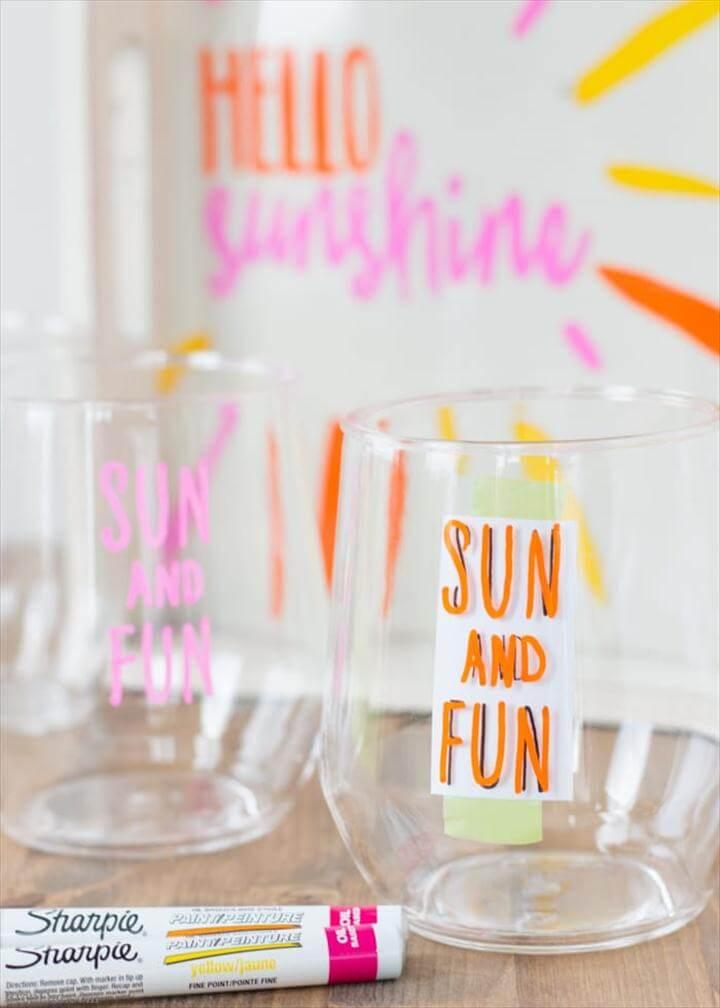 Image: brendid
Sharpie Painted Saddle Shoe: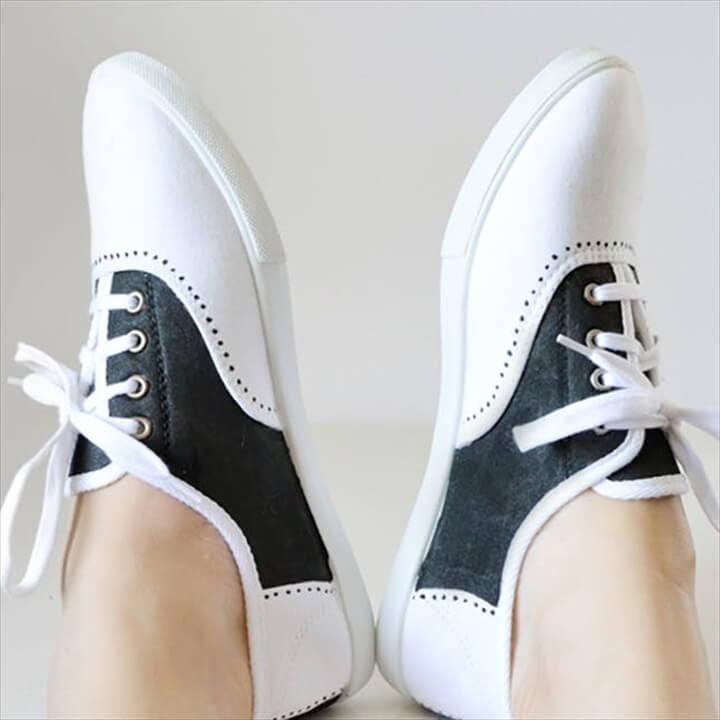 Do you have a pair of white saddle shoes that you are bored of wearing over and over again? If yes then get your hands on this craft of the sharpie painted saddle shoes. So get your hands on the black sharpie markers and paint up your shoes with a lovely block pattern design as shown here.
Image: dreamalittlebigger
Lamp With Sharpie – How to Create a Herringbone Lamp With Only a Sharpie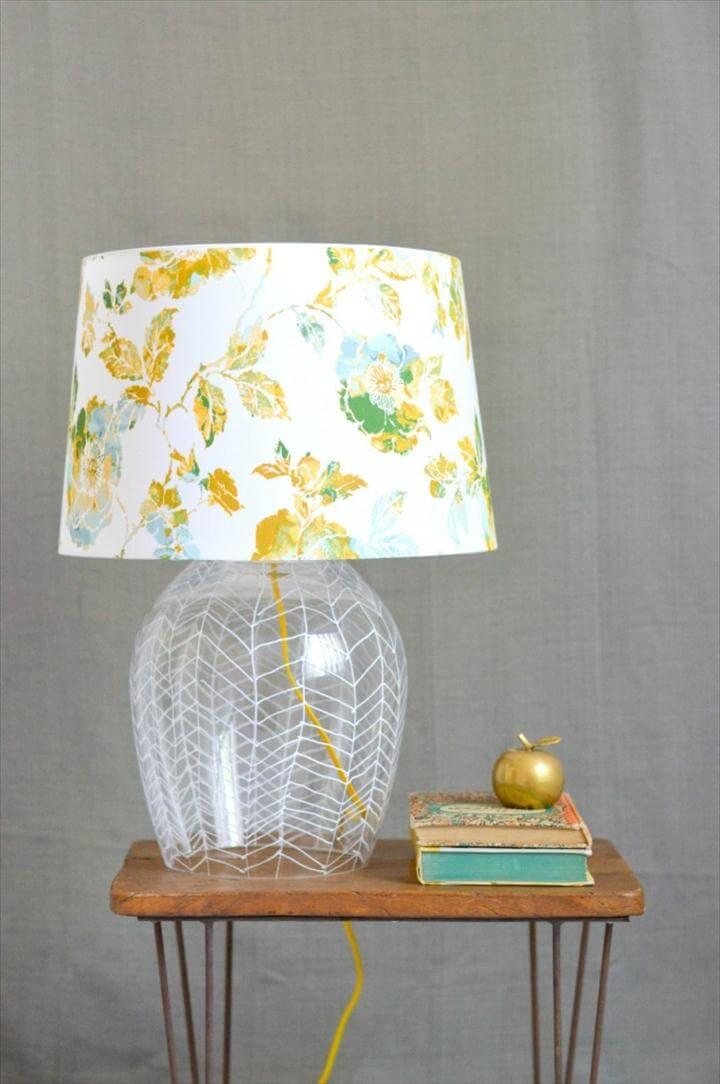 Give your bedroom a makeover by changing some details of the place just like styling up your lamp.  So get your hands on a plain lampshade and draw a floral pattern on it. Then put your hands on the colorful sharpie markers and color this floral design and make it look super exquisite and whimsical. Details of the idea here!
Image: blog.homes
Herringbone Lamp: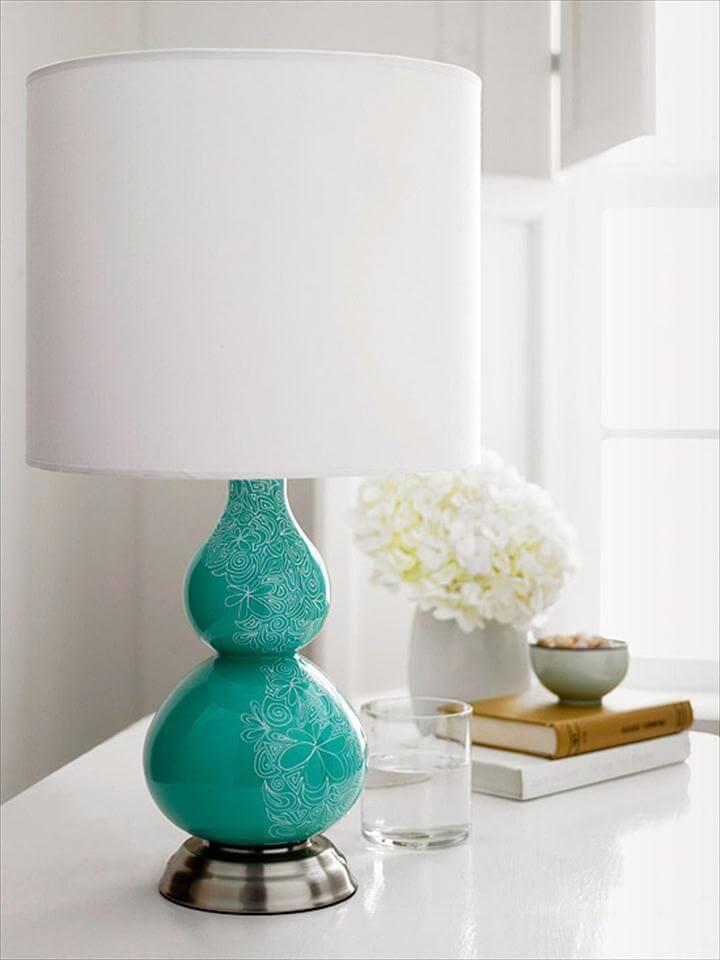 Give your lamps a pretty and restyled look and that too with only the sharpie markers. Using your favorite colored sharpie markers you can create any of the patterns and design on the lamp. Here is the herringbone lamp to boost up your inspiration and creativity. Follow the easy details and instructions here!
Image: homes
Sharpie Mug Tutorial: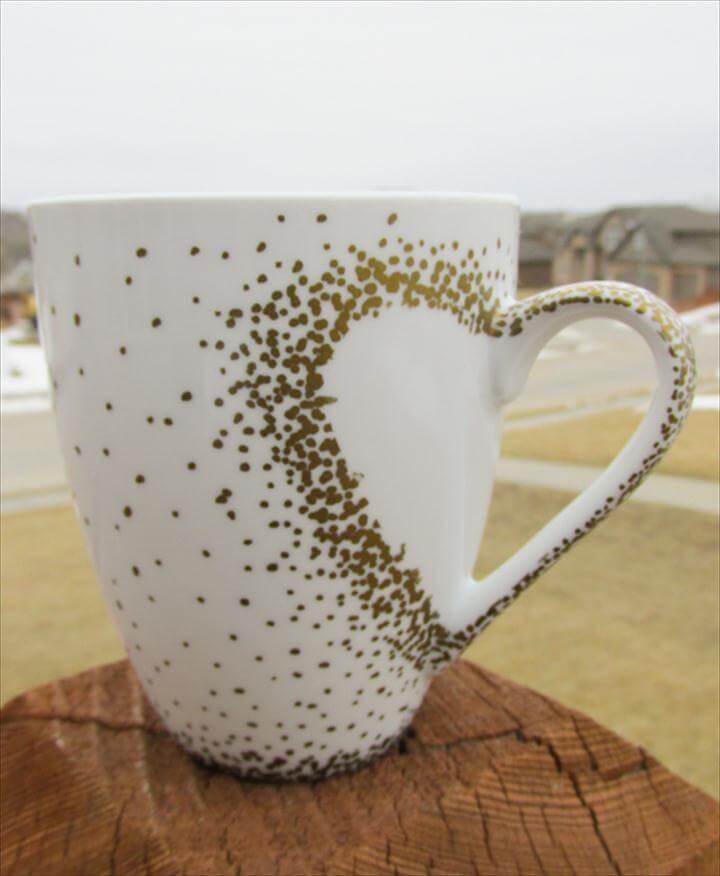 Give your simple and plain white coffee mugs a jazzed up look and that too with the pretty sharpie markers. So using the oil-based sharpie paint pens you can create a lovely dotted heart on the mug. You can choose any of your favorite hues while selecting the sharpie and thus get your mug a custom sharpie look.
Image: brendid
Olaf Mug: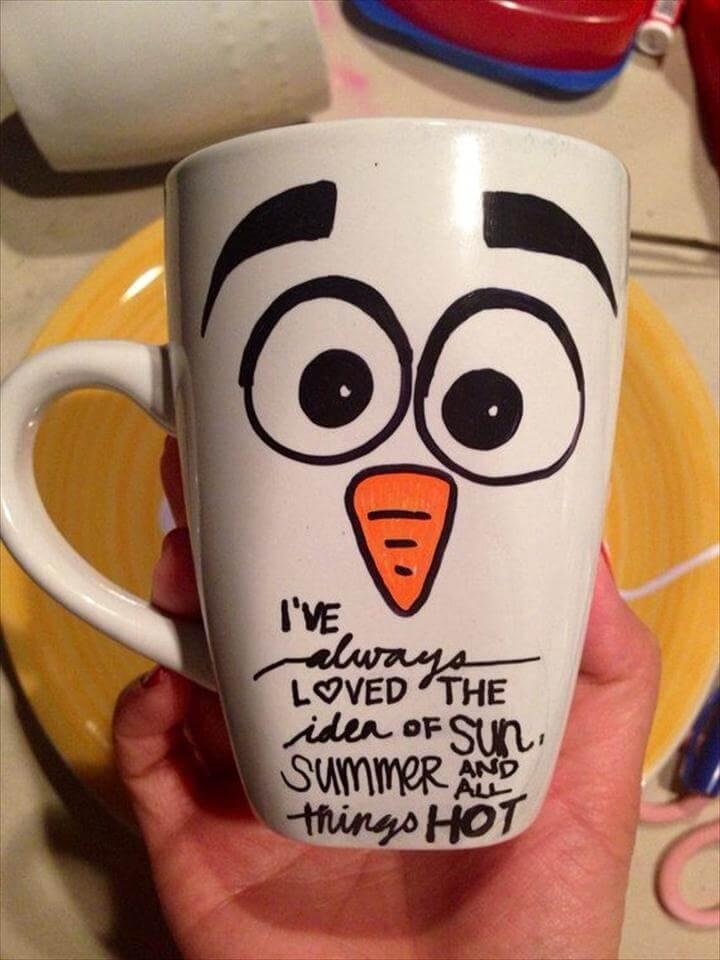 Coffee mugs are our favorite as they make our cold days so much warm and cozy. So why not give our favorite mugs a pretty and cute look and this Olaf mug is the best idea for this purpose. So grab the sharpie markers and create the Olaf face on the mug and a lovely quote along with it. Get the details here!
Image: youtube
Flamingo Print Shoes: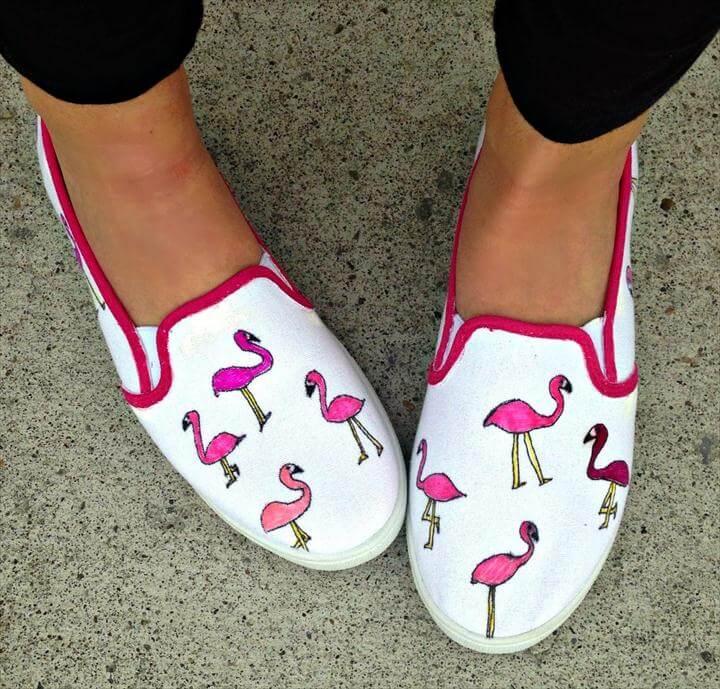 It's time to have some fun with the sharpie markers and a pair of your old shoes. Yes, you can style up your old shoes with a pretty and cute flamingo print shoes. So grab the pretty pink sharpie markers and fill your white shoes with the lovely flamingo prints all over them. Follow the details of the idea here!
Image: printablecrush
You May Also Like: