When the summer is on the way, everyone is fond of doing something creative. Especially the creative peeps look forward towards the beautification of the house for the summer season. Here you can see some incredible 20 DIY Fun & Easy Summer Projects.
This is a mason jar converted into a candle holder for your formal living room centerpiece. Don't forget to try these unusual any sew pop tart pillows this weekend as they are too cool and trendy of course. Watch the tutorial here by clicking on the links and grab your craft box soon.
Well, these DIY ideas are so cool to try them alone, so enjoy them with your friends anytime soon. What about a DIY lava lamp as you can see, it seems to be the coolest item in town so don't waste your time thinking and be the first to try them. If you are looking forward to bring a change to your daily handbag that you take to work with you, why not add some tassels to them and impress your colleagues. Everyone likes me, have a bulk of washing sponges in-store, grab some all of them today, and try these sponge bombs with the colorful sponges. This one is my personal favorite and anyone who is a bookworm would definitely love these pom pom bookmarks for they are so adorable that you can't resist. They are as easier to make as they look.
Let's discuss something for our kids this vacations, so these are some amazing DIY candy jars that look like pineapples made with very few basic crafting materials. Keep the candies safe and enjoy. You must have heard of the phone holders made with the toilet rolls but I bet you must have not seen such pretty printed mobile holders that you can make yourself in no time with colorful markers. Look at these ice-cream cone garlands that are so cute to handle.
Try these beautiful and cute strawberry pillows for your informal lounge. These iPhone covers are customized to the extent that you can never find like these in stores. These DIY summer mason jars would definitely take your family picnics to a whole new level. These summer fruit trays are no less than the rest of the stuff. They make the fruits look yummier.
Try these DIY summer ideas and brace yourself to handle some of the adorable stuff at home for the year ahead.
Boho Chic Mason Jar Candle Holders: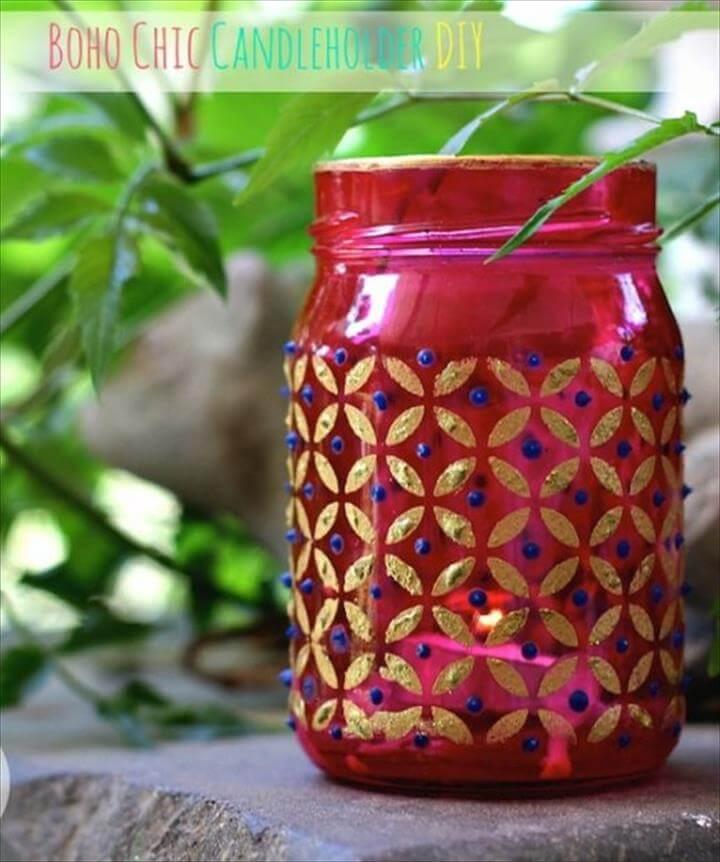 Here is how you can make the most boho chic Mason jar candle holders light up your summer fashion décor. You need a Mason jar, glass paint, the mode podge pink color, and the mode podge peel and stick the stencil to make this gorgeous and totally chic Mason jar candle holder. Check out more here!
Image: modpodgerocksblog
No-Sew Pop Tart Pillow

: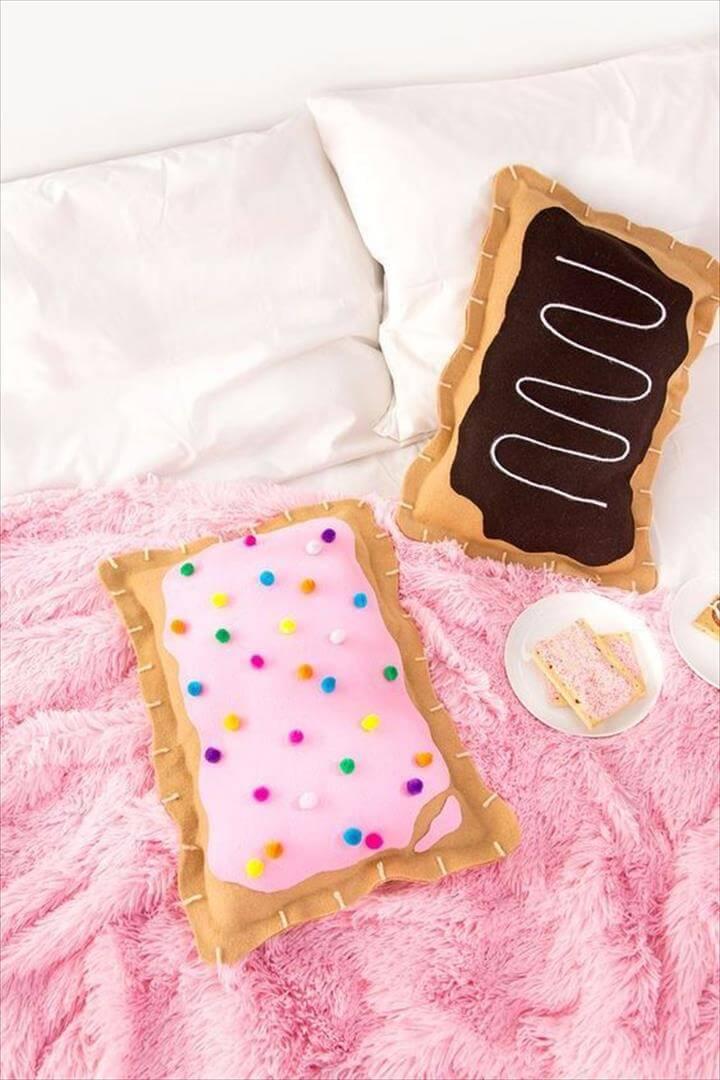 Get indulged in some fun summer pursuit with this no-sew pop tart pillow to make and surprise your kids with. These adorable and cute no-sew pop part pillows are made with the colorful tart theme felt, some cutting and sewing tools, stuffing, and the glue. Get the step by step details of this fun idea here!
Image: awwsam
DIY Lava Lamp: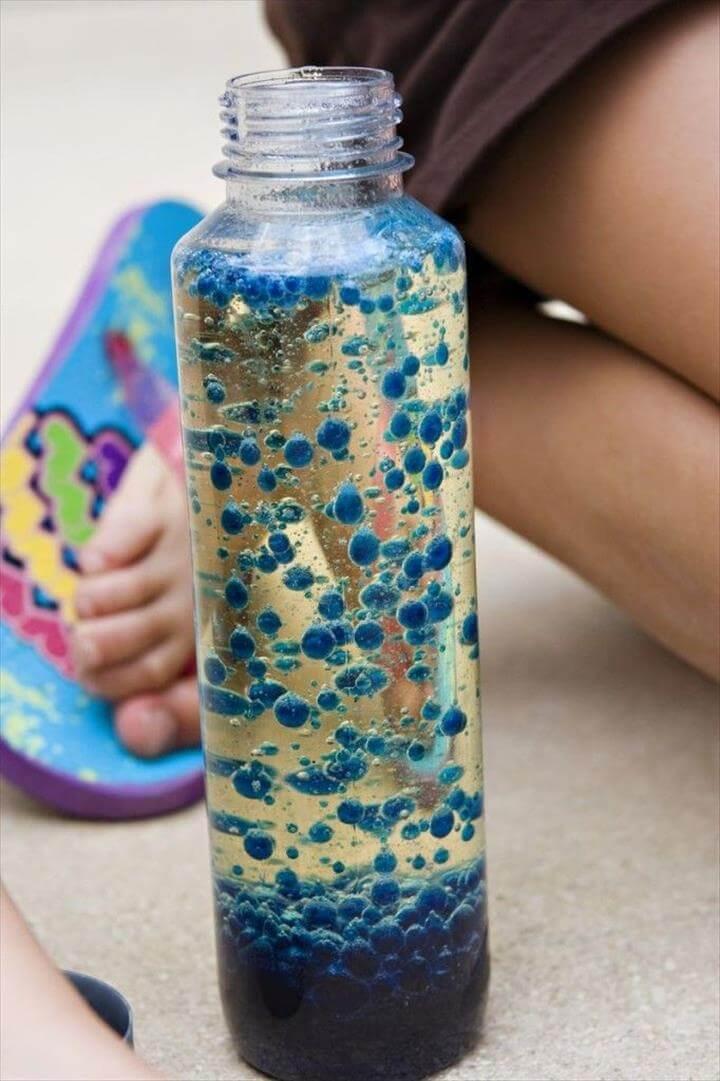 Have some fun with your kids by making this super fun and amazing DIY lava lamps. The best thing is that you can find supplies all at home. To make these lava lamps you need three empty bottles with lids, food colors, vegetable oils, and the Alka seltzer. Get to know the project more here!
Image: typepad
Tassel Tote Bag

: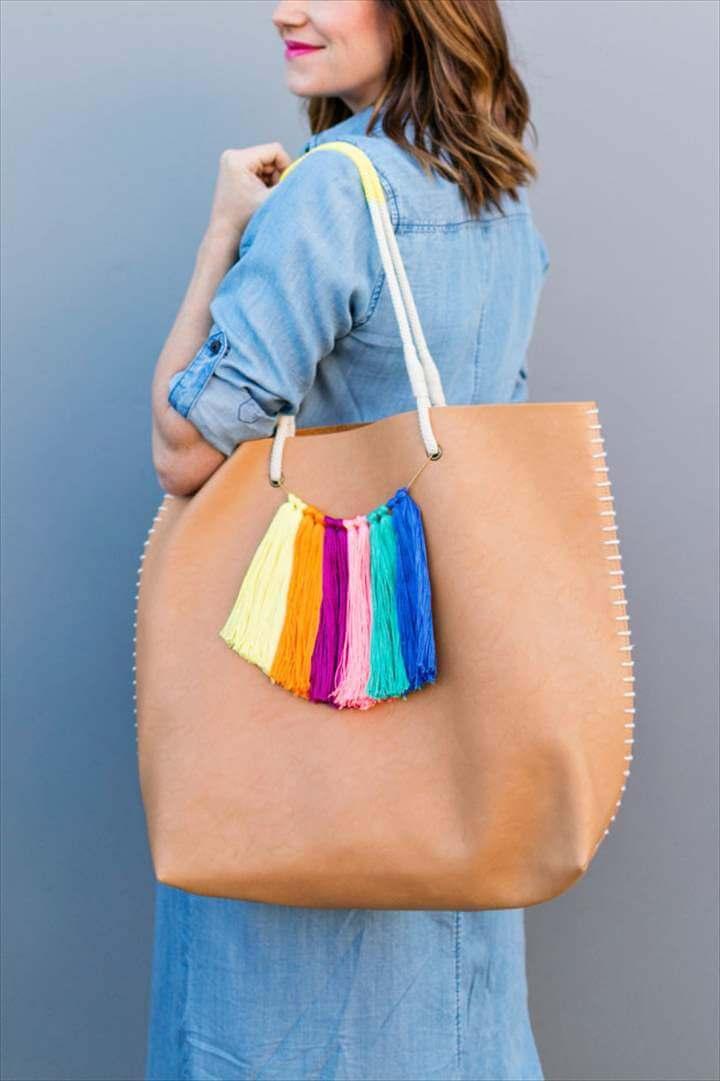 Bring some colored fun in your summer fashion with this tassel tote bag. The idea is too cute and quirky to work on. All you need is a simple tote bag, a bunch of the colorful rainbow yarn to make tassels, and then add them to the tote bag in arch style. No matter what kind of tote bag you have the tassels can funk up each.
Image: tellloveandparty
Sponge Bombs

: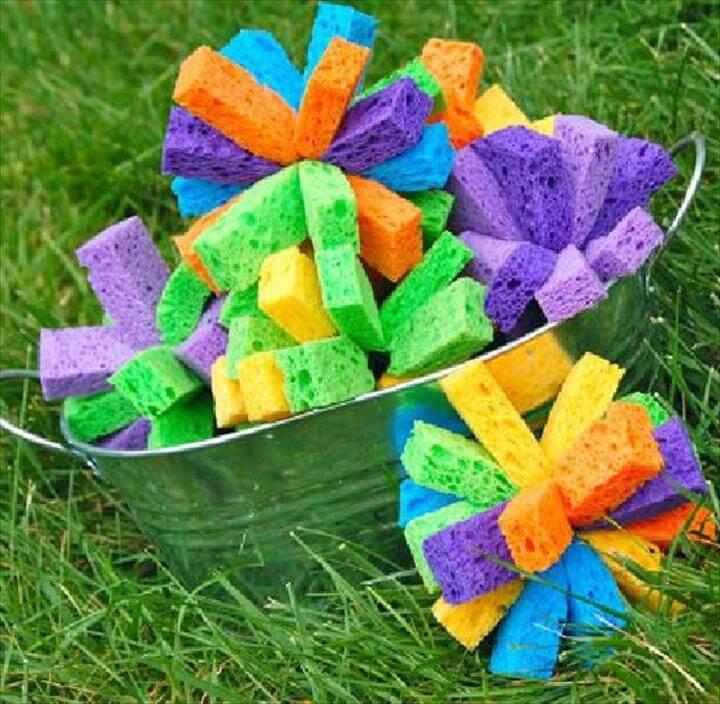 Summers are so undone without having some water fun and that too with the sponge bomb fights. You need to get your hands on some colorful sponges, then cut them in long stripy forms and then mix them up to tie up like a pom pom ball. Your kids are going to love these adorable and colorful water fun sponge bombs.
Image: innerchildfun
Pom Pom Bookmark: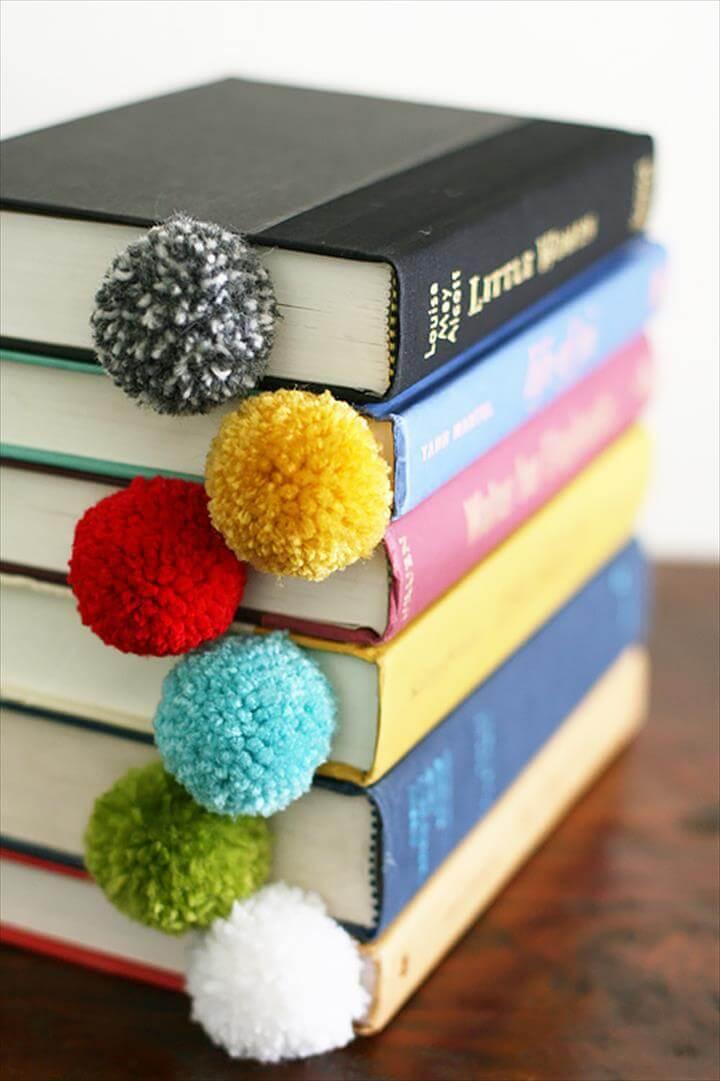 Summers give us so much time to relax and read our favorite books in the outdoors. So now when you have some free time in your summer routine you can make these pom pom cute bookmarks to use as the perfect gifts for all the book lovers around you. They are super easy to make with some colorful yarn.
Image: designmom
Yellow Pineapple Candy Jar

: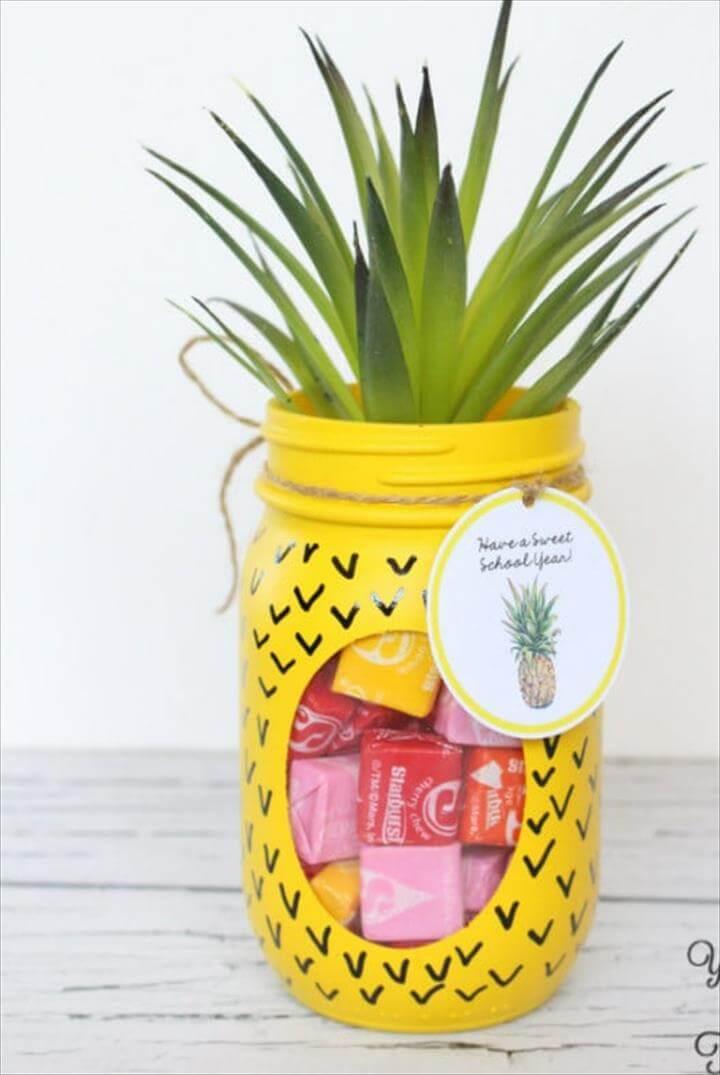 Feeling bored on a summer day? How about have some fun with this lovely yellow pineapple candy jar project? Yes, the simple mason jar has been turned into a gorgeous yellow pineapple to hold those yummy and sweet candies. You need yellow paint, an oval hollow vinyl shape, and the sharpie market for the project.
Image: yesterdayontuesday
Ice Chalk Paint Projects

– Sidewalk Ice Chalk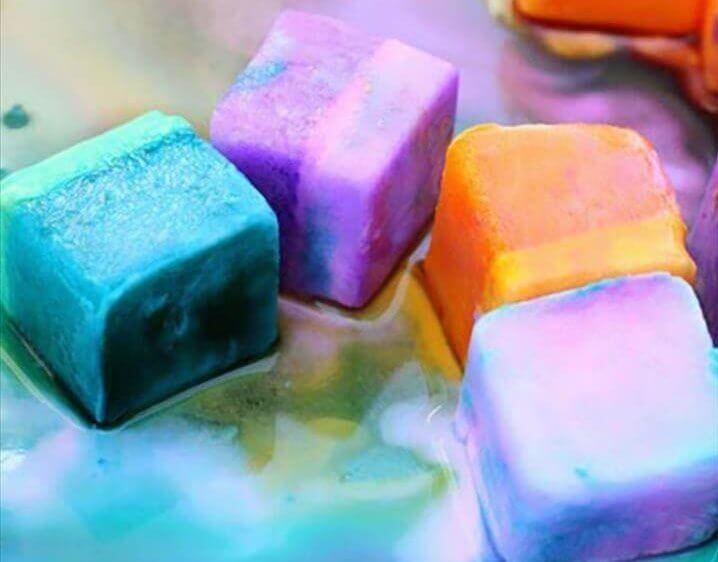 These ice chalk paint projects would keep your kids busty for a long time in the outdoors so that you can complete your home chores. They are super easy and fun to make with things like corn starch, food colors in variety, baking soda, vinegar, and the ice cube trays. Grab the step by step making details here!
Image: learnplayimagine
Phone Holder Using Toilet Paper Rolls

: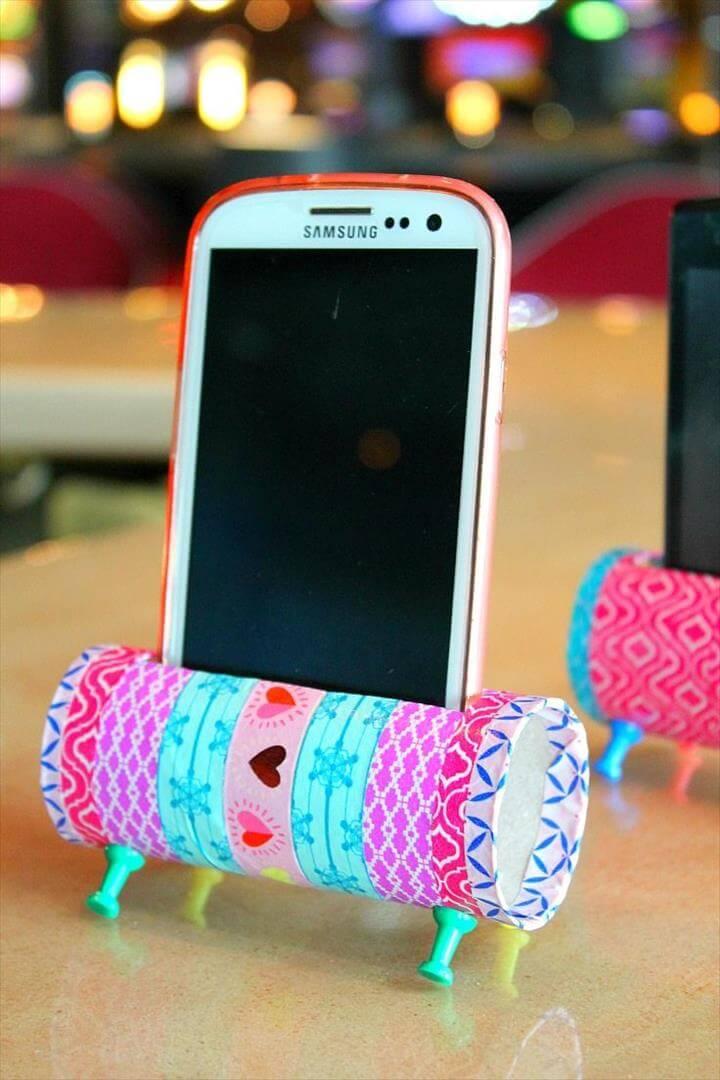 Now you can make these super fancy and cute phone holders using the toilet paper rolls and have so much fun making them too. So grab the empty toilet paper, some cutting tools, and the colorful washi tapes to decorate it up. These phone holders are going to look so pretty standing on your side tables.
Image: livedan330
Ice Cream Cone Garland

: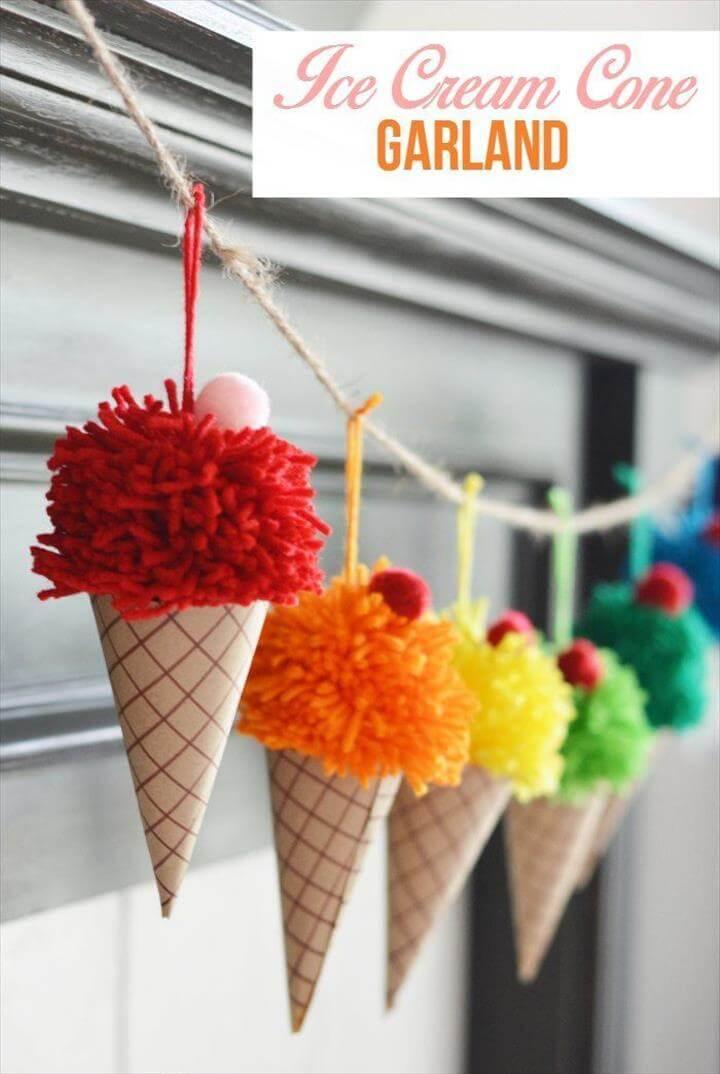 Summers are so much easier to handle with things like ice cream. So your summer decorations should be inspired by the summer items just like this ice cream cone garland. The cones are made with the brown craft paper, the cream section is made from the colorful yarn pom-poms and then a bunch of these cones has been stringed up to make a mantle garland.
Image: growingupgabel
Red Strawberry Pillow: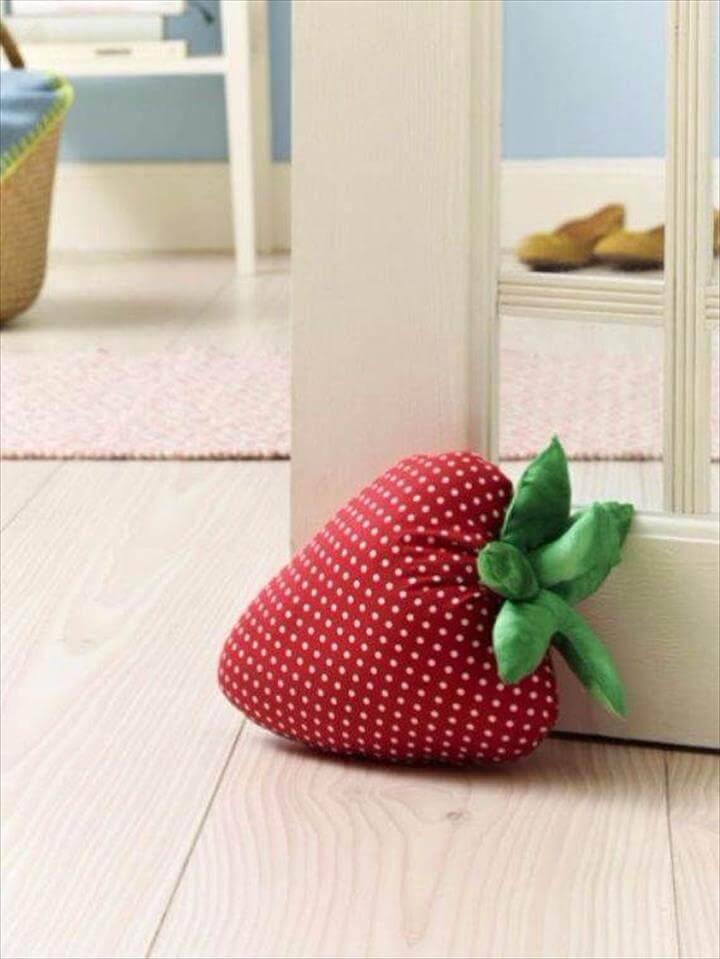 One of the favorite flavors of the summer on us is the yummy and delicious strawberries and it gives you a lot of crafty inspiration. So here is the idea of making this lovely red strawberry pillow and your kids would love it. You need red fabric with dots and the green felt to shape up this lovely and cute pillow.
Image: wunderweib.de
Surprise Message Confetti Poppers: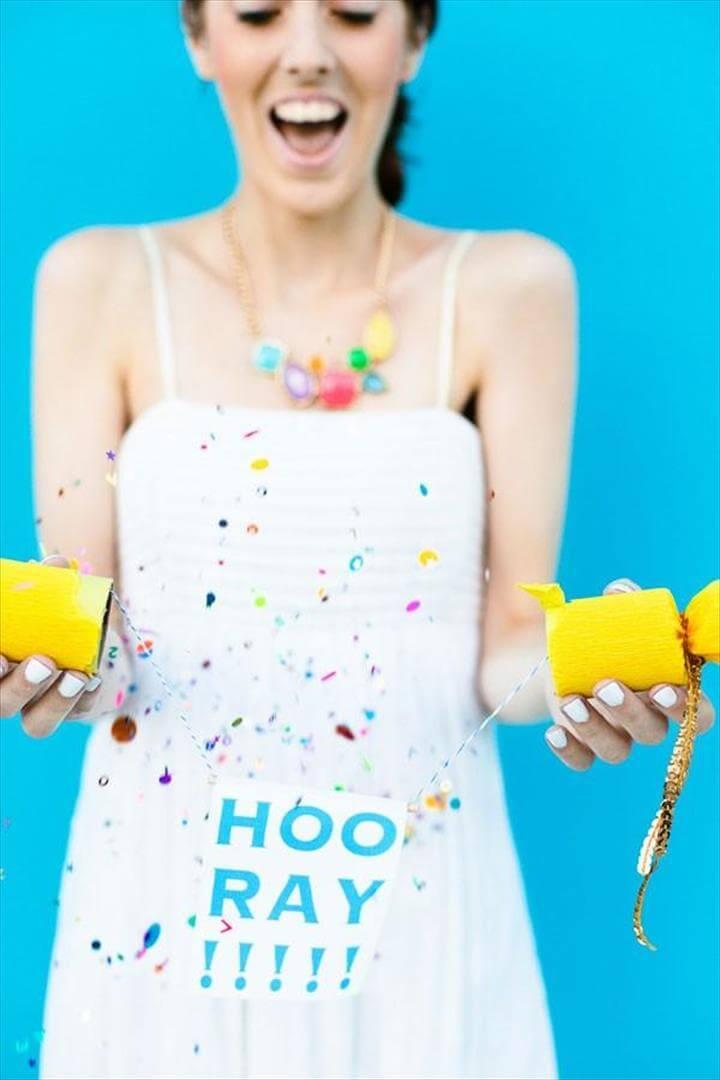 Summer means so much outdoor fun with parties and the cute décor ideas. Here is the idea of making these surprise message confetti poppers to add more fun and entertainment value to your party. You need a lot of things to make these lovely poppers so get to the link to know all the details and instructions.
Image: studiodiy
Popsicle Pattern iPhone Covers: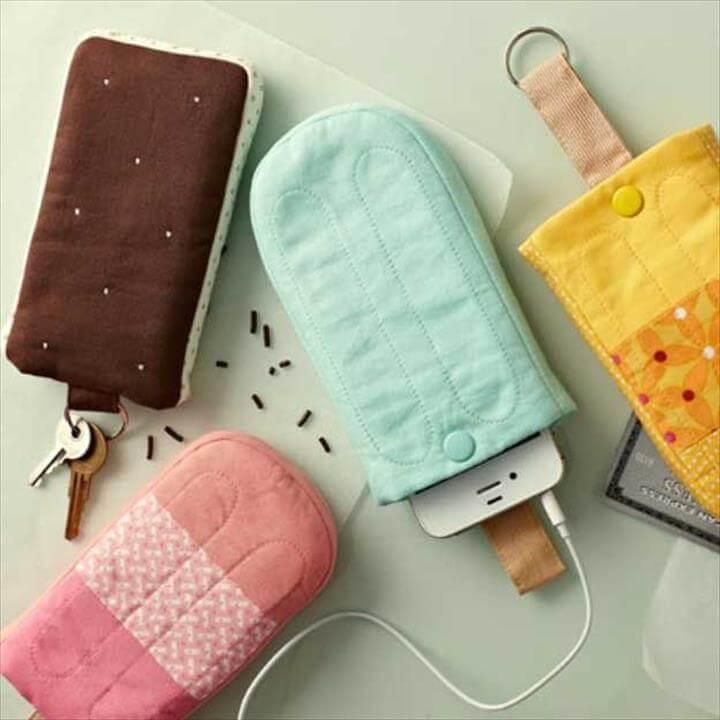 Make some yummy Popsicle inspired crafts for the summer and nothing can beat the cuteness and charm of these Popsicle pattern iPhone covers. So grab some fabric that has the colors of your favorite popsicle sticks and easily sew them up in minutes to make these comfy and cute iPhone covers.
Image: straightstitchsociety
Painted Beach Ball Makeover: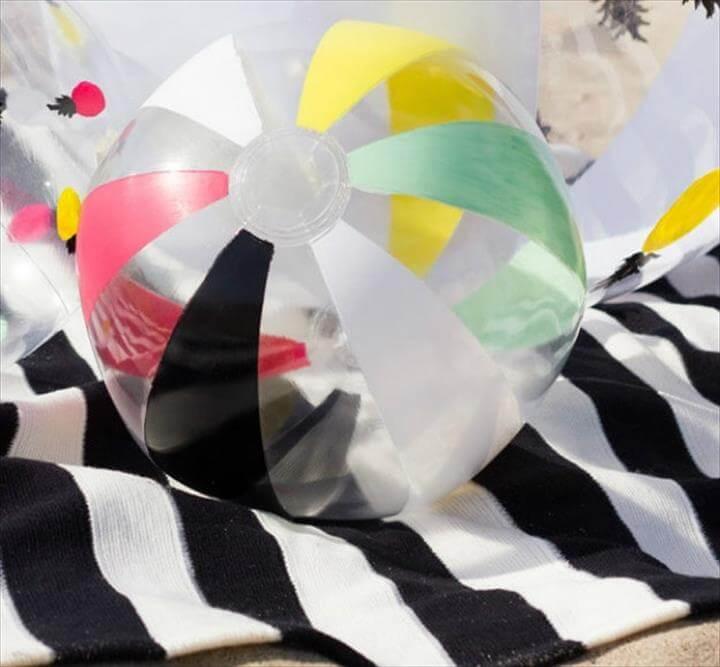 Make the most out of your beach visits with projects like these painted beach ball makeover. They are so much fun to make as they are fun to play with at the beach. So grab the cleared beach balls and some paint hues to paint the balls with cute fruits, melon strips, and more of creative ideas.
Image: studiodiy
Origami Stars

: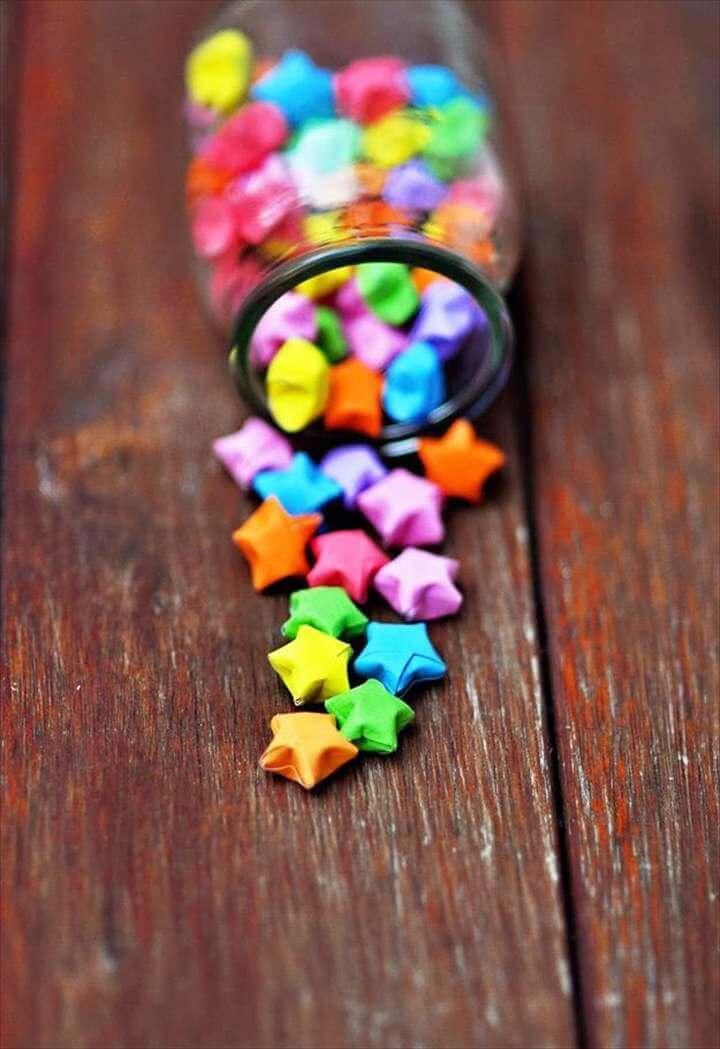 There are so many fun crafts to do at home for the summer fun with your kids and making these origami stars is the best thing to work on. So grab some thick paper in the variety of fun summer colors. Cut out thin strips to twist up and wrap it and form these cute and tiny starts to fill the jars with.
Image: agusyornet
Summer Picnic Coasters

: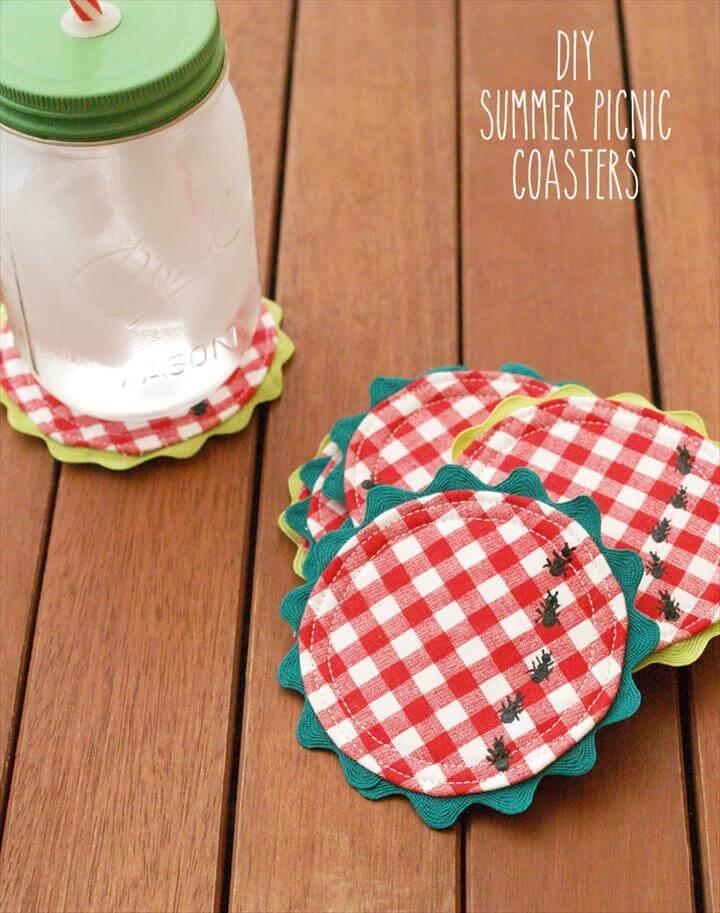 The yummy and sweet summer drinks invite the ants and this lovely idea has been captured on these fun summer picnic coasters. Using the gingham fabric, fleece and the colorful rick rack trim you can easily shape up this summer picnic coaster set. Paint the black ants to make them look super interesting.
Image: flamingotoes
Summer Mason Jars

: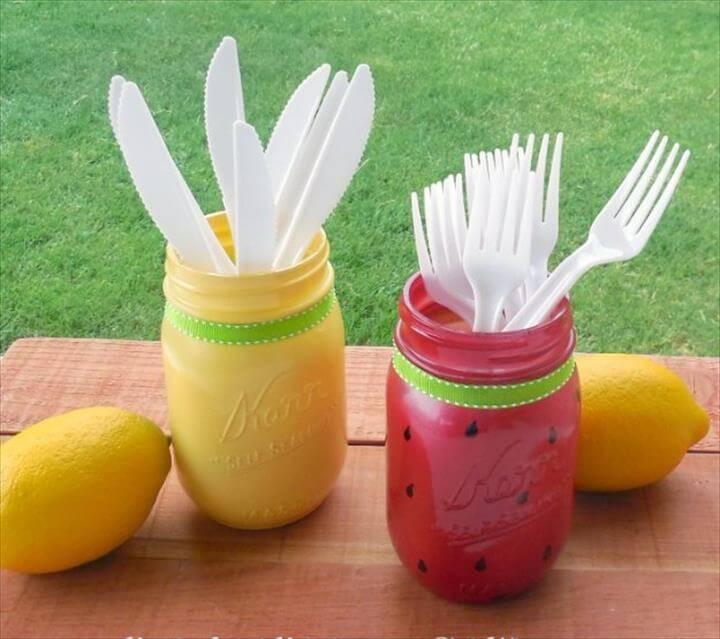 Summers can be made fun in so many ways just like this idea of summer fruity mason jars. Either you are hosting a party or you just want to make a fine summer day more fun, these summer mason jars are going to bring so much excitement to the tables. So paint the mason jars as fruits like mango, watermelon, strawberry and more to hold your utensils in them.s
Image: pinkwhen
Flip Flop Door Wreath: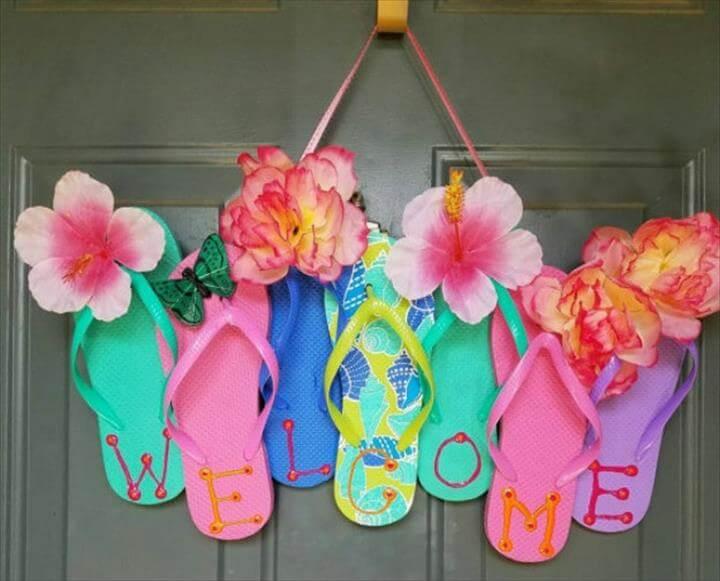 If you are in need of a totally unique and fun idea for the summer outdoor wreath then get your hands on this flip flop door wreath. You need some colorful pairs of flips flops or you can take the plain old ones and paint them. Some faux flowers add the decorative value and the lettering WELCOME finishes it so nicely.
Image: craftymorning, youtube
Superhero Terrarium

: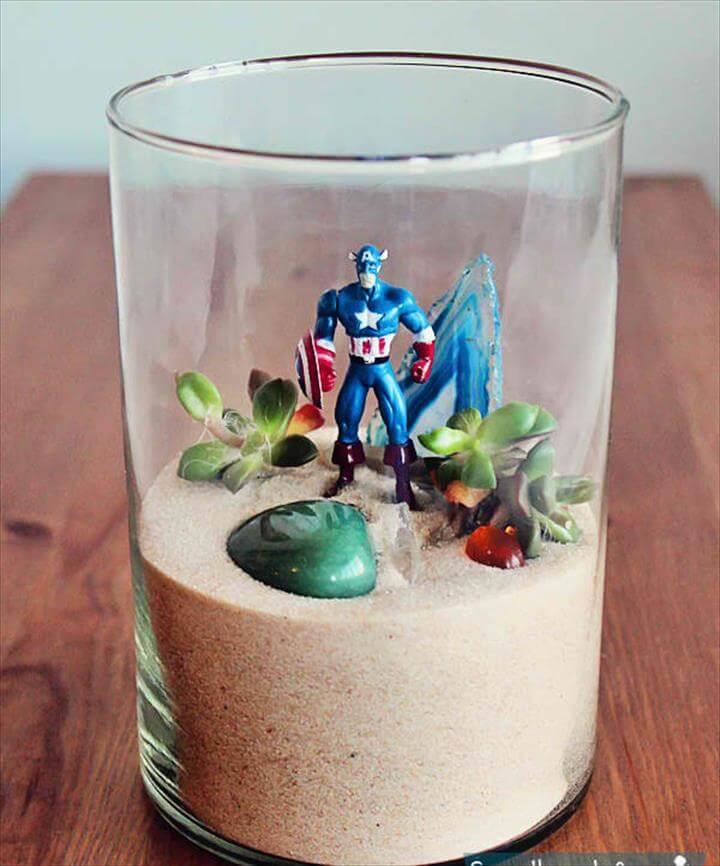 Terrariums bring so much ethereal value to your summer homes and this superhero terrarium is the best thing to make with your boys. Just take a glass jar and fill with the sand and some succulents and last a superhero miniature. The girls can do the same project but with a Barbie or Repunzel.
Image: archive.org
Summer Fruit Trays Tutorial

: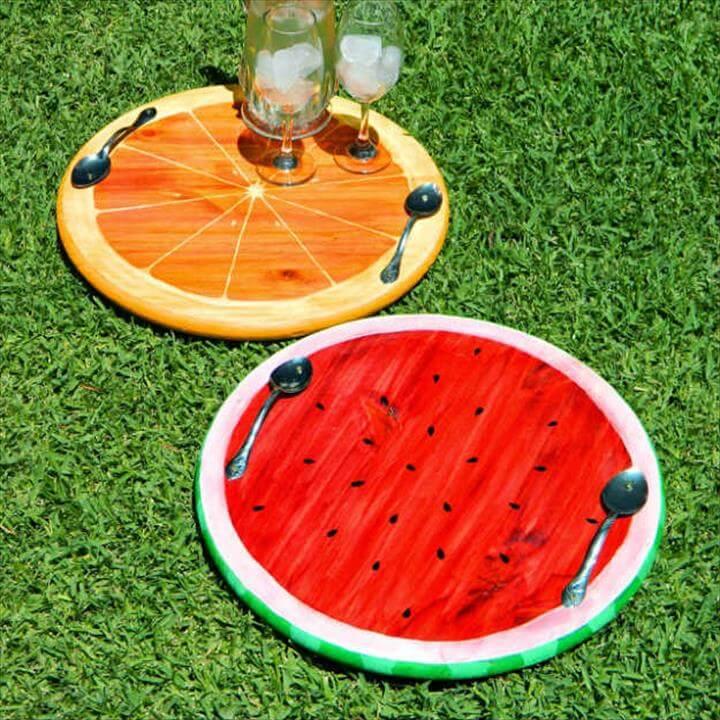 You are going to fall in love with these summer fruit trays as they are so pretty and fun looking. One tray is the lime themed and the other one is the watermelon. The lovely trays are made with the wooden rounds and the RIT wooden dye colors of the fruits that you want to use as the same. The spoon handles of the trays are icing on the cake.
Image: markmontano