It's about time we should be updating all our stuff according to the attest fashion trends be it our wardrobe, shoes or anything else. This article along with the detailed description and tutorial will help you in doing some up-gradation to your old heels into something new and modern. So grab all your old heels at once and a few supplies to bring drastic change to your shoe collection. Here 22 Easy Ways To Update Old High Heel For Modish Girls for you.
Start the discussion of this article by first changing a pair of old heels into neon heels. The next one that we have is neon sandal heel which is also super amazing and easy to do. The next one is perfect for the proms and is given a name of mosaic heels as the makeover has been done with some of the gems and it gives a look of mosaic to this pair. Next on is another plain old pair of heels and has been given a changed look with the faux beads. Some colorful beads have been pasted on to a plain black pair of heels. Besides this, we also have a pair of lace-up heels here which is also a modified form as it was previously a boring pair of red heels but this lace-up style has added a spark to it.
The next is a little effort-consuming but it's all worth it. It's basically a pair of an old heel which is now covered with fabric and looks completely new and comfortable to the core, try this out by following the procedure in the link given below the picture. Next on here is a little bit funky and adorable too as it's a comic sheet wrapped heels that looks truly casual and iconic. The next one here gives you an idea that you can also change just the heel part of an old pair also, with glitter as you can see over here. With the same glitter technique, you can also do a little more creativity as you can see in the next project where a heart has been made with red glitter on to the back of black heels.
You cannot ignore this next project which is basically an applique project and is absolutely gorgeous. The next project actually explains how we do the glitter thing on the soles of our heels too. Let your attention now be on these amazing and incredible easy paint high heels. Besides this, we also have heels done with chalkboard paint, rhinestone, stickers, paint, crystals, and embellished stones.
Do not forget to grab some of your old heels today and start the project this holiday only so that you can go along with the latest trends and fashion sense,
You May Also Like:
Neon Heel: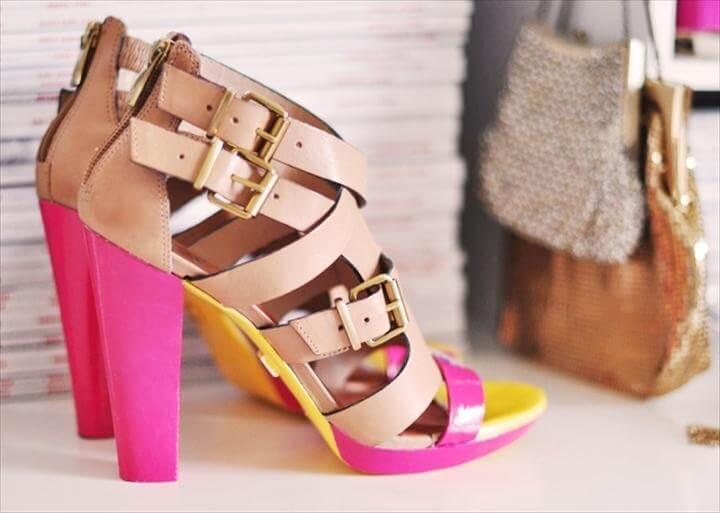 Now you can love your old heels again by giving them a funky makeover and that too with the neon colors. Yes, this pretty pair of the heels has been painted with yellow and pink paint hues and that too in neon. The bright colors have really added an eye-catching appeal to these boring heels. Details here!
Image: yesstyle
Neonowe Sandały Heel: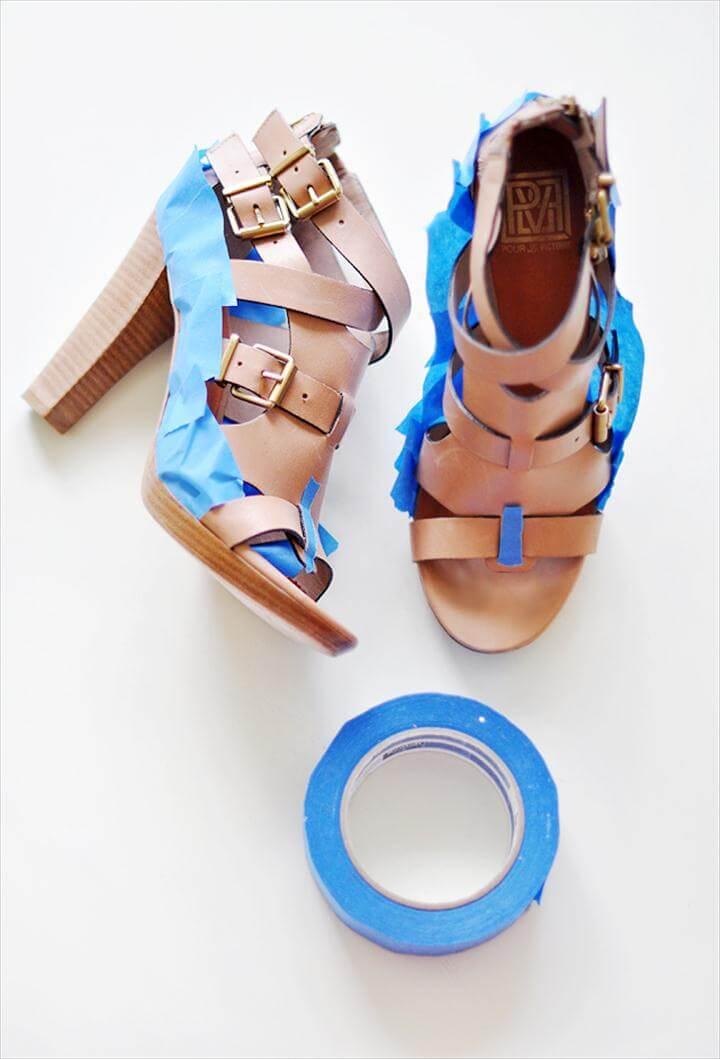 Image: yesstyle
Dream Prom Heel – Mosaic Heel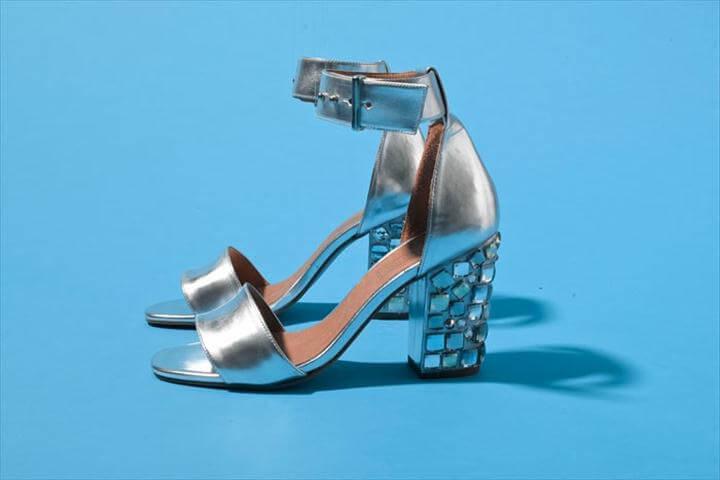 Your dance on the prom night is going to grab the attention of everyone around when you have these dream prom heels on. The blocked heels have been uplifted in glam and fashion by adding glass beads. These beads give a pretty sparkly and mosaic effect to the heels and make them look so stunning and bold. Details here!
Image: teenvogue
Faux Beaded Heel & Contest: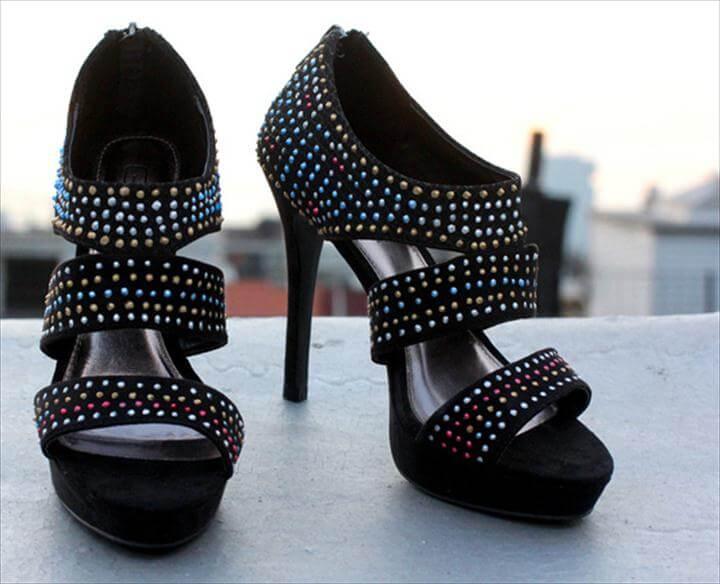 If you are bored with your black heels by wearing them over and over again then it's time to restyle them. Using the smallest size of the rhinestones or beads you can completely funk up your plain heels.  Glue up these multiple colored beads on the strappy section of the heels and they are ready to take your breath away.
Image: ispydiy
Lace-up Heel: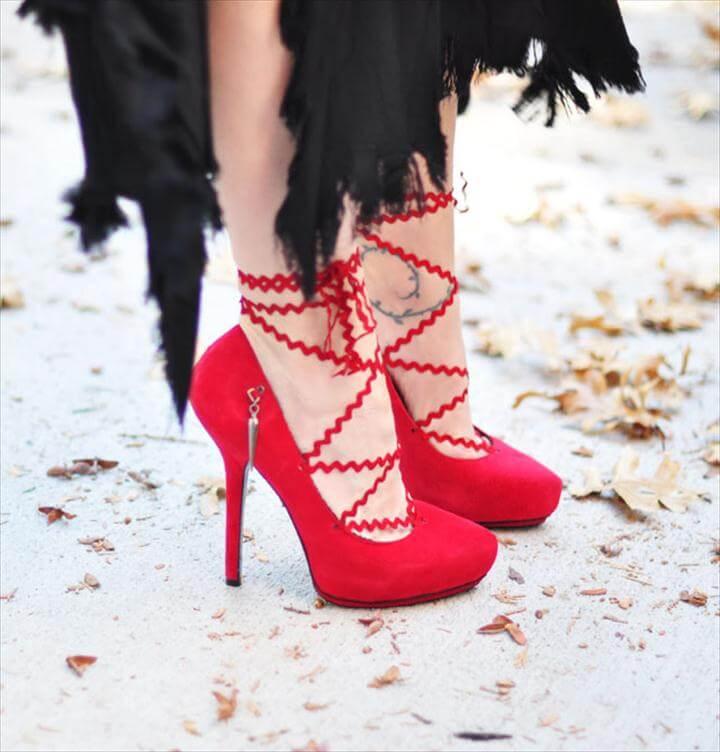 Let your favorite red heels make the prettiest and stylish statement on the valentine with some crafty touches. Yes, grab some red lace to create a lovely lacey design on the feet top and the above the ankle. This simple addition of the lace is really going to add oodles of charm and fashion to your dress up for the day.
Image: lovemaegan
Fabric Covers Heel: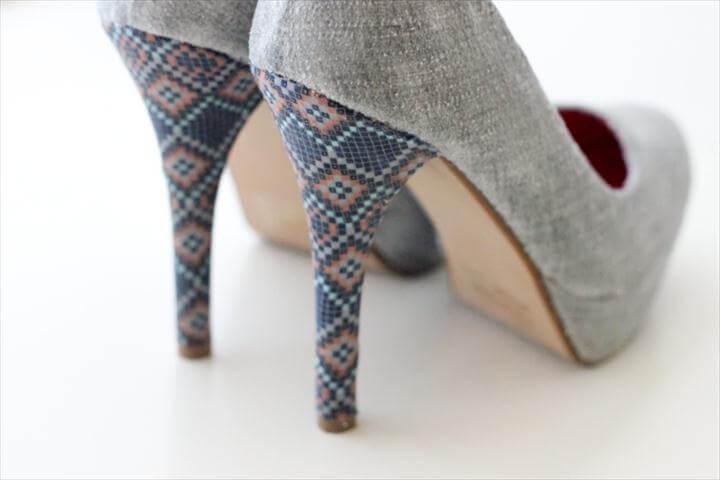 Let your heels look fabulous and stunning with some DIY fun work on them. Here is the idea of fabric cover heels to make your simple and plain heels look all the way gorgeous and charming. Just grab the fabric that compliments your heels and glue it neatly and nicely on the heel section. Follow the tutorial here!
Image: deliacreates
Killer DIY Comic Strip High Heels: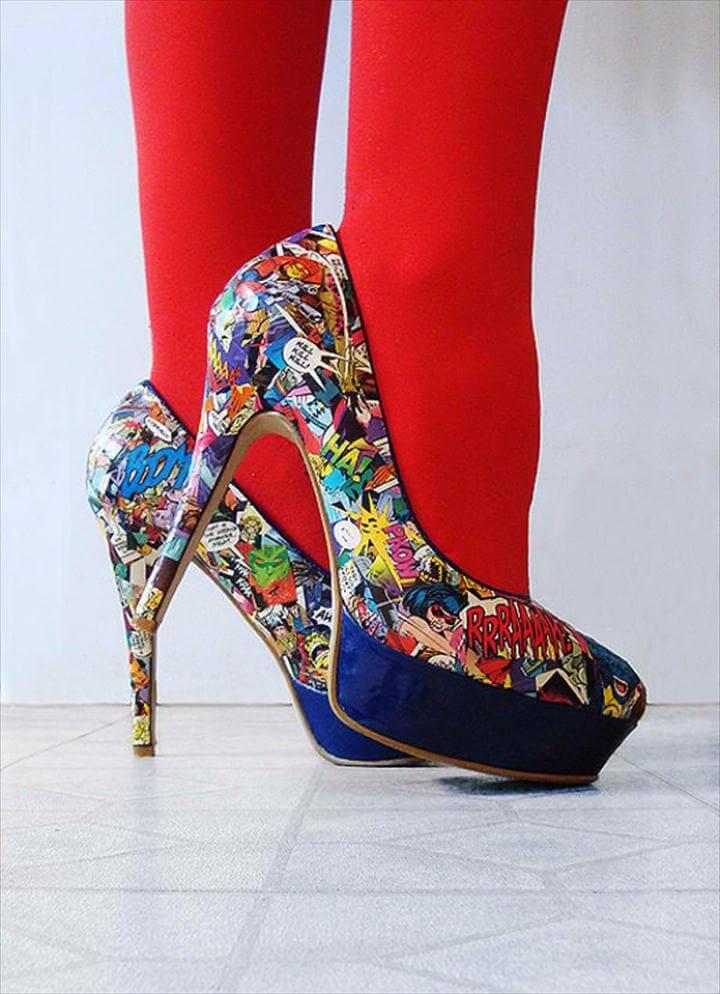 The wild fashion lovers are really going to fall in love with these killer DIY comic strips high heels. Just take a pair of high heels lying on your rack. A lot of comic book pages to get your cuttings. Then grab some mode podge and let the comic strips or cutting get stick to the heels all over and it's done. Details here!
Image: bitrebels
Comic Book Mod Podged Shoes: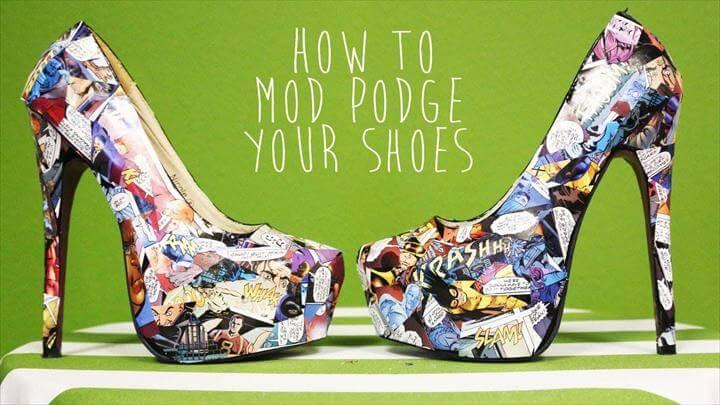 Bring your comic book love into your fashion game and create something like these comic book mod podged shoes. Yes, the whole part of these plain heels has been covered with the comic book strips and cuttings. These are going to look so chic and fun for a wild party or any day to look stand out.
Image: youtube
Glitter Heel Tutorial: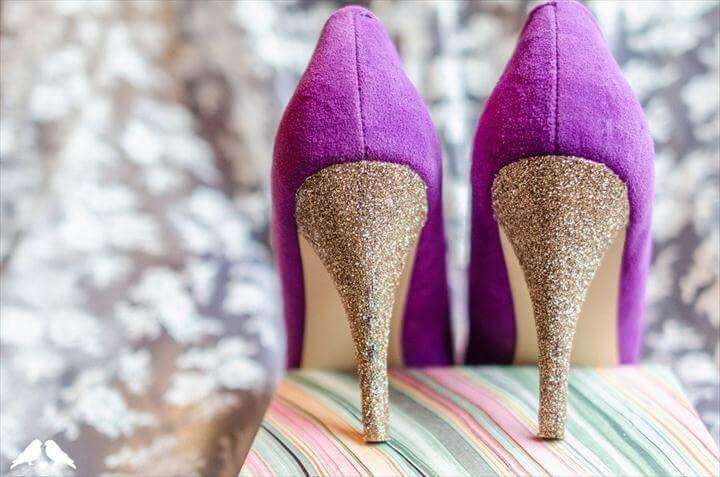 You can make the most out of glitter to refashion some of your old pairs of heels at home. Here are these heels made to look instantly glamorous and pretty with the glitter added to the heels only. Just apply mode podge to the heels and then pour silver glitter on it. Once dry the heels are ready to create a stunning style statement.
Image: capitolromance
Glitter LOVE Heel: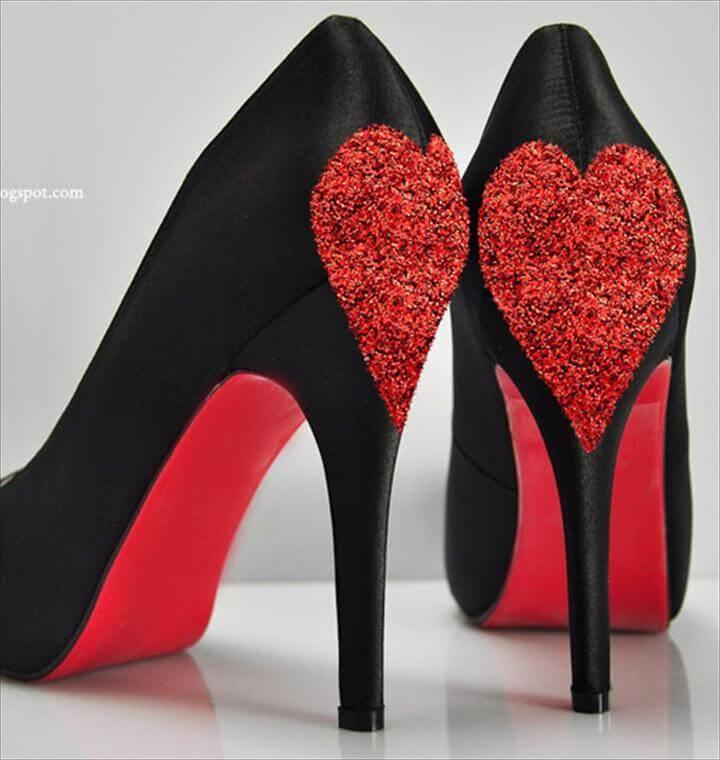 You are going to fall in love with these glitter LOVE heels for being so adorable and cute. The simple black heels have been given a love makeover with these glittered hearts on them. Using mode podge and the red glitter you can easily create these adorable heart shapes on the back of the heels and stun up in them.
Image: matterofstyle.blogspot.de
Wedding Shoe Rhinestone Applique: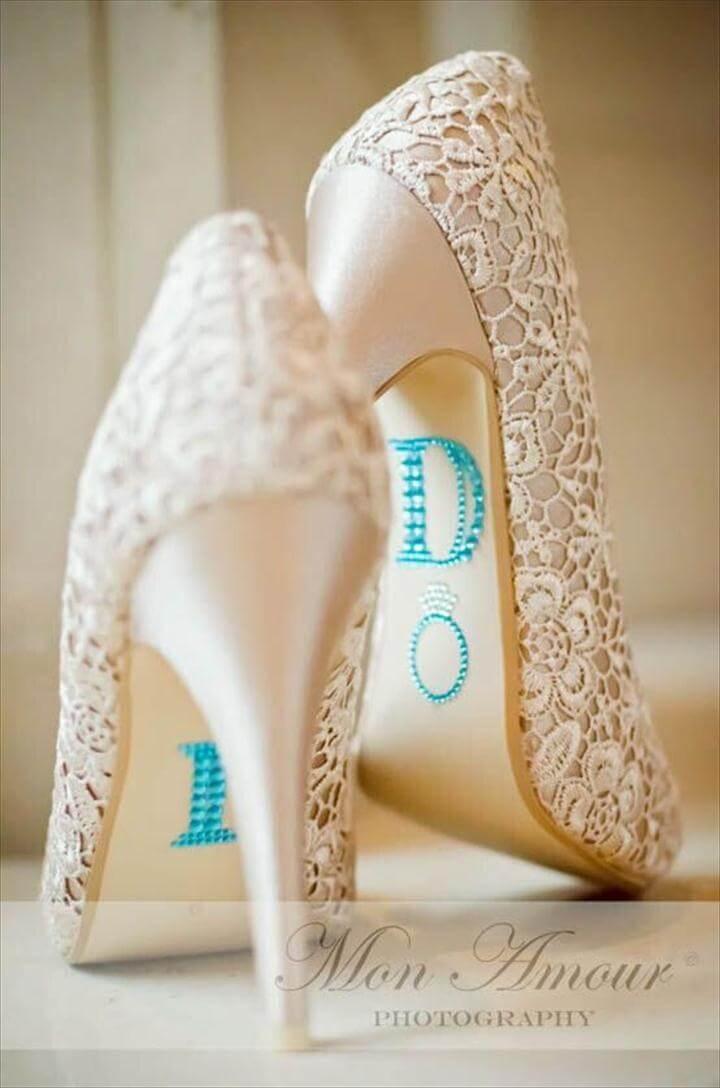 You can make the most of the wedding shoes with this idea of the wedding shoe rhinestone applique. Just get your hands on the rhinestones and the mode podge to create the initials of the bride and groom over the back of the heels along with a ring applique.  This would make a great gift idea for the bride from the bride maids. Details here!
Image: youtube
Glittery Back Heels: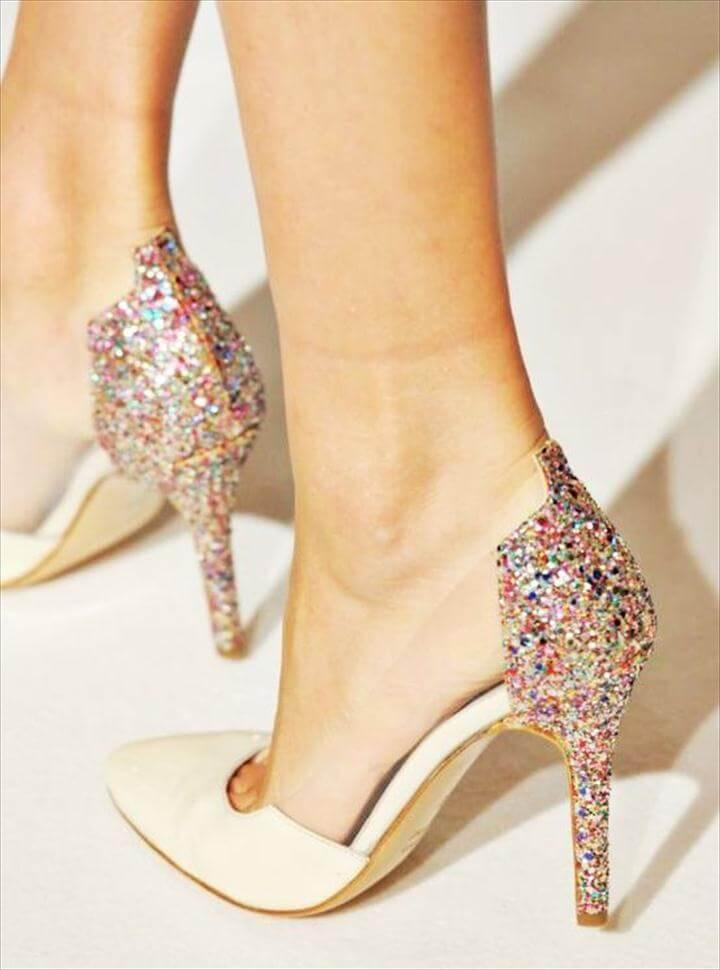 Make the most out of your heels with this pretty idea of the glittery back heels idea. You can take the multi-colored glitter and get it glued to the heels. This pretty glam look of the heels can really make your personality shine throughout the festive and the celebration. You can check out the details right here!
Image: youtube
Glitter Soles Heel: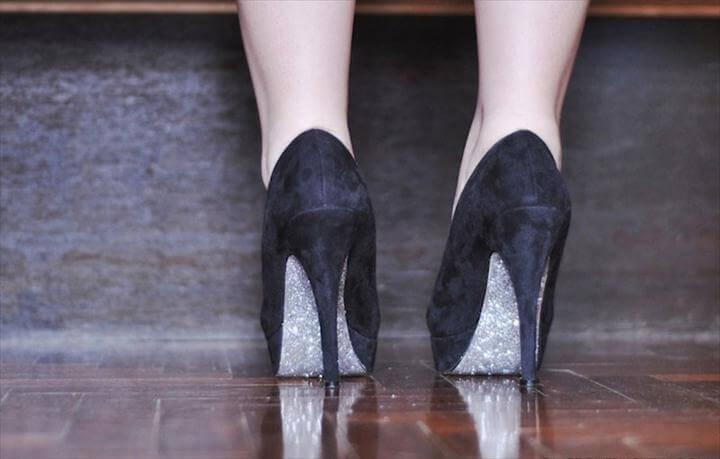 You can make your heels look the cutest with these glitter soles heel. They are super easy to make with the least of the crafty items. So get your hands on the glitter and the mode podge and mix them together. Then grab a brush and apply this mixture to the toe and the heel section of your heels. Grab the details here!
Image: trinketsinbloom
Easy Paint High Heel: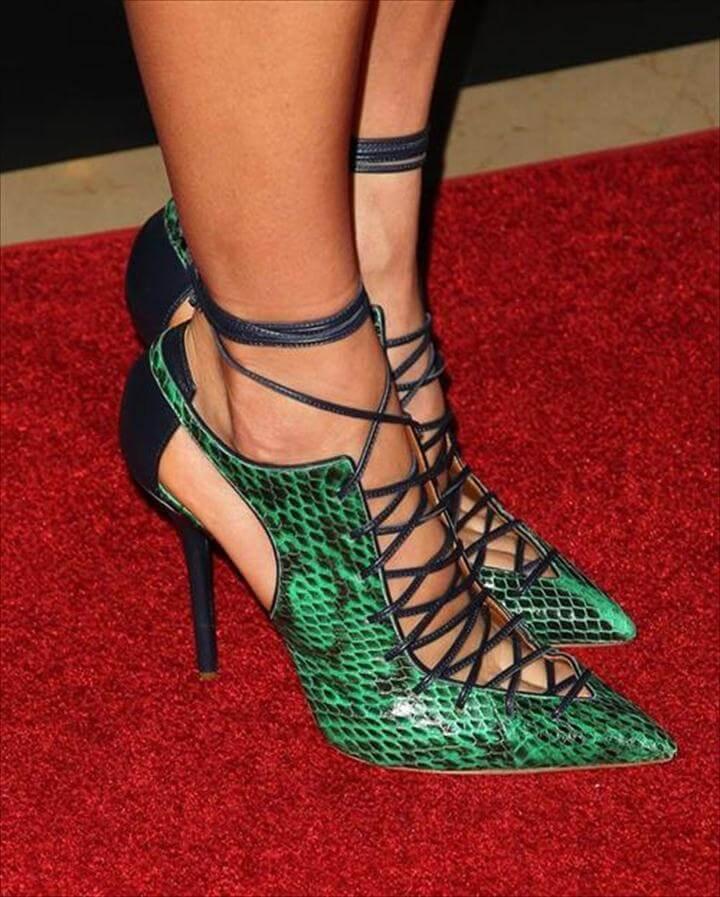 You can paint your heels to make them look super interesting and fun. Just get your hands on the heels and the paint of your choices to make the most dramatic and gorgeous heels on your own. You can add glitter to the paint for a more glamorous and catchy look. You can check out the details of the idea right here!
Image: youtube
Kick-Ass Upcycled Chalkboard Paint High Heels: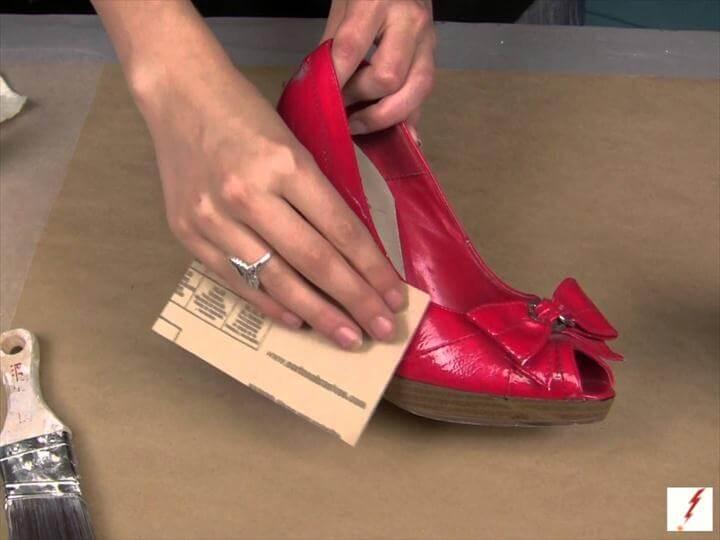 You can make your heels look the quirkiest to stand out in a gathering with these kick-ass upcycled chalkboard paint high heels idea.  Just grab the heels and paint them up with your favorite hues in the chalkboard paint. Then you can write off any of your favorite words, draw shapes, and more on the heels.
Image: youtube
Valentina Black With Rhinestoned Lips: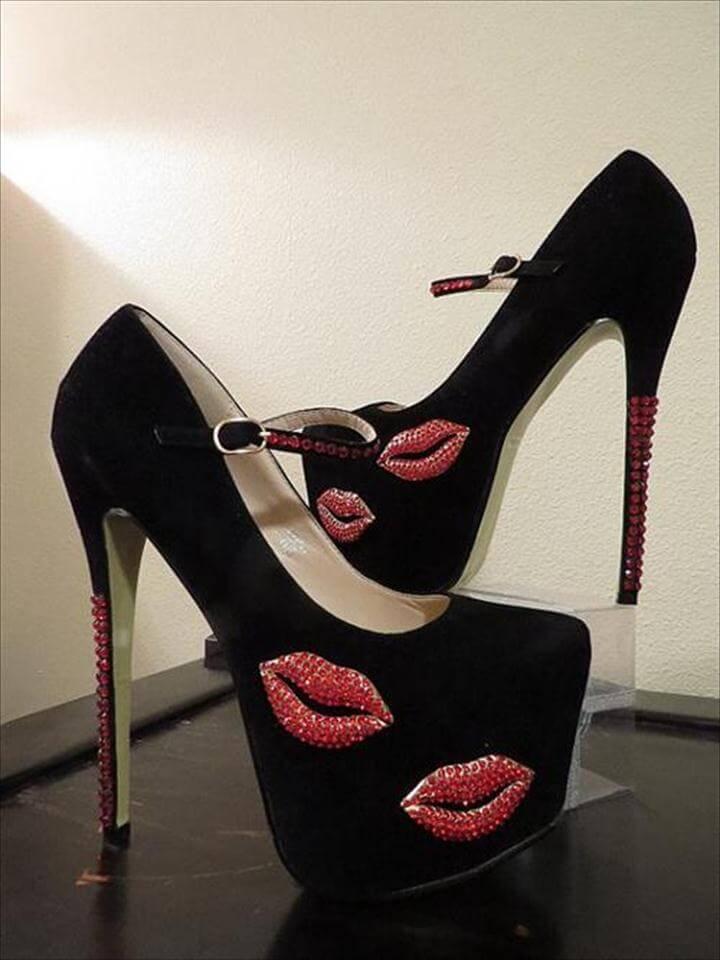 Make your heels look sexiest and coolest with this idea of the valentine black with rhinestone lips. Just draw lips on the side edges of the heels using gold paint and then glam them up with the red rhinestones. Also, add the same beads to the heels and you're upgraded heels are ready to stun everyone around.
Image: matterofstyle.blogspot
Custom Wedding Shoe Stickers: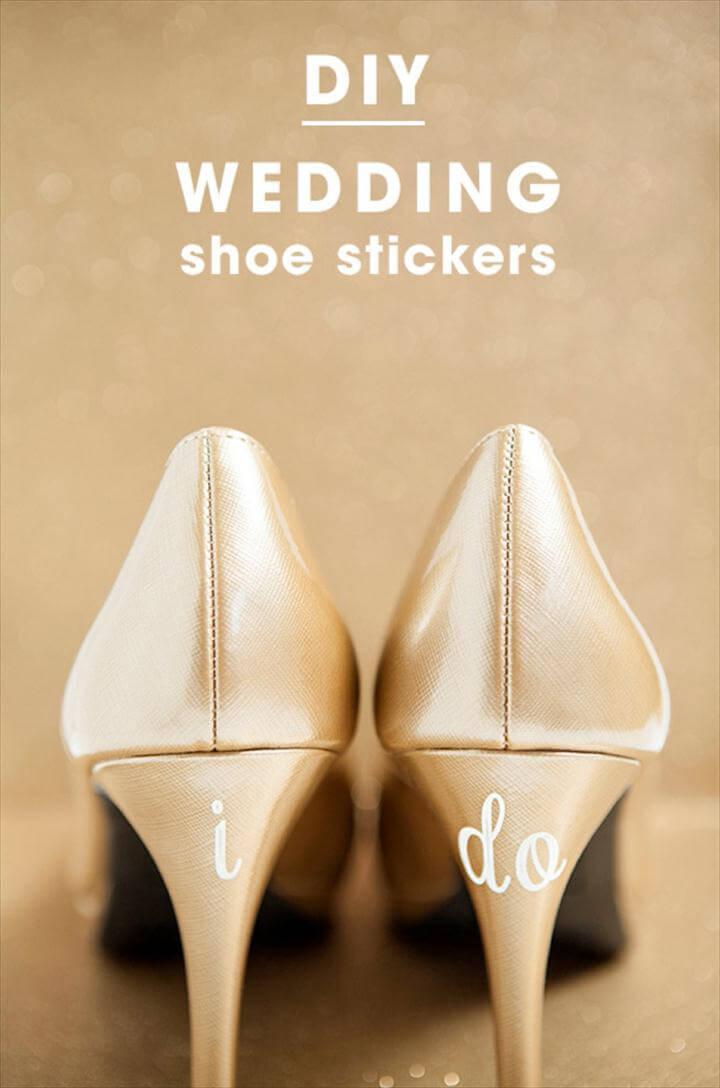 The wedding day is the most special day with everything special from tip to toe for the bride and the groom. The bride can add more to the appeal of her wedding shoes by adding these I DO stickers to her heels. Put I to one heel and the DO to the other and the wedding shoes need no more extraordinary charm.
Image: somethingturquoise
Green Painted Heel Design: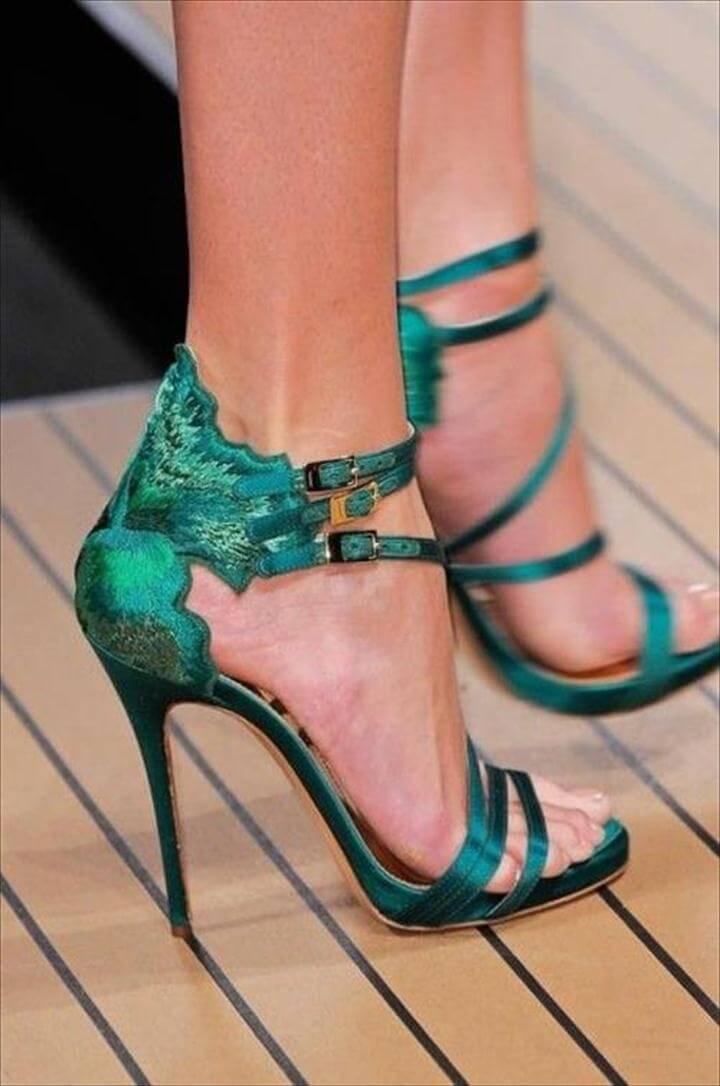 Image: kollabora
Rhinestone Heel With Crystal: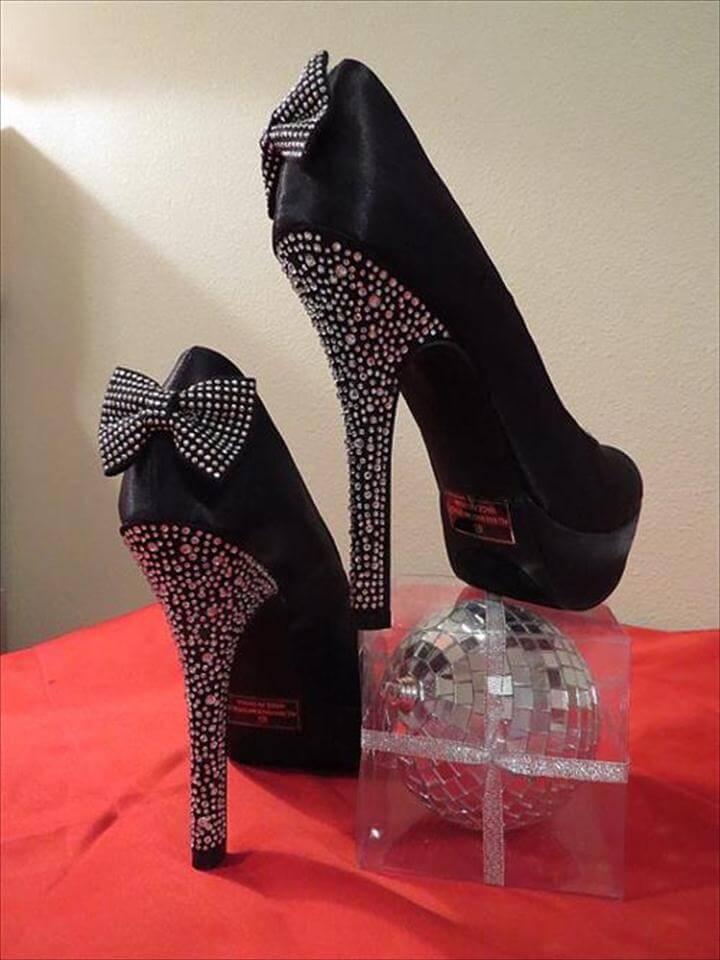 Make your heels look new and fun with these rhinestone heels with crystals. Yes, you can simply get your hands on the tiny crystals and glue them all over the heels. These crystals would add oodles of charm and a pretty sparkling effect to your heels. Follow the easy details of the idea here!
Image: youtube
Embellished Heels: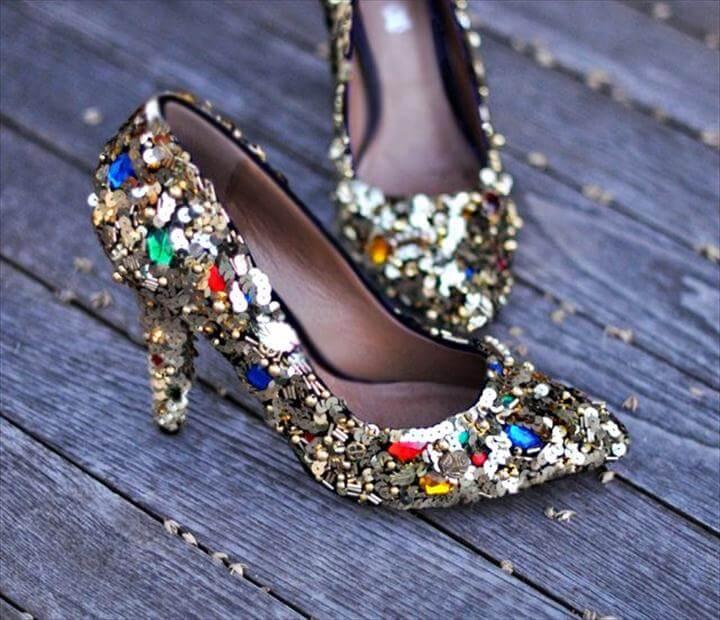 You can make those sparkly heels at home that you see at the cost of big fortune at the shoe stores. Here is the idea of embellishing your block heels in a colorful and sparkly way. So grab the colorful sequins, stones, gems, and the floral appliqués and glue them all over the block heels. Details here!
Image: youtube