The interior designers have started using materials for decoration which were never considered this much important back then. One of those decorative materials is seashells which are nowadays used on a large scale for decorating purposes, interior designing as well as backyard decoration.
The shells naturally have a beautiful colorful pattern on them which makes them look gorgeous and it seems as if they are specially painted according to a certain theme. This naturally drawn pattern allows the creative minds to use these seashells for their decoration and designing and creating special art pieces.
The seashells can be arranged in unlimited ways possible depending on the choices of the designers. These seashells can be arranged in order to create a word as seen as in the pictures in this article and then this piece of art can be hanged on the walls to beautify the empty spaces on the walls. The seashells can also be arranged inside wooden frames for the same purpose of beautifying the walls and the rooms.
The shells can be collected easily from local stores, seashores, and different gardens and can be used for decorative purposes as mentioned in this article and shown through the pictures. We can also use fabrics with shells to give them a more defined look such as jute can be used as a base on which we can place shells in a manner that it becomes a piece of art for our home. The star-shaped shells need not much of ideas to make them look good as they already look pretty fine as a decoration piece itself suitable to be placed on our drawing-room tables.
Also, these 10 Amazing DIY Seashell Decor Ideas can be used to decorate our washrooms and bathrooms to give them a unique and fabulous look. We can also make wreaths out of the seashells and can hang those wreaths either in our washrooms or on any other door in the house. The delicate shells must be handled with care as they are very fragile and can easily be broken by handling carelessly while doing any artwork with them.
You May Also Like:
Seashell Letter: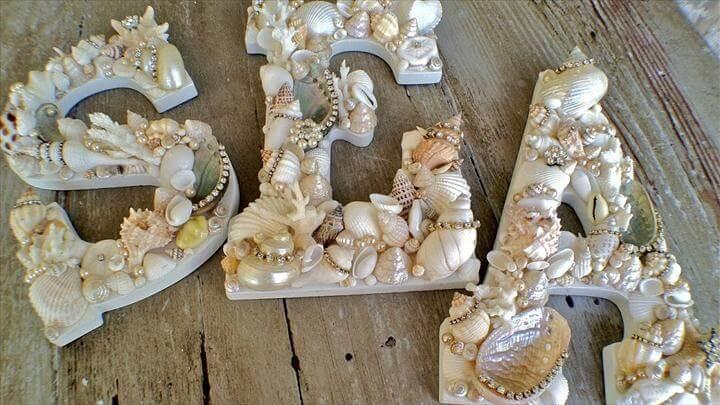 Summers bring in the sea and beach-inspired décor trends in the house. So here is the idea of making these lovely seashell letters to create some amazing summer wall art. Just grab some cardboard letters saying SEA and embellish them with white corals, seashells, pearls, and the stones.
Image: youtube
Beach Cottage Summer Room Decor

: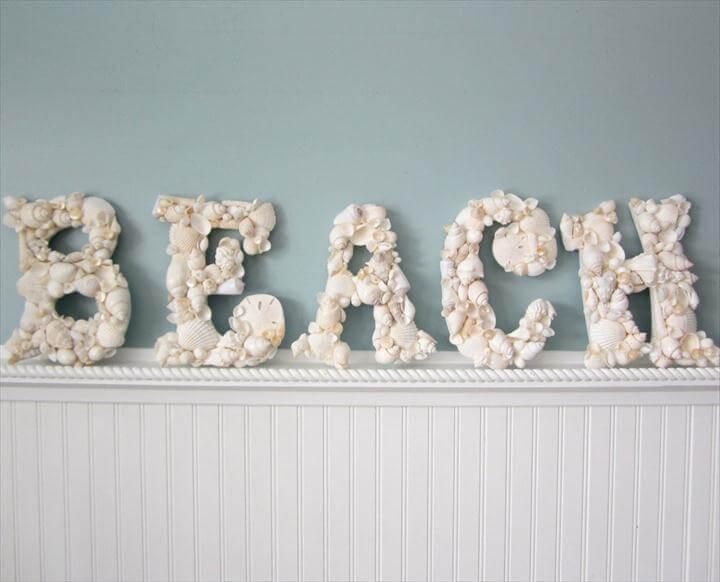 It's time to make your mantle space look all summery and fresh. Making this beach cottage summer room décor is the best thing that you can make for it. Just grab the wooden or cardboard letters saying BEACH and cover them with the seashells and you got the perfect summer mantle décor.
Image: youtube
Seashell
String Lights

: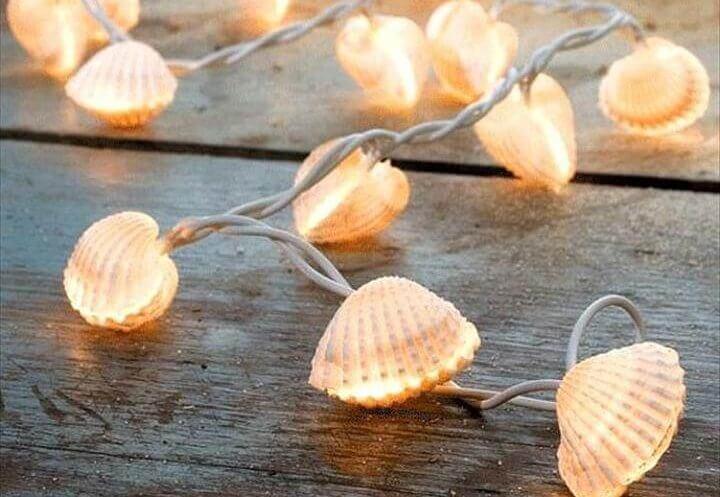 Summer outdoor fun is so undone without the lovely lights. So this time you can make these super cute and totally summer-themed seashell string lights.  Just grab string lights and then cover each light with a seashell and they are ready to hang around and look just so stunning.
Image: seatailshop
Beach Decor Shells

: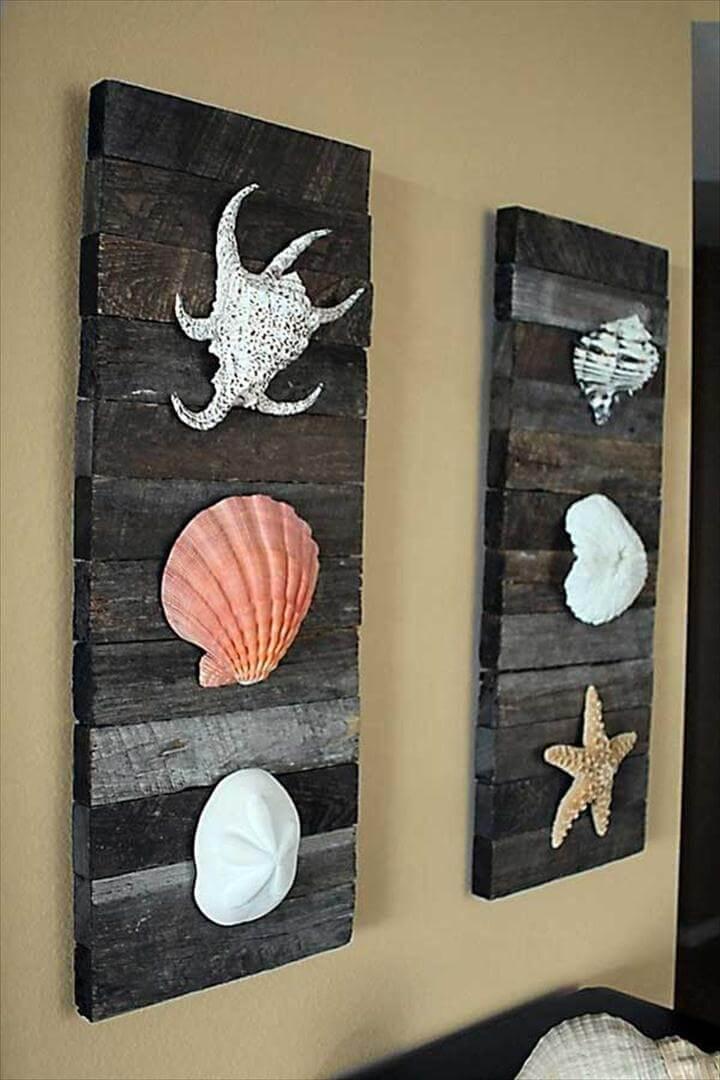 Wooden wall art décors are the best and making them with the summer theme would be best this time. Here are these lovely beach décor shell art to bring the beach touches in your summer home. The rustic wooden boards have been adorned with big painted seashells and mounted over the walls.
Image: consumercrafts
Framed Seashell Monogram

: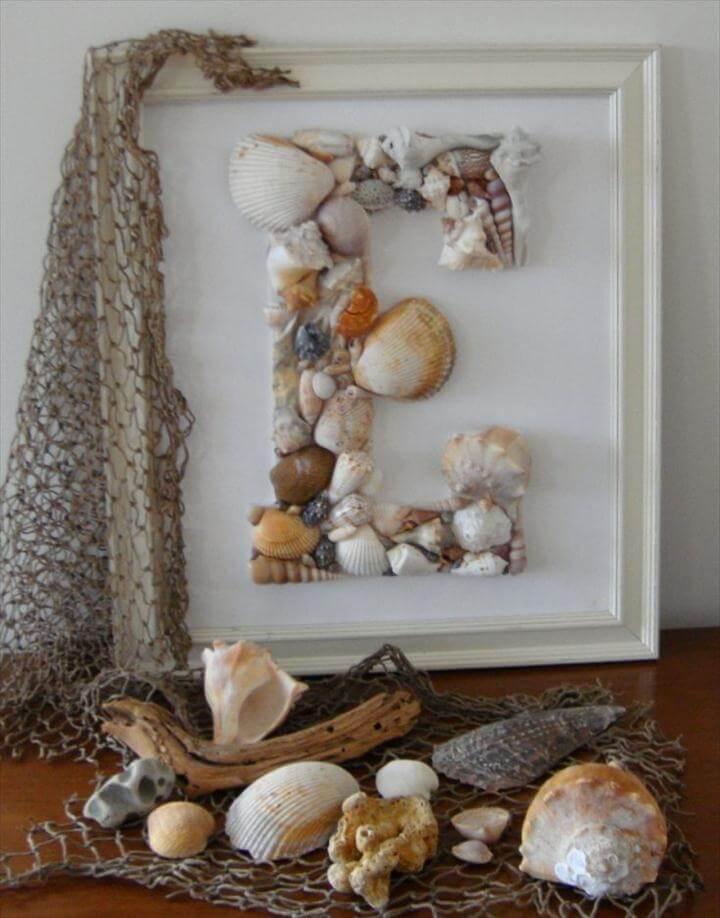 Summer décor should be done with the summer theme just like this lovely framed seashell monogram. So grab a wooden or cardboard made name initial of yours and cover it all with seashells and corals. Frame it up and then it's ready to rock your foyer tables to make a really welcoming look.
Image: xoxokaitlynmarie
Coastal Rope Mirror
: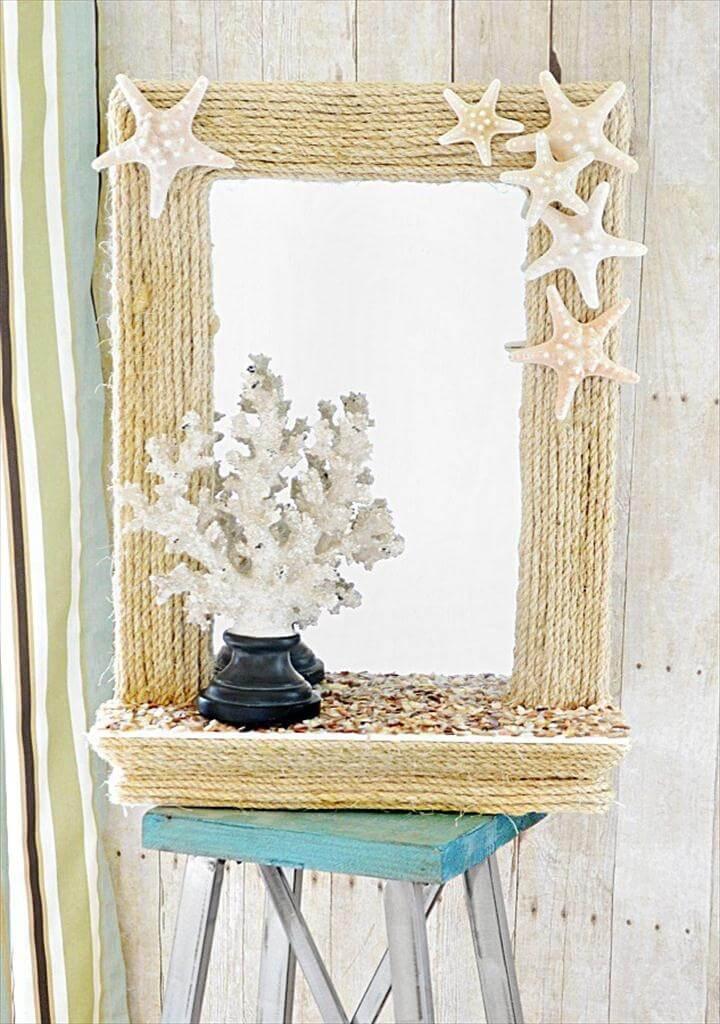 Coastal is one of the best themes to work on for the summer home décor and making this coastal rope mirror is a great idea. The lovely mirror has been all wrapped up with the rope and then embellished with the seas shells and starfish to look just so tempting and chic.
Image: mysweetlandon
Seashell SEA Letters: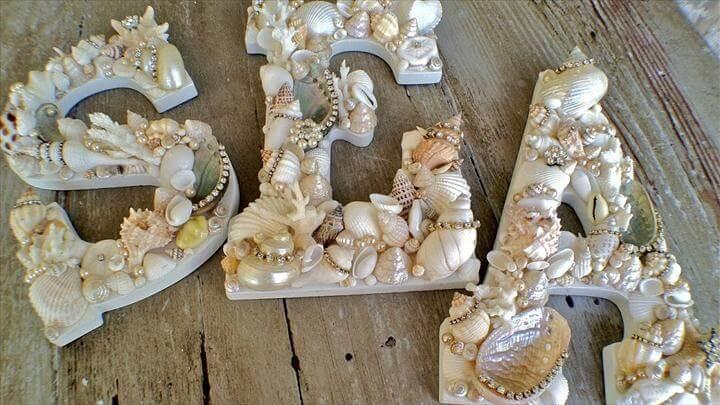 Image: youtube
DIY Wreath: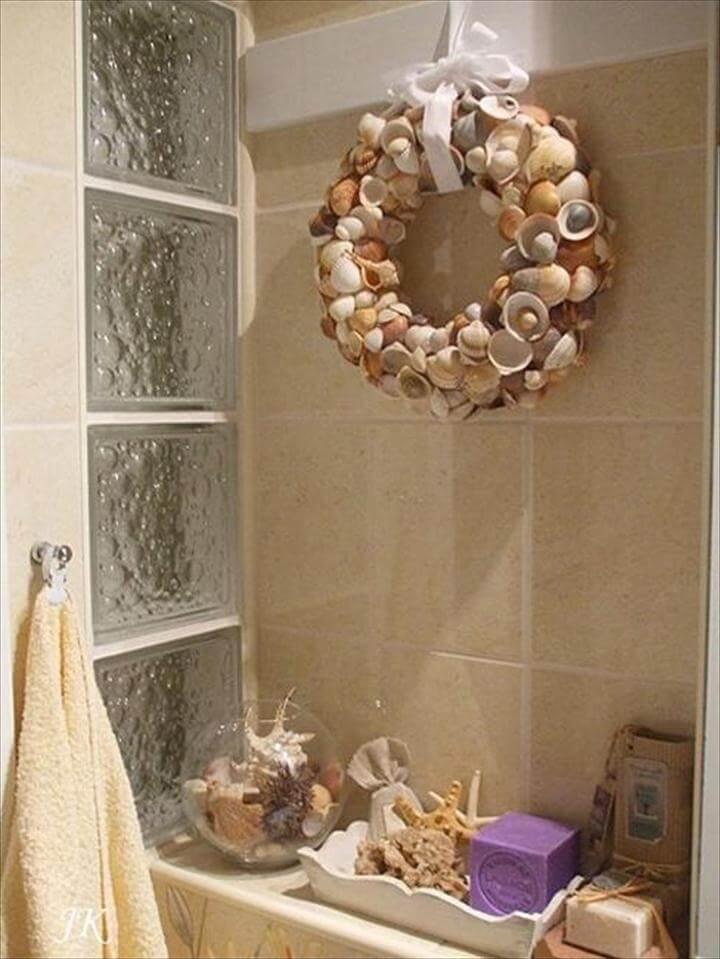 Wreaths are the season welcoming decors and for the summer nothing can be as chic and fancy as this DIY seashell wreath. You just need to cover the wreath ring with the seas shells all over and the wreath is done. You can hang it over your doors, windows, or simply make it a part of your wall décor.
Image: craftsbyamanda
Seashell Craft Wall Hanging: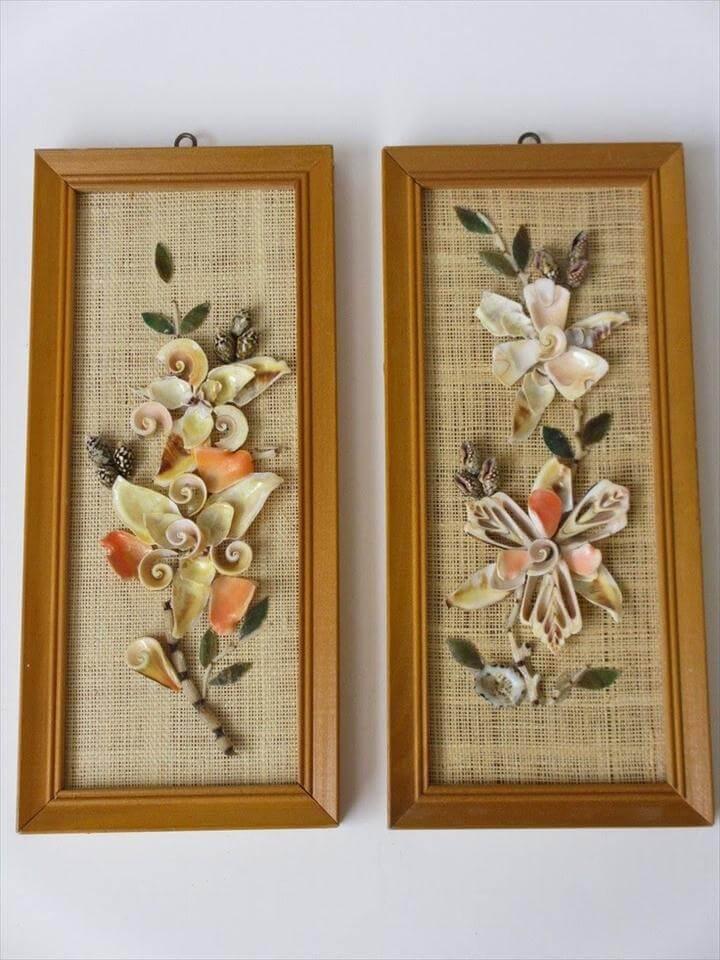 This seashell craft wall hanging is the best thing you can make for your summer home décor. The burlap frame has been adorned with long floral vibes. The floral vines have been made out of the seashells to look just so ethereal and gorgeous. These wall hangings are going to give your walls a really rich look.
Image: valeventgal
Seashell Air Planter: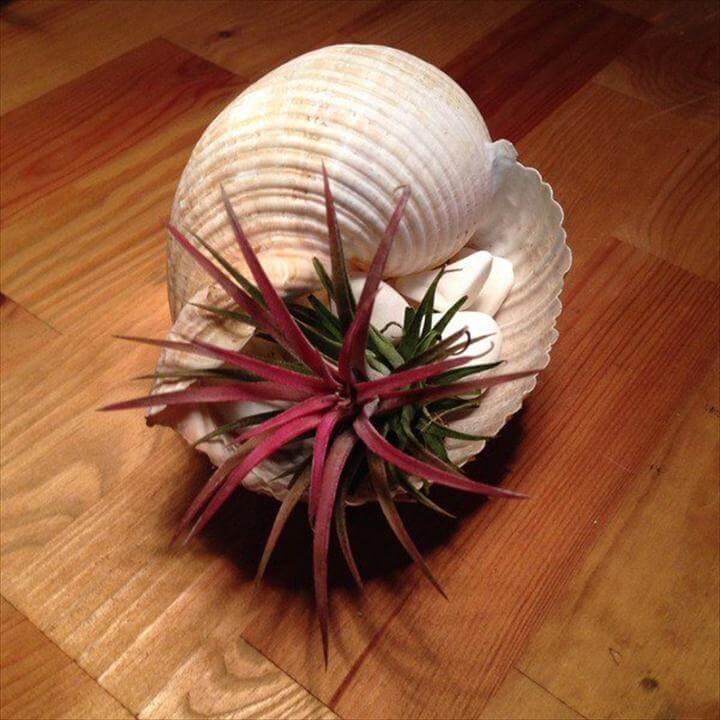 Planting have had been never so much fun than making this seashell air planter. Just grab a big size faux sea shell and use it as the lovely planter for your favorite indoor pots. This seashell air planter would make a lovely décor piece for your coffee table, side table, and even the shelves.
Image: lifeuseitasinspiration