One of the most popular and attractive crafting ideas are those of wood. Wood crafting is although slightly a little more expensive crafting technique but still evergreen and always in demand by the consumers.
Clearly wood offers a vast variety of ideas and techniques for creating art pieces and enhancing the beauty of our household. Also the creative structures that are made of wood creates a relatively natural ambiance and gives the surrounding a very soothing effect due to being a natural substance. The crafting of wood is a difficult and expensive procedure but wood lovers are ready to pay anything for them.
The wooden racks with a complete natural look are one of the most attractive creative masterpieces made by the experts. These racks are usually made with polished wood planks with irregular edges which are left in order to retain the natural look,these 12 Simple DIY Wooden Craft Ideas planks are attached to one another with the polished and trimmed tree branches.These beautiful racks can be less expensive if you make them by yourself through the ideas provided to you in this article.You can collect the wooden pieces and do a little effort in order to satisfy your creative mind and to save money as well.
You can take wooden planks ,paint them nicely and can make unique and amazing wall structures for the corridors.With the help of some wooden pieces you can also easily make a wooden box which you can use to put toys, or other stuff. Arranging wooden branches around a circle shaped mirror and placing it on the wall can also be one of the most contemporary ideas of all time that can add some interesting look to your boring mirrors.
We can also use wood crafting for the name plates outside our houses along with some DIY mason jars or painted wood slice pumpkins with some artificial flowers on top.
Painted Wood Slice Pumpkins: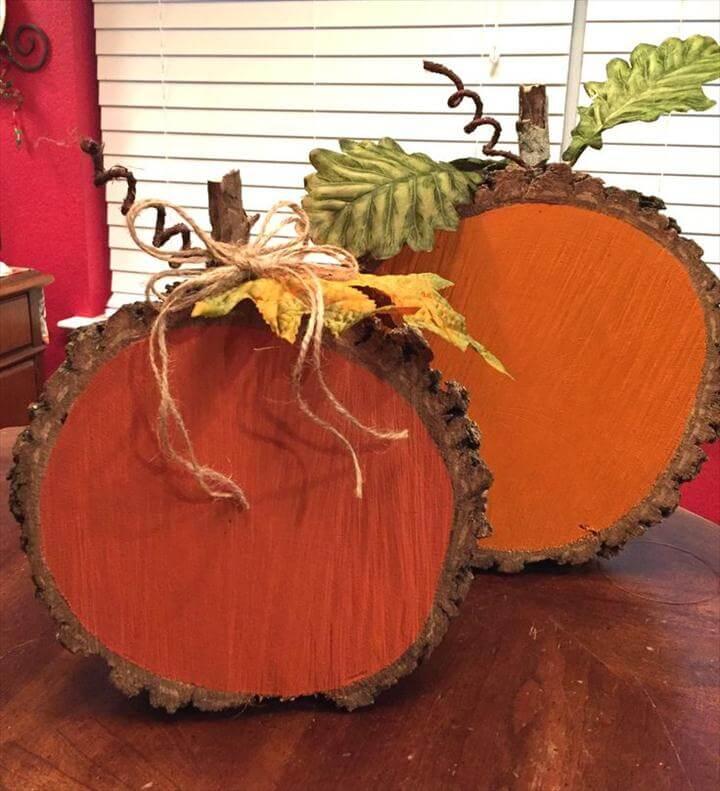 No one of us can resist the natural charm and beauty of the wood. So here is the idea of making this painted wood slice pumpkins to take your fall décor on a top-notch level. Just cut out big round slices of the wood and paint them orange. Add some extra embellishing with ropes and leaves and it's ready to rock your décor.
Image: anightowlblog
Mason Jar Pallet Sign: Wall Hanging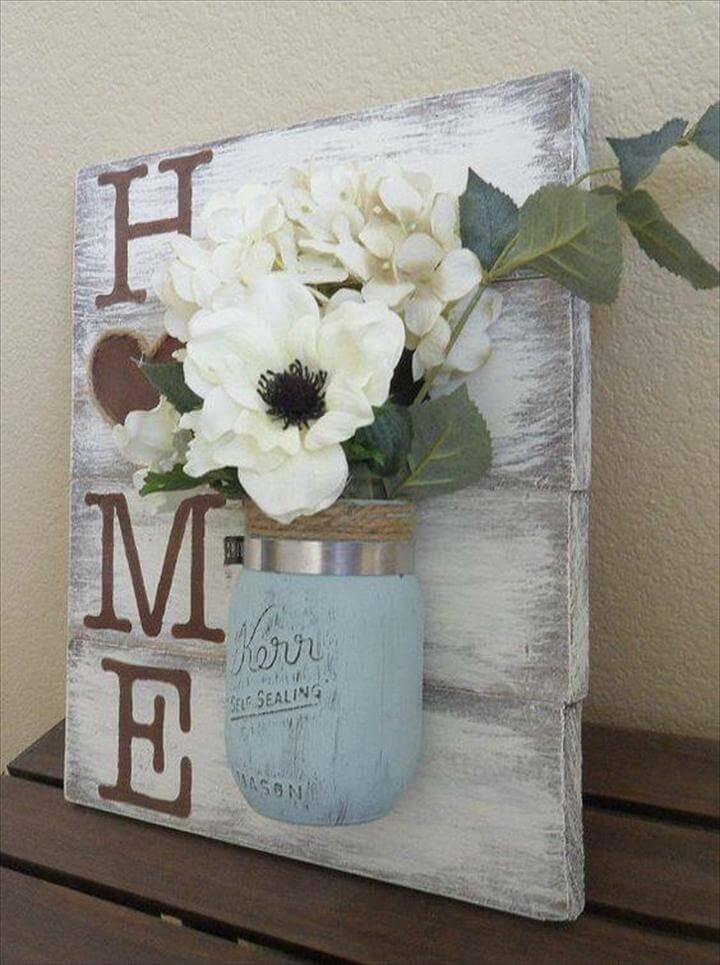 Make your foyer spaces welcoming with this easy and cheap Mason jar pallet sign wall hanging. The gorgeous wooden pallet board has been painted and quoted with word HOME and then embellished more with a Mason jar vase. This lovely wall hanging is perfect for the porch too with a nice touch of rusticity.
Image: mysocalledcraftylife
Decorative Pallet Shelf: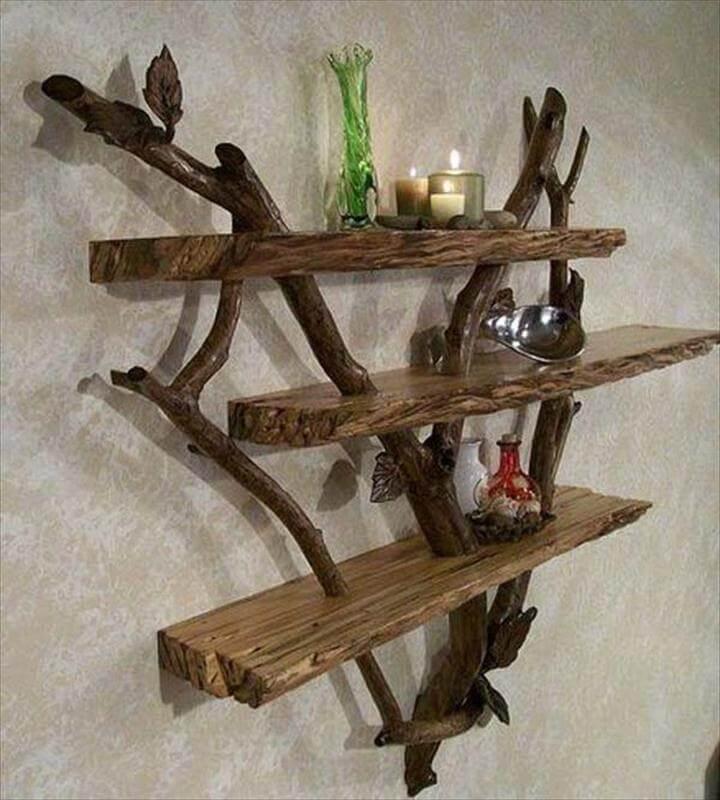 A decorative shelf can completely change the décor and style statement of your house. This decorative handmade pallet shelf is the best thing to make for the décor boost up. Using the rustic wood and branches this gorgeous and antique-looking shelf has been made to display all your decorations and artifacts.
Image: youtube
Texas State Flag Wall Hanging: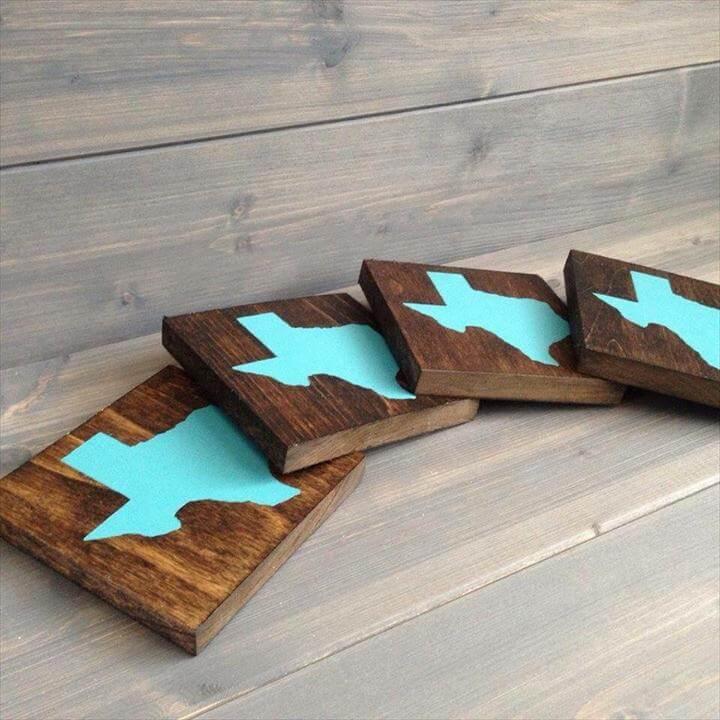 Bring some wooden texture and beauty to your wall décor and making this Texas state flag wall hanging is the best project to work on. The square-shaped wooden boards have been stained in rustic brown colors. Then the Texas state flag has been painted on these wooden pieces with aqua blue to look just so exotic.
Image: instructables
Wooden Pallet Heart Art: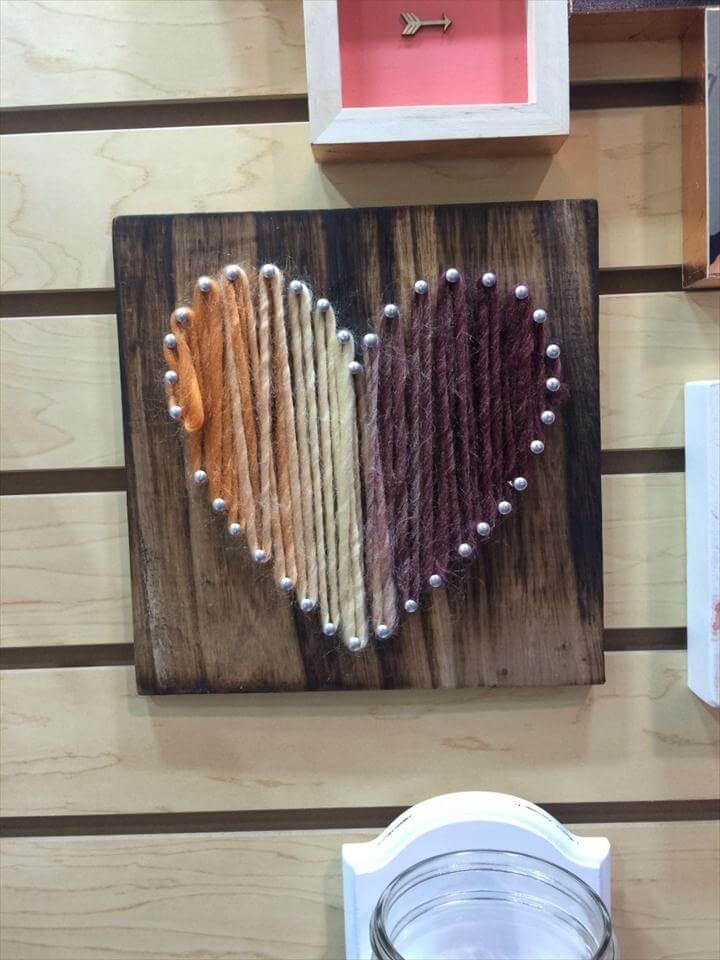 Here is how you can not only pass the time at home during a hot day but also create fantastic wall art. So get your hands on this wooden pallet heart art. You need a square wooden board or canvas, some rustic hued yarn, and the nails to create this amazing pallet heart art. You can involve your kids in this art too.
Image: youtube
Driftwood Starburst Mirror

: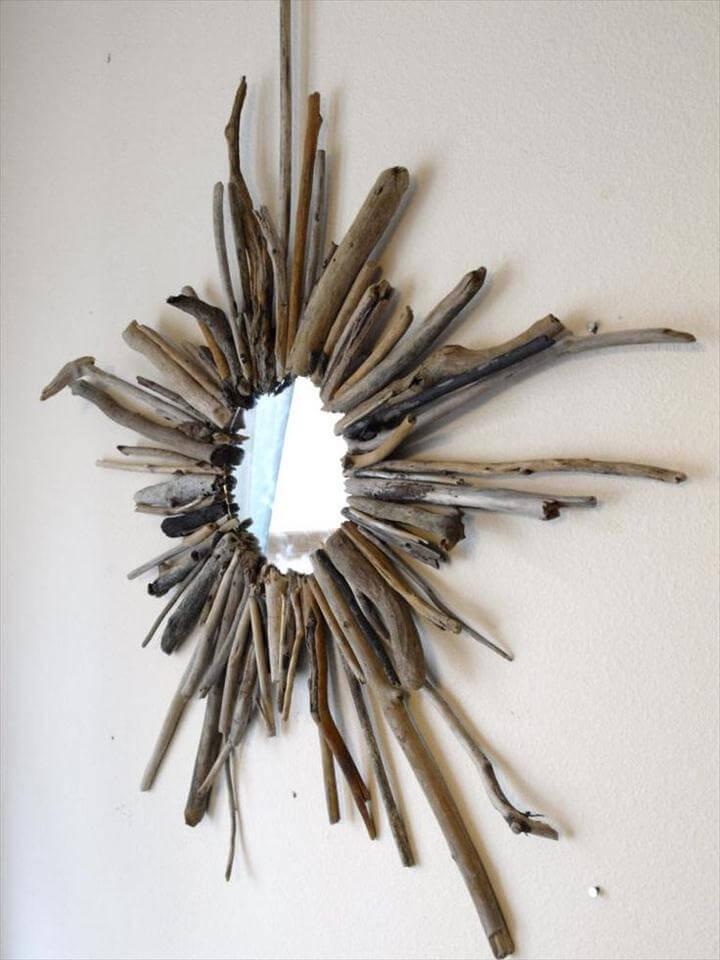 Bring a bunch of the driftwood from your beach visit to create some really boho and rustic kind of décor in the house. This lovely driftwood starburst mirror is the best thing that you can make out of these texture driftwood pieces. Just cover the mirror with the driftwood pieces like the starburst and you are done.
Image: homeheartcraft
Pallet Chest: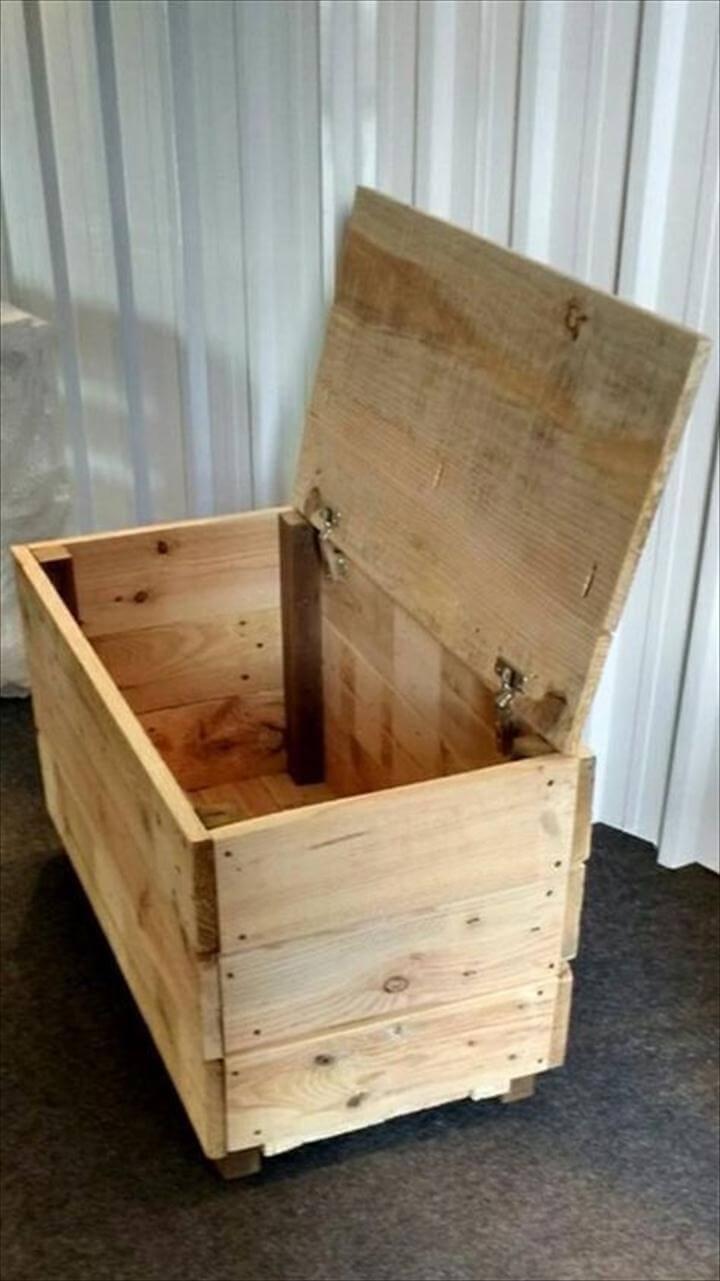 If you have pallet wood around then you can make the most out of it by creating things like this pallet chest. Using the wooden pallet planks you can easily create this lovely wooden chest. It can be used to store blankets and even the toys of your kids as well. Do check out the easy pattern here!
Image: instructables
Wood Slices
Magnets: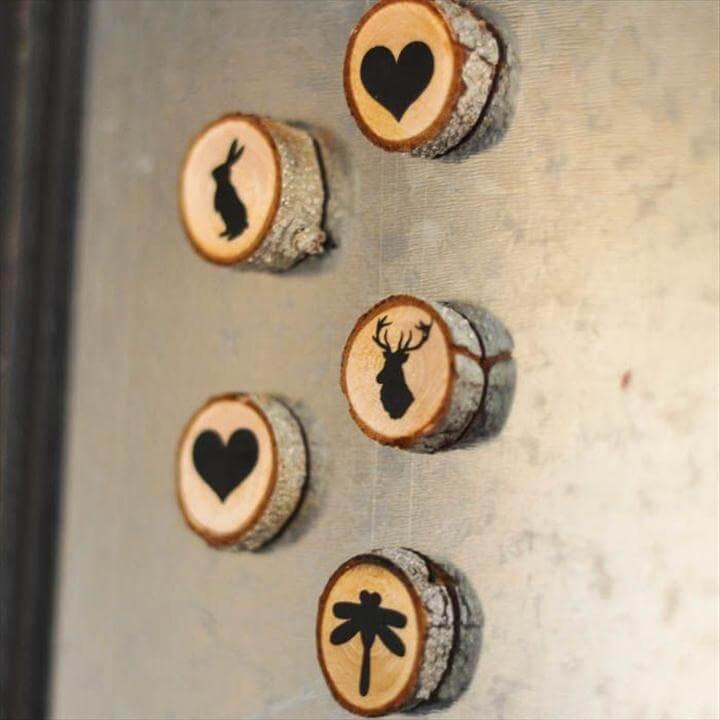 Bring the wooden beauty in the most amazing and stunning way in your home with these cute little wood slices magnets. Just cut small slices out of the wood and then add magnets at their back. On the front, some gorgeous animal and heart shapes of vinyl had been slapped. A bag pack of these makes a lovely gift.
Image: suburble
Simple Pallet Wall Art: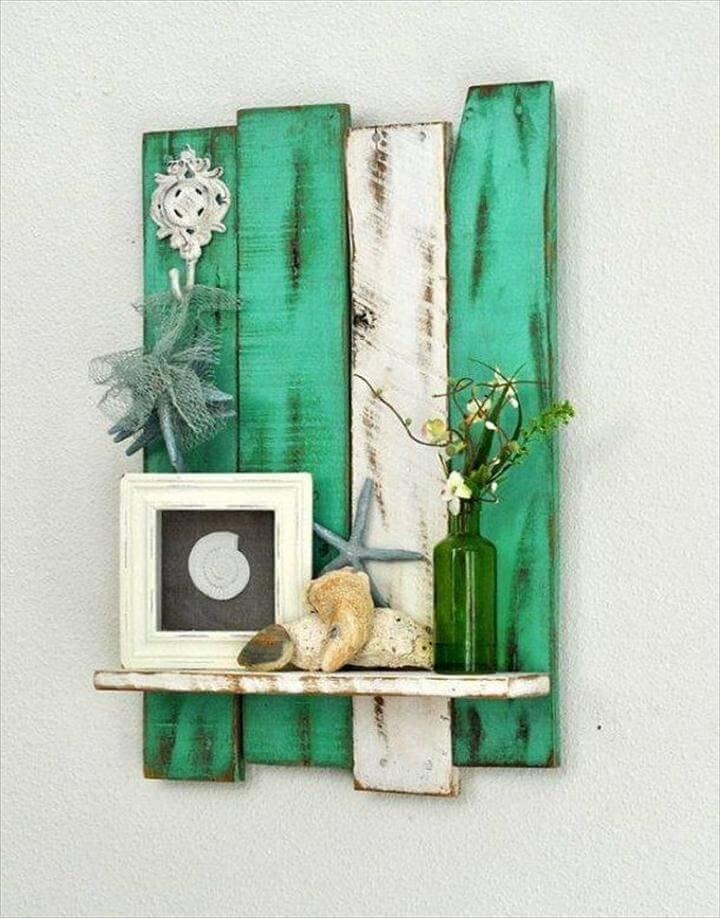 This simple pallet wall art is the best thing to put on your summer walls and bring the lovely beachy vibes to the home décor. The green and white stained pallet slabs along with the beachy décor items on the bottom shelf have turned out to be so perfectly gorgeous and exotic.
Image: youtube
Reclaimed Barn Wood Antique Style Hook

: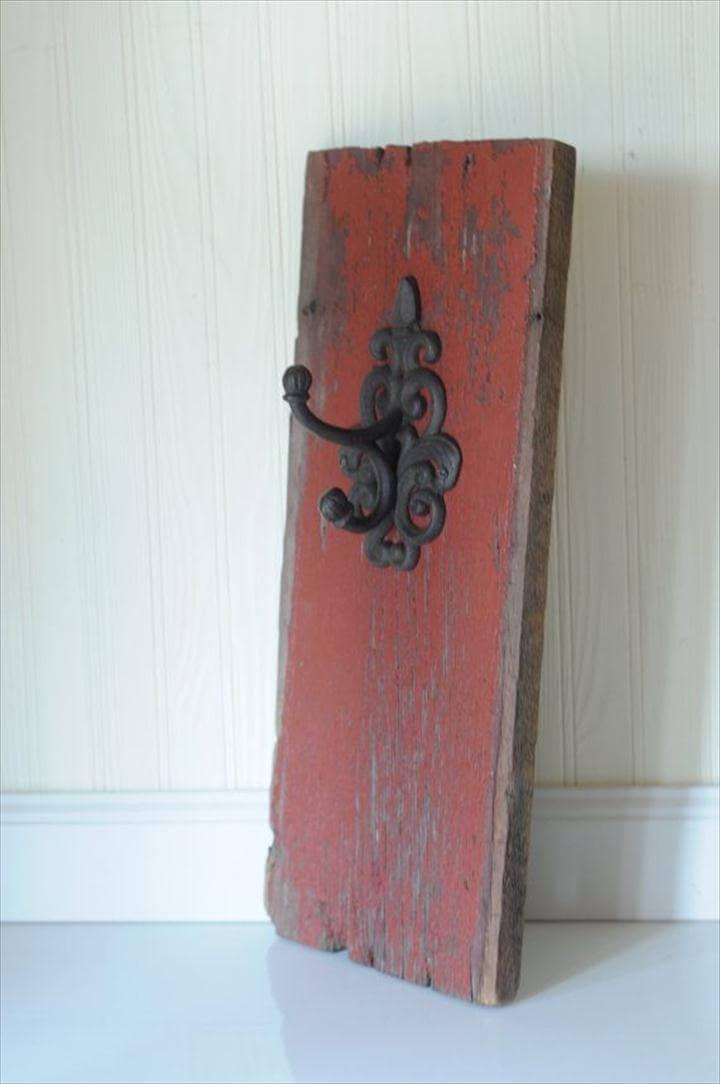 Either you need a coat rack or you want some point to hang your bags and hats, these reclaimed barn wood antique style hooks are the best. Using the reclaimed wood in barn style and an antique hook from the thrift store you can easily make this simple and cheap rack for your walls.
Image: northshorewood
Tree Branch iPhone Dock

: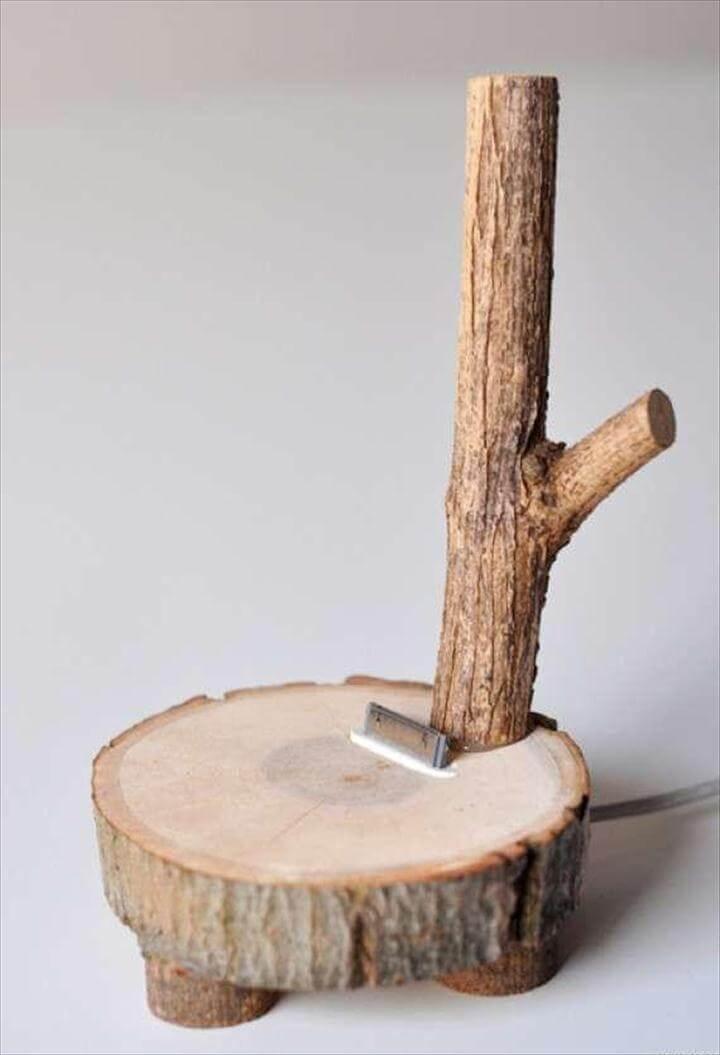 Here is how you can make these natural wooden tree branch I phone docks to charge your phones in style. You need a round cut out the base of a tree limb and a wooden tree stick to make this lovely I phone dock. It is going to look so eye-catching standing on your dressers and side tables.
Image: manmadediy
Stick & Driftwood Shelf

: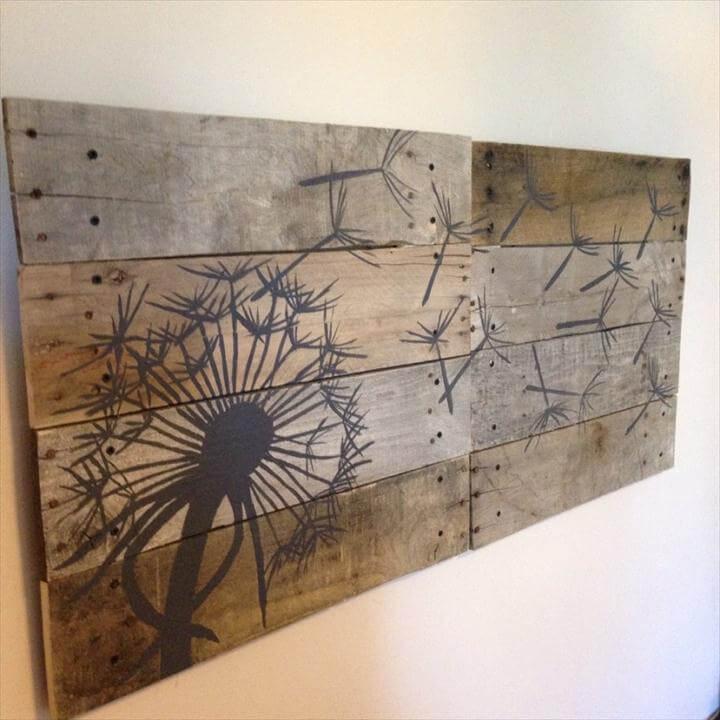 Using some wooden planks of the pallet wood you can make this lovely wooden wall art. The wooden pallet planks have been nailed together to form a rectangular board with a lovely painting of the dandelion flower on it. The lovely wooden board is the best thing you can adhere to your walls.
Image: sustainmycrafthabit