One of my new year's resolutions is to make some fabulous DIY pots for succulents. Why succulents? They're hard to kill for those of us with black thumbs (ahem, me). How gorgeous are these pink and gold spray painted pots by Miss Renaissance? Get her full DIY tutorial here! I'm totally in love with these and think I'll be making a dozen or so for neighbors and friends. This post is for peps that are currently on budget and want to do some creative projects too. These are some amazing low budget spray paint ideas. Collect 23 Low-Budget DIY Spray Paint Ideas of different colors and start renovating and renewing your personal items, furniture, crockery, and other objects of the house.
The first idea here is spray-painted wood chairs. Grab some of the old chairs or any other furniture from your home and try painting them with spray paints in your favorite colors, and get ready for some new, exciting and colorful chairs.
The next one here is the canvas that is unusually painted with gold color sprays in geometric art design. Hang these masterpieces on your plain boring walls to make them look great with very little effort. Are you planning to throw a party this weekend and you are short of some table decorating ideas, here is for you, some great ideas coming ahead.
You can spray-paint some of the coke or any drink bottles and decorate your dining and snacks table with them; you can also put some flowers in them if you like. This DIY spray paint pumpkin is all that you need to have at some of the Halloween dinners this time. These can serve as decoration pieces throughout the year too as they look adorable. This one is for all the artistic minds out there that are fond of playing with colors on their canvas, show some talent by making a flower spray paint as you can see here. When we are talking about renovating some of our old items, how can we forget our coffee mugs? Try painting them with spray paints too. If you want to do something creative with the most unusual objects, you are surely in the right place. This is a tree branch painted in orange color and it looks fabulous in a flower vase put in a corner on the floor.
Then there are some vases again painted with the spray paints but this time an added creativity is done by using some rubber bands as you can see over here. You can also do fabric spray paints on your clothes, for e.g. you can decorate your t-shirt by spray paints like you can see in the picture. Try decorating some welcome mats too with these DIY spray paints. Similarly, wine bottles and candle holders can slow be decorated in the same way as this.
Spray Painting Wood Chairs: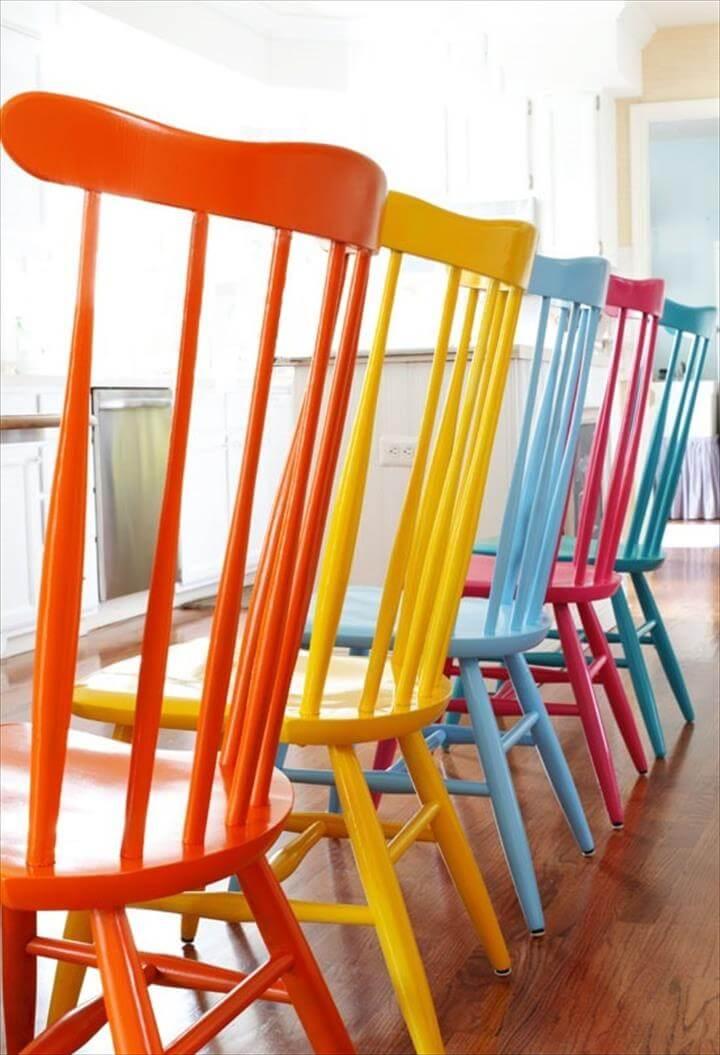 Give your wooden dining table chairs a complete makeover with this lovely spray painting wood chair idea. All you need to do is just sand your chairs, clean them with detergent and then spray paint your chairs in the funky colors of summer. This idea is really wonderful when you need a makeover but you do not have money. More details here!
Image: inmyownstyle
Geometric Gold Canvas: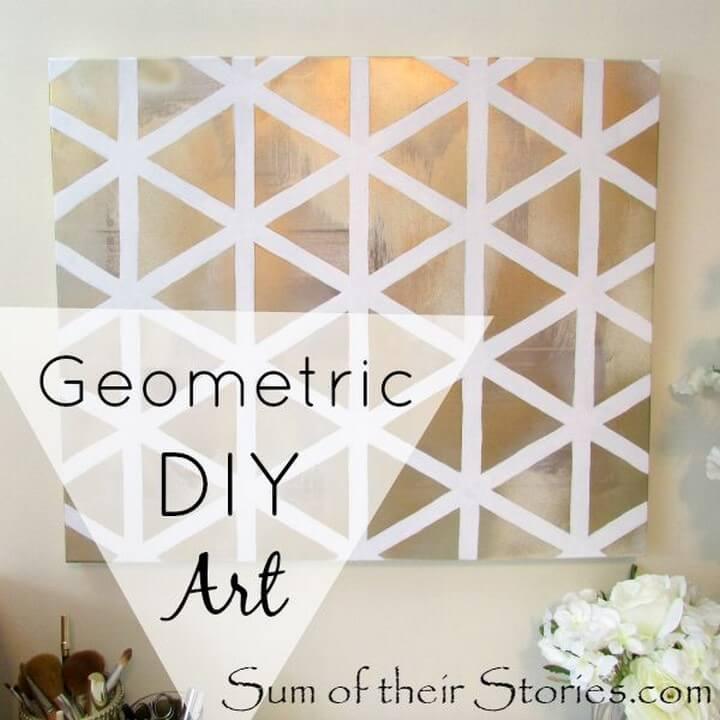 Bring some chic décor vibes to your spaces with this handmade easy geometric gold canvas wall art. You need clear gold spray paint to paint up the canvas. Then you need a pen and the decorator's tape to create the geometrical design on the whole canvass and paint it in white with two coats. Hang it in your living room and enjoy an elevated look of your spaces.
Image: sumoftheirstories
Spray Painted Coke Bottles – Having Fun With Copper Spray Paint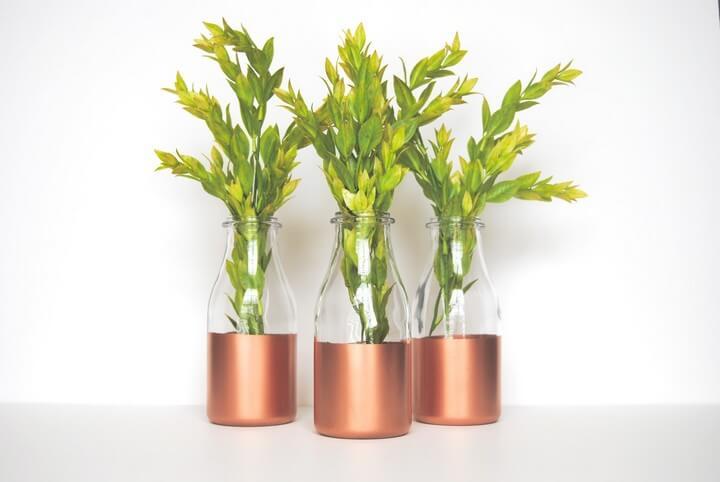 Turn the empty coke bottles into the gorgeous vases for your tables and the mantle pieces with this spray-painted copper paint cans. Wash your bottles and then tape up the bottles till you want the paint. Then grab your copper spray paint and paint it till the tape with pretty coats to get the best result. The vases are perfect for the festive season.
Image: sugarandcharm
Spray Paint Pumpkin – DIY Gold Pumpkins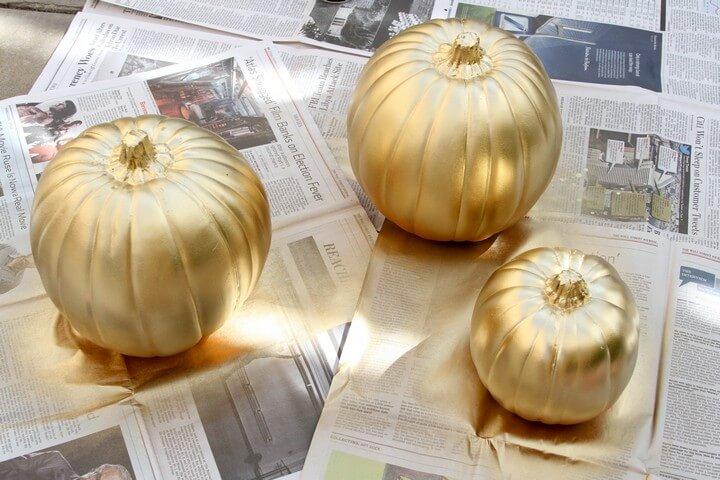 Pumpkins are the part and parcel of our winter home décor and now you can twist up their look with the spray paint only. Yes, the faux pumpkins have been painted with the gold spray paint all over with two coats to look just so interesting and fun for your desks and tables. Look at the easy details of the idea here!
Image: culinarystyle
Spray Paint Flower Art: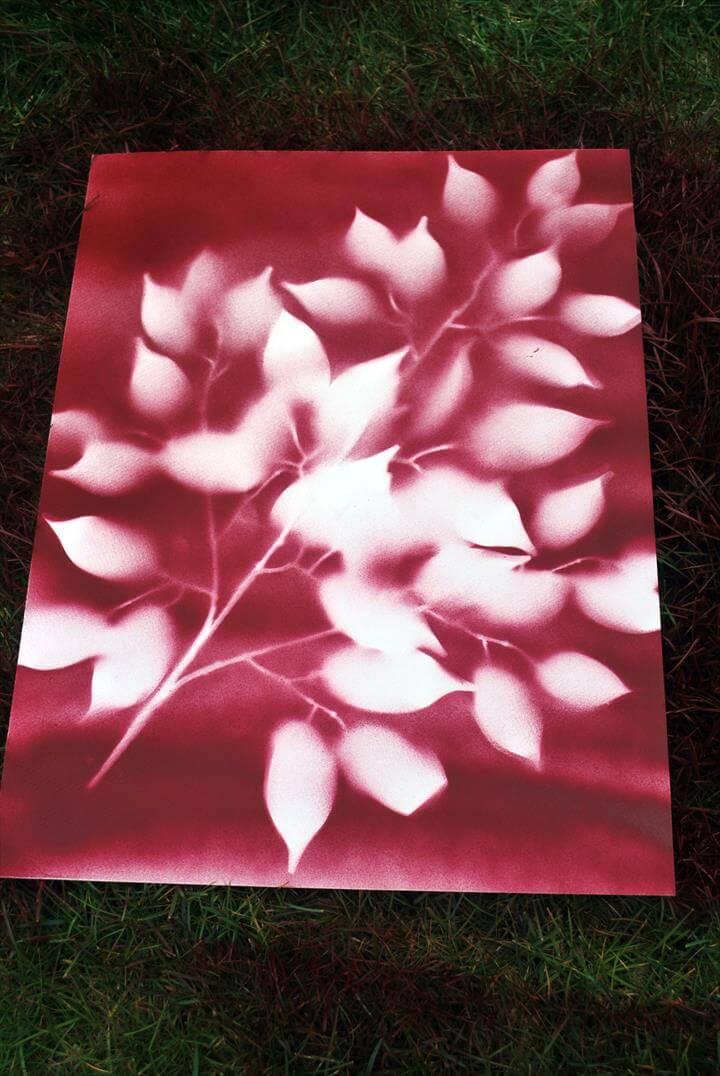 Even though you are not an artist you can still make so many perfect arts for your wall art décor. Here are these spray paint flower art ideas to bring so much beauty and fun over your empty walls. You need white canvass, spray paint of your desired hues, and the fake or real flowers which can rest peacefully of the canvas. Get the rest of the details right here!
Image: simplyrealmoms
Spray Painted Coffee Mugs

: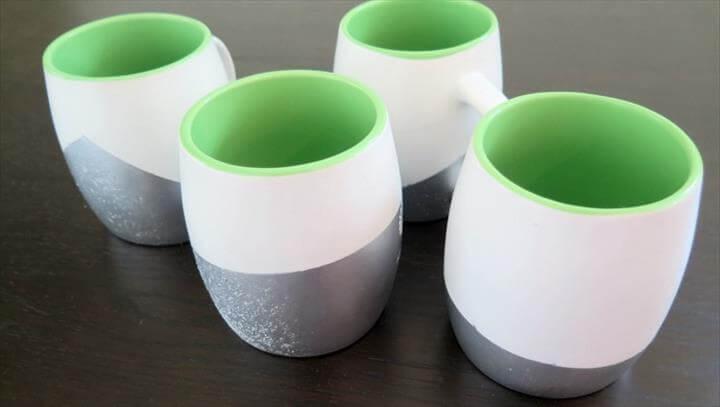 Even the coffee mugs can be made to look super fancy and fun with the spray paint and here is a complete idea. So grab some plain white mug from the market and also the spray paint cans of your favorite color. Tape up the coffee mugs to let only that space bare that you want to paint up in your desired way. More details here!
Image: thecrazyorganizedblog
Spray Paint Canvas Wall Art – Easy DIY Wall Art with Doilies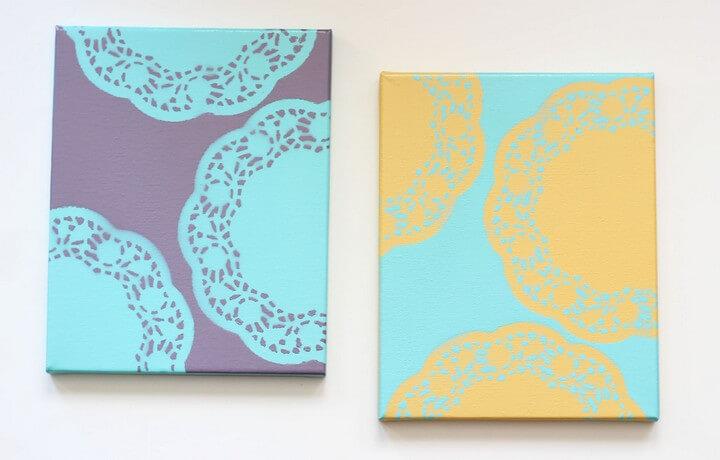 Do not worry about those lovely wall art pieces on famous websites which costs you an arm and leg. Her are these cheapest spray paint canvass wall arts to make and get your walls decorated with. You need white canvases in two, spray paint cans in three to four lovely bright colors and the same number of the doilies. Put the doilies on already painted canvas in your desired color and the spray paints them with your favorite color.
Image: thegoldlininggirl
Branch Spray Painted: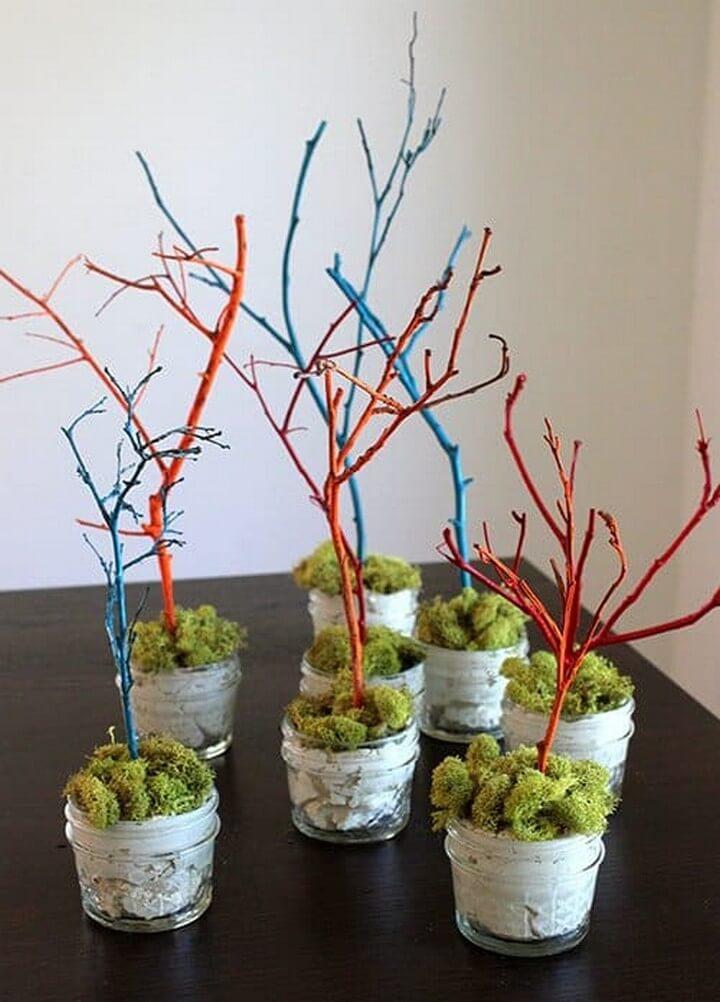 Make your dinner table look the cutest for the Easter spray paint and this lovely branch spray paint idea is the best to work on. You just need to grab some branches and paint them in multiple colors using spray paint. Then grab the jars and fill them with clay and top off with moss. Finally, add glued pom poms to your branches and fix these branches in the jars to look just so intimate and cute.
Image: alphamom
Spray Painted Vases Using Rubber Bands

: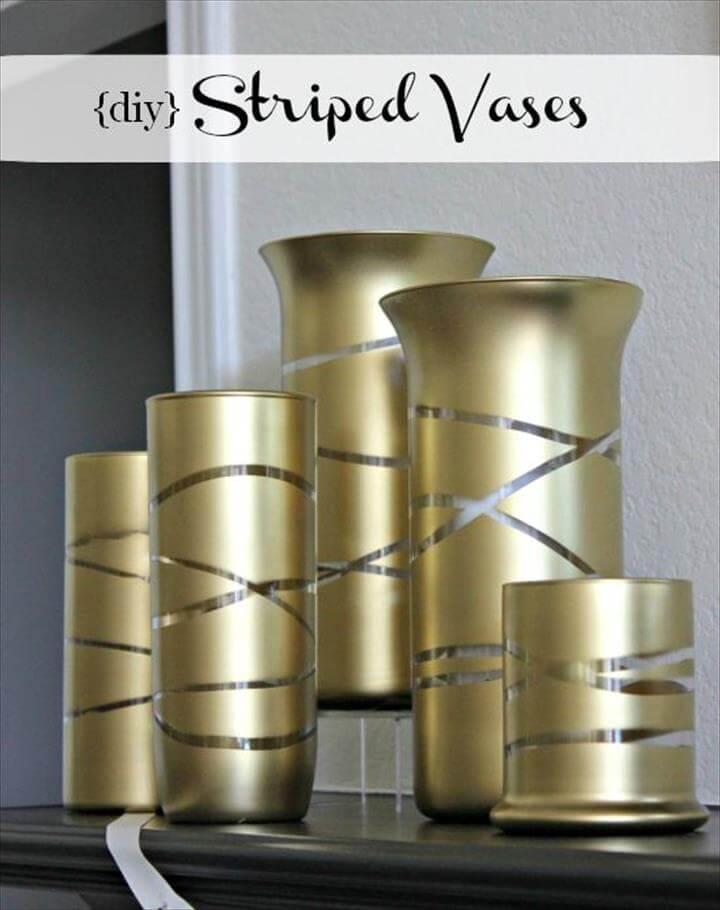 Here is another great vase idea to be a part of your lovely festive home. So grab the simple vases or glass jars from your thrift store in multiple shapes and sizes. Then cover them with rubber bands and get your gold spray bottles to cover them all over. Once the paint is dry remove the bands and you are done with the lovely bunch of vases for your mantles.
Image: hisugarplum
Amazing Colorful Painted Tshirt: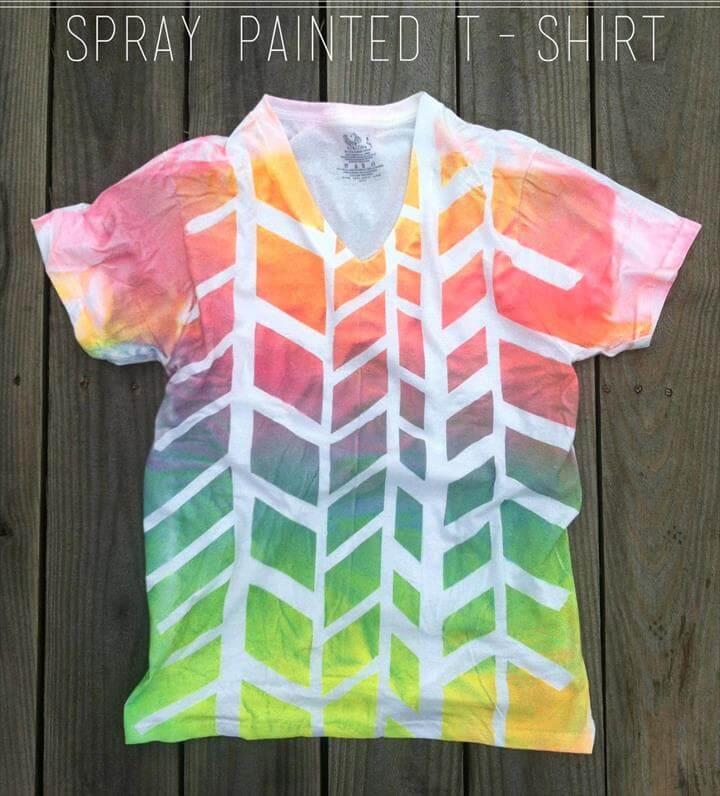 You can turn a simple, plain, and boring t-shirt into this fun and amazing looking t-shirt for yourself or for anyone in the family. Get the painter's tape and cut strips out of it to create a design on the shirt. Then get colorful spray paints to spray them all over the shirt. Once the paint is dry remove the tapes and you got an amazing t-shirt ready to rock the summer fashion.
Image: heywandererblog
Spray Paint Thrift Store Finds

: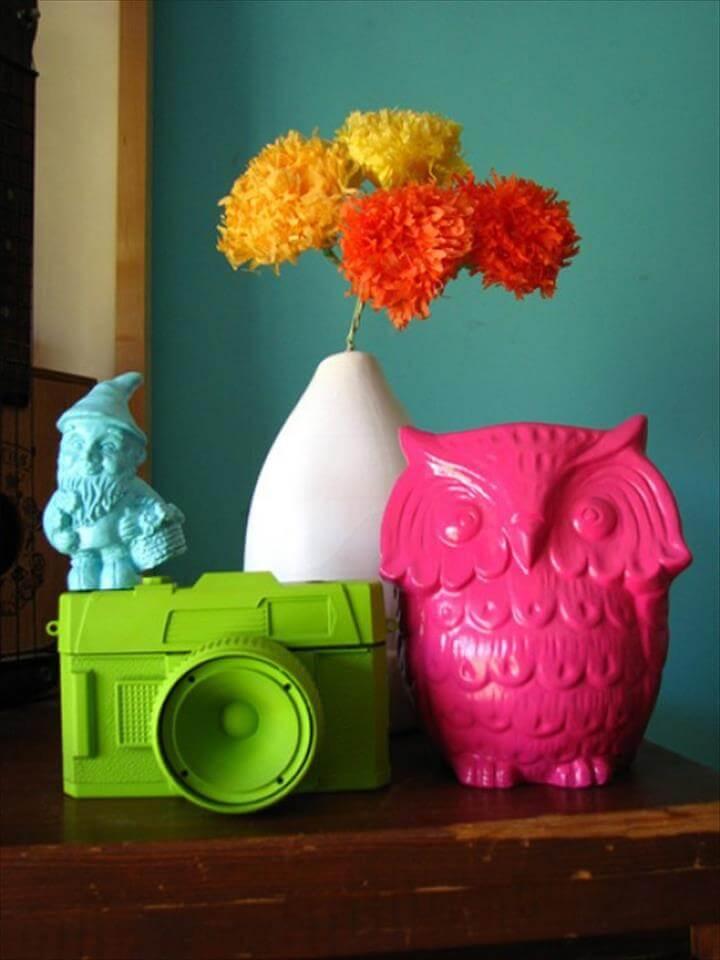 Bring the cheers of colors to your spaces with these spray paint thrift store finds. Using your favorite colors in the spray paints you can give a complete funky and cool makeover to your thrifty possessions. No matter what you have bought from the store like a toy doll, wooden gnome and owl, a camera and so much more. Just spray paint them in the bright and gorgeous colors for an eye-catching display.
Image: makezine
Puffy Sidewalk Paint – The Best Ideas for Kids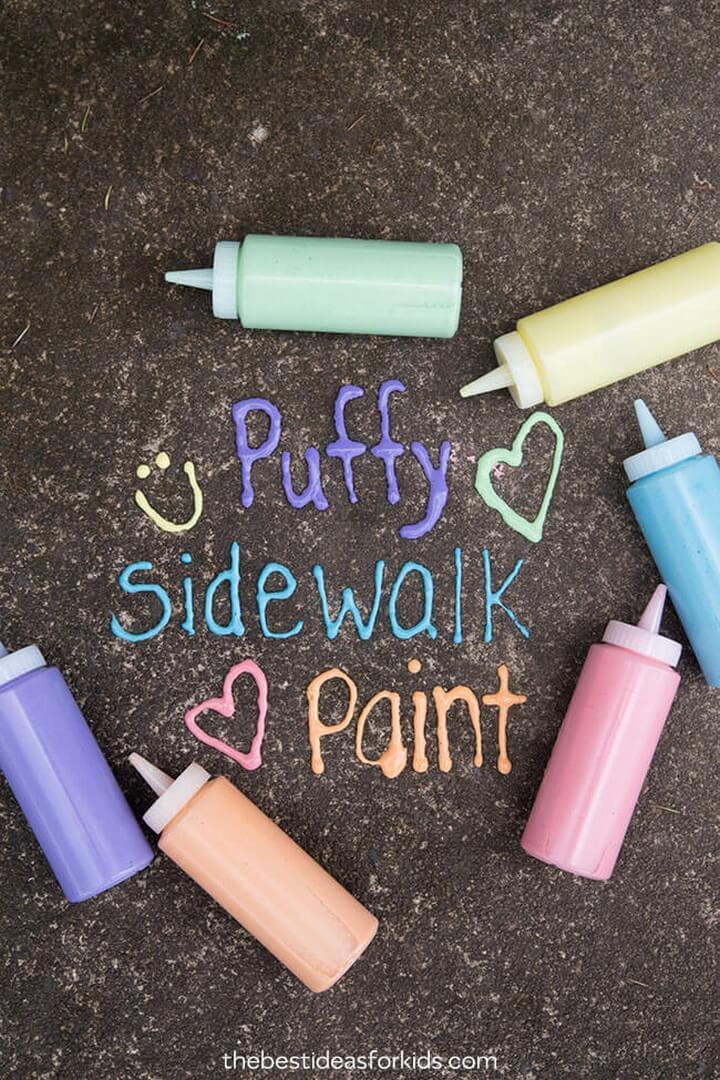 Kids and paint have a very strong and fun bond with each other. So for the summer when they would needing so many outdoor things to have fun with puffy paint can be one of them too. They can create any pattern, design, shape, and the letters on the sidewalk using the puffy spray paint and it's done. Get to know more details here!
Image: thebestideasforkids
DIY W
elcome Mats – Color Splash Welcome Mat – Spray Paint Rubber Mats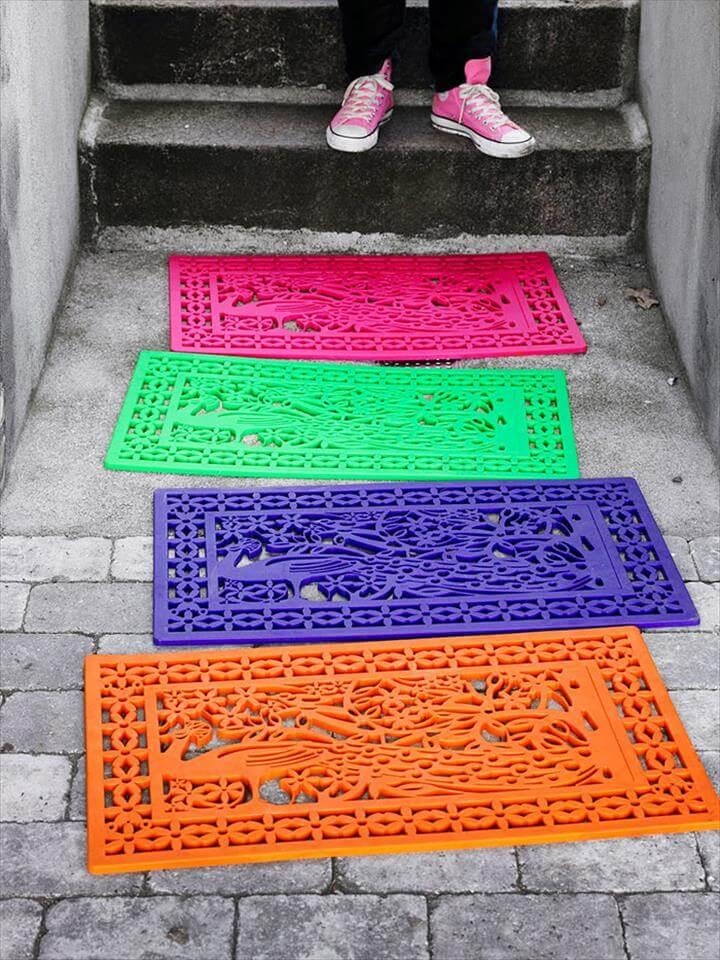 We have welcome mats at so many spots in the house and now it's time to give them all a paint makeover. Just grab the spray paint cans in the bright and bold hues and spray them one by one on your mats. Once they are dry you can put them on their destined spots but with a completely fresh and funky look. Details here!
Image: archive
Easily Make Your Own Mercury Glass Votives: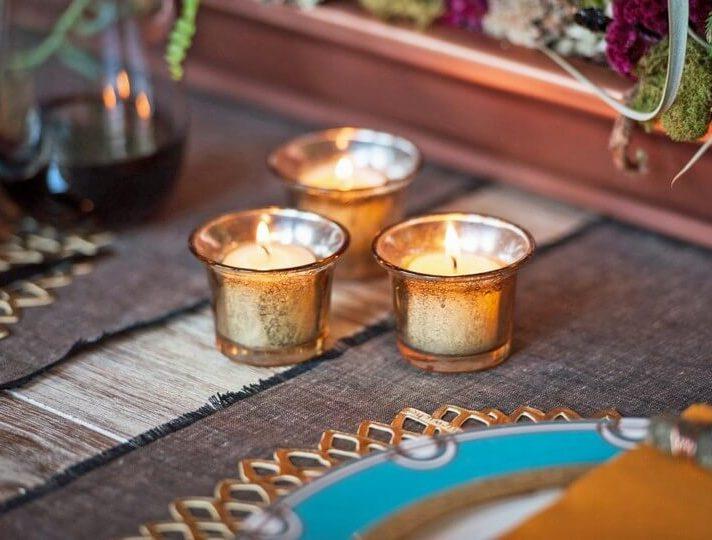 Make your little cute mercury glass votives look the best with some fresh coating of the spray paint. Just get the silver-colored mercury glass paint and spray it all over the votives and make them look super interesting and fun. You can be creative with your desired hues of the spray paint too. Details here!
Image: hgtv
Spray Paint Flatware – Spray Paint Silverware for Your Next Celebration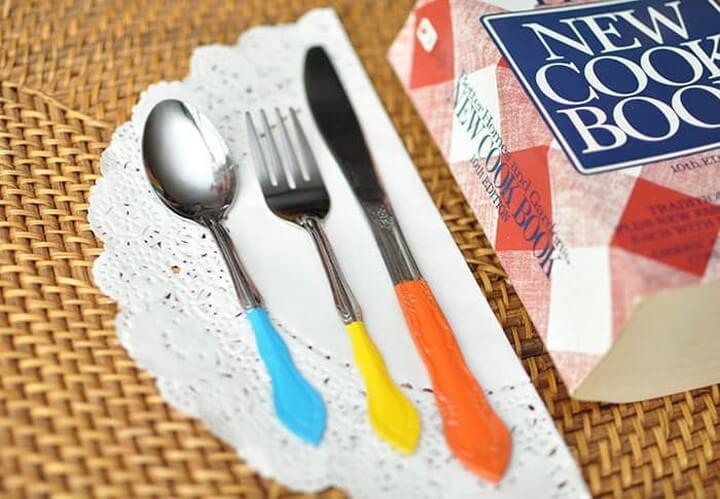 Make your dinner arrangements look super fancy and funky with the spray paints only. Just grab the set of your spoons, knives and the forks to paint their handles with bright and bold hues of the spray paint. These would really add oodles of charm and beauty to your dinner table setting and that too in the cheapest way. More details here!
Image: diycandy
Geometric Coffee Table Makeover

: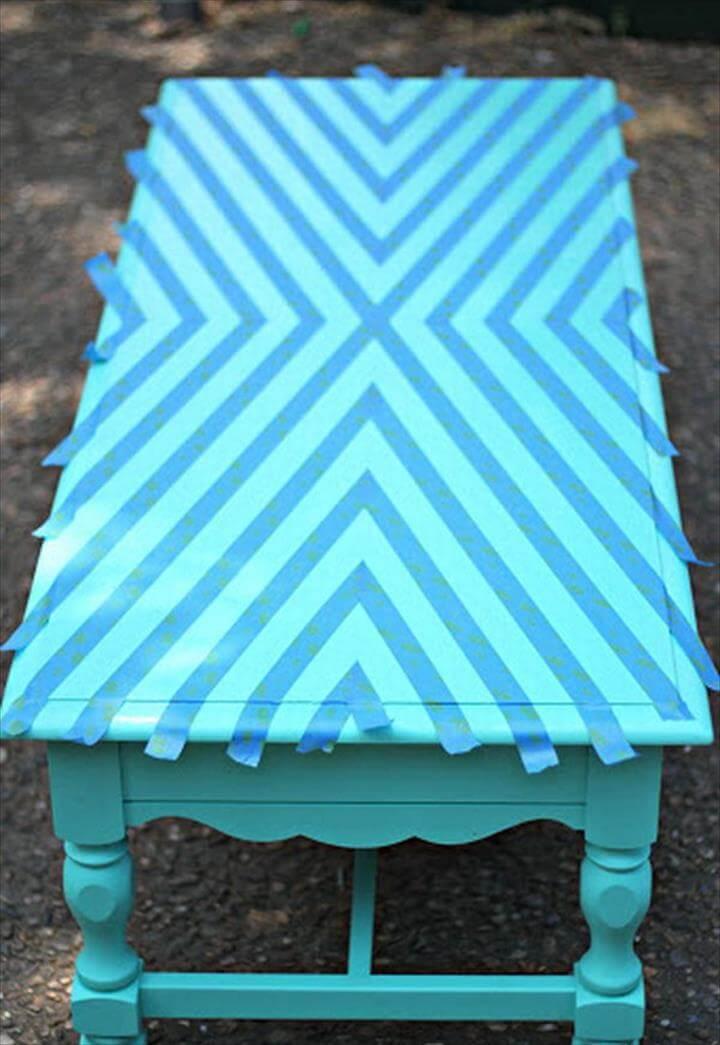 Those who want easy work projects for their home makeover should really work on these geometric coffee table makeover projects. You can create a lovely geometric design on the top of your table using the painter's tape and the spray paint cans in your favorite colors. This one looks like a chevron pattern in blue to look just so tempting and cool.
Image: tatteredandinked.blogspot.sg
Wine & Beer Bottle Crafts: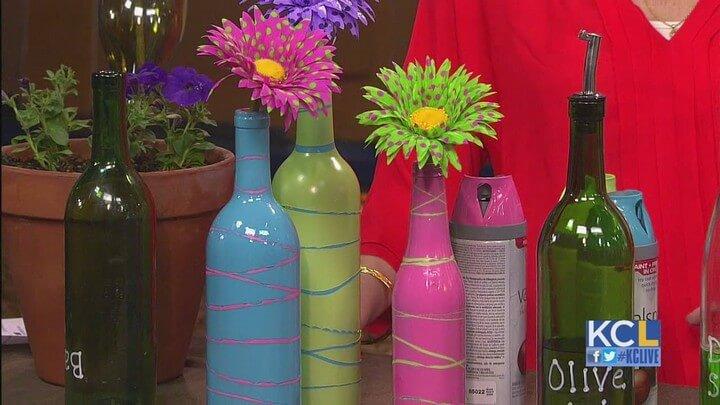 You can get instant and cheap centerpieces for your parties with these wine and beer bottle crafts. So grab a bunch of the empty wine bottles and spray paint them in gorgeous and pretty hues with or without any design. Fill the bottles with the flowers and the bottles are ready to rock your tables and the mantle places. Details here!
Painted Glass Vase: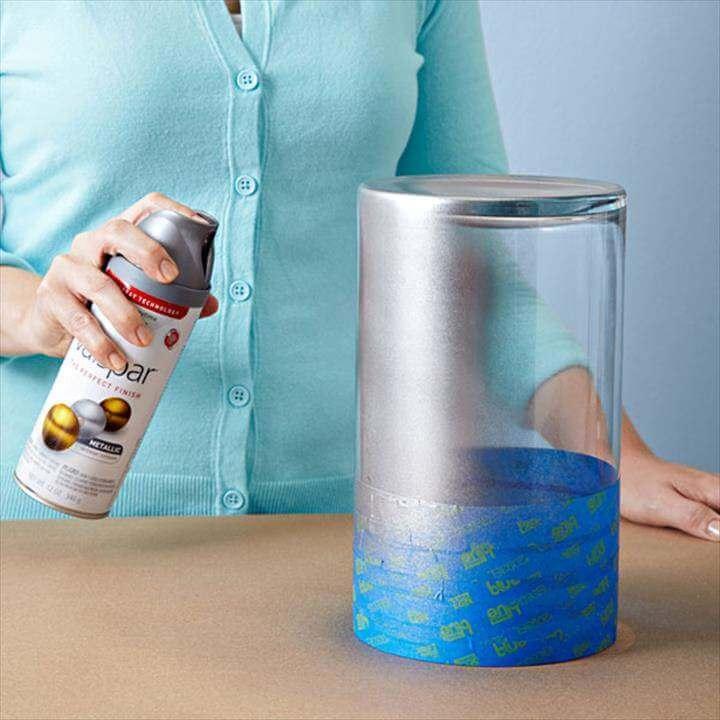 Now you do not need to pay a fortune for the lovely festive decorations as you can do it on your own with this painted glass vase idea. Just tape up the glass vases of multiple sizes and shapes on the places where you do not want paint. Then spray paint the vases at the bare spots and you are done. Details here!
Image: guiademanualidades
Painted Chairs:
Refinish Folding Chairs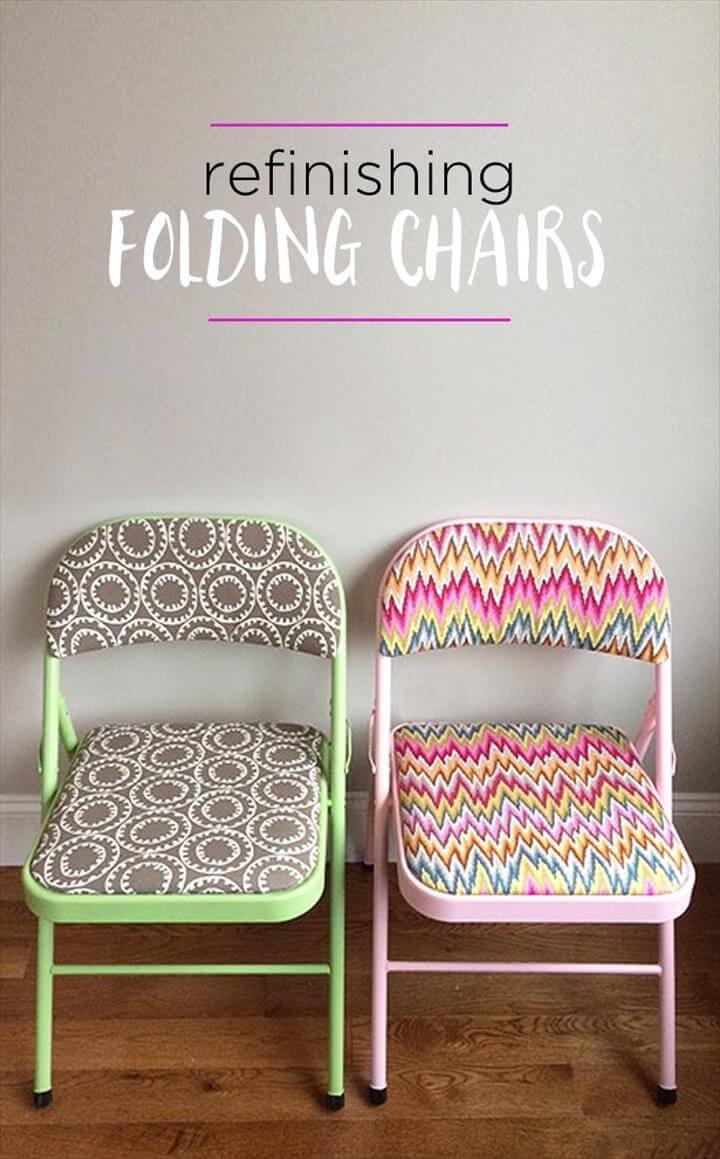 Even if you are low on budget you can still so much to give your home a pretty and chic makeover. Yes, by only using the painted spray cans you can make your chairs look new and gorgeous again. Either you have wooden chairs or the metal ones the spray paint coats in your desired hues can really make the chairs look so fresh and fun. Details here!
Image: kenarry
DIY Spray Paint Wine Bottles

: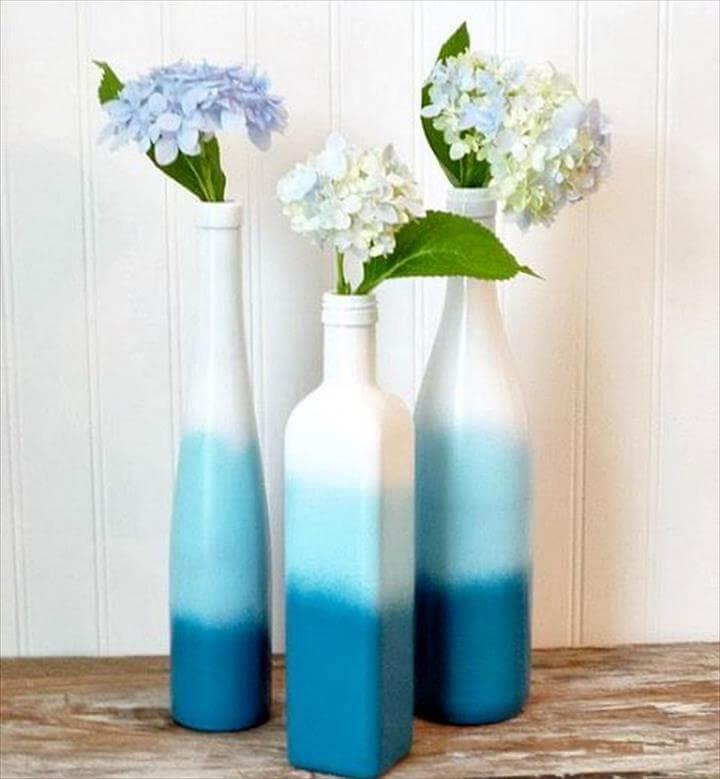 Make the most of your empty wine bottles to create some pretty summer vases for the home décor. The ombre spray paint hues really add more charm and beauty to these vases. So grab the wine bottles and spray paint in the hues of white, dark and light blue to work these pretty handmade vases or party centerpieces. Details here!
Image: fleamarkettrixie
Spray Painted Wine Bottles For Fall: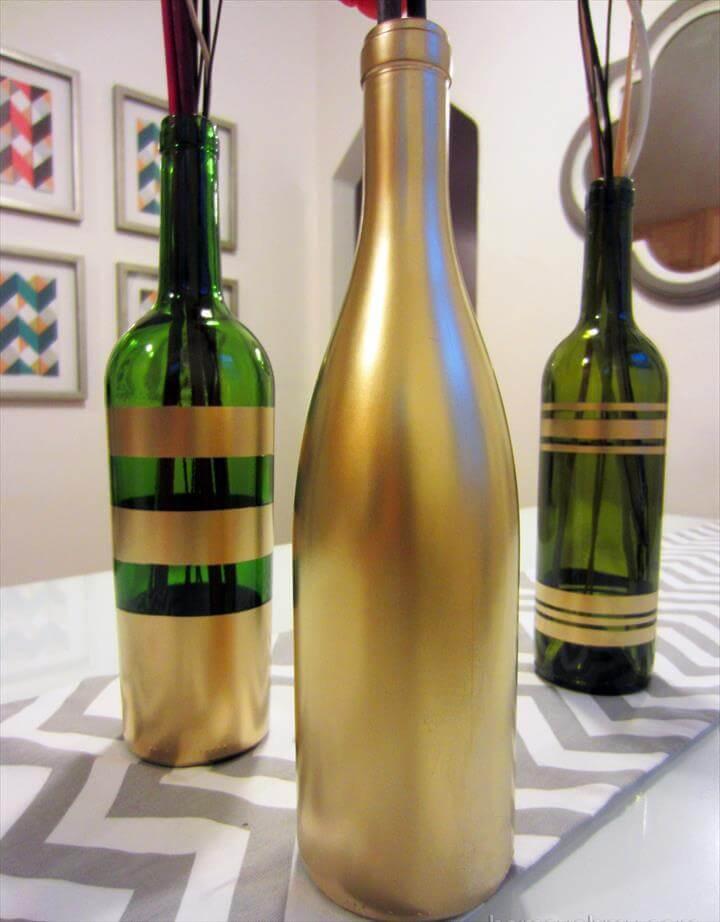 Why you should buy the vases when you can make the prettiest ones at home. Using your empty wine bottles, spray paint in gold and some tape you can easily work up these pretty spray painted wine bottle vases for the fall. Add wooden branches and berries to these vases and they would proudly enhance the glam of your fall home. Check out the details here!
Image: homeyohmy
Jars Decorated With Fingerprints For Mother's Day

: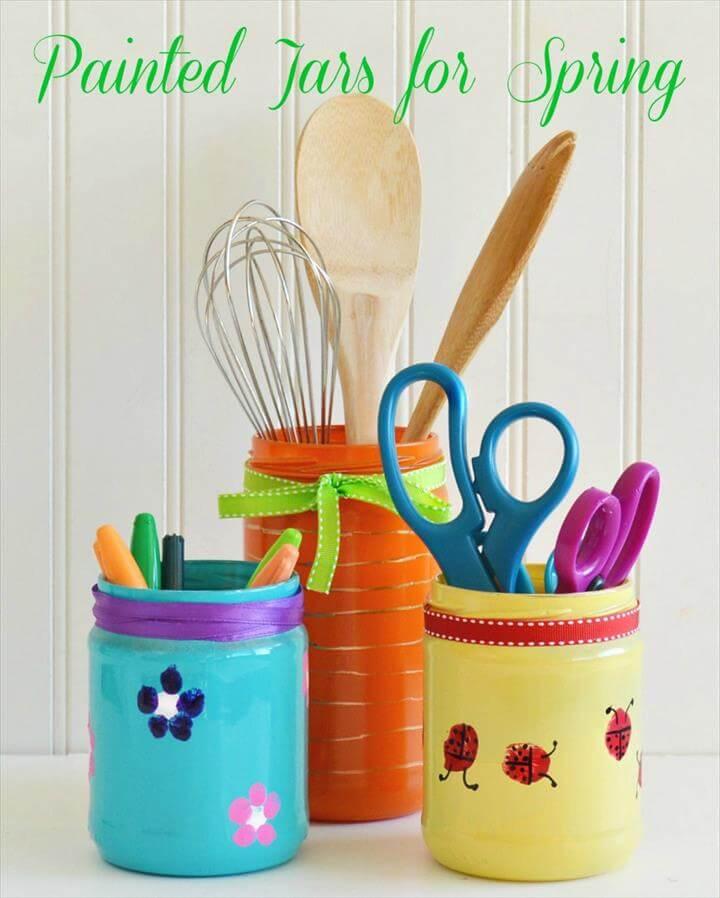 Surprise your mother with this lovely DIY and cute hand-painted jars that make pretty gifts for mother's day. Just grab jars of multiple sizes and spray paint them with bright and cute spring paint hues. Decorate the jars more with the colorful thumb impression in the form of flowers and the bugs. Catch the details of the idea here!
Image: meatloafandmelodrama
Doily Wall Art: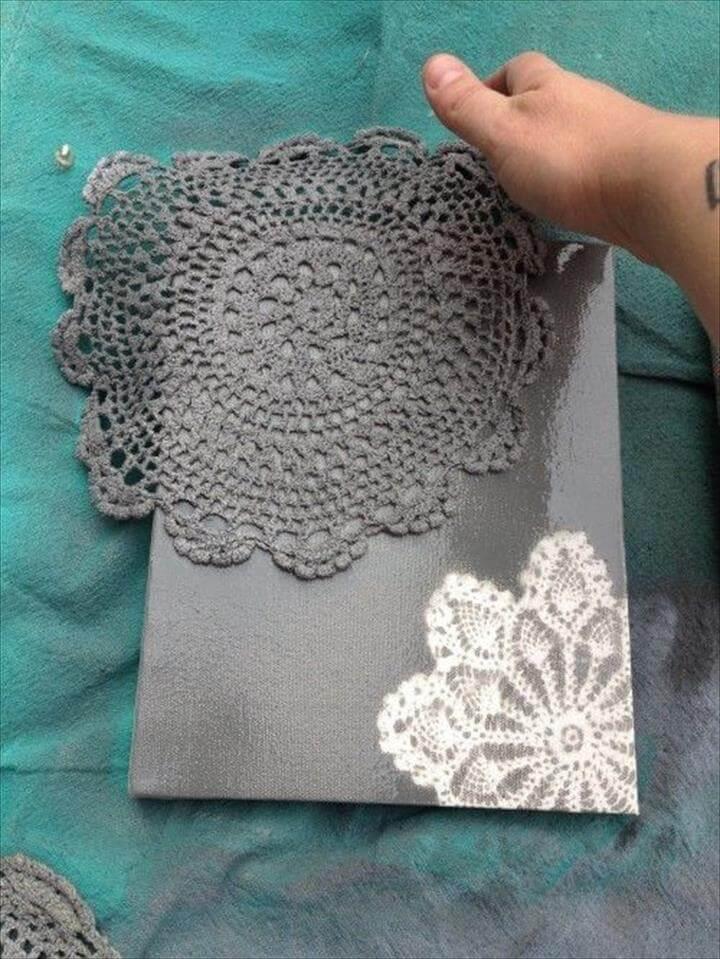 Make yourself some pretty wall art pieces with these adorable Doily wall art ideas. Using the canvass, doilies, and the spray paint in your desired hues you can easily work up these gorgeous doily wall art projects. Also, you can decide which part of the canvass should have the doily design on it and that too in your favorite hues. Follow the details here!
Image: diyjoy